2007 é o Ano Europeu da Igualdade de Oportunidades para Tod@s (AEIOT), que pretende lutar contra todas as formas de discriminação, incluindo a discriminação com base na orientação sexual.
Para isso, pretendemos que o AEIOT inclua acções que marquem uma verdadeira mudança de atitude da sociedade face às pessoas LGBT.
Longe da ideia de gueto, o Arraial Pride acontecerá no centro de Lisboa, integrado nas festas de Lisboa.
Pretendemos que este Arraial Pride seja o mais participado de sempre e pretendemos também que ele concilie as componentes política e celebratória.
Trata-se afinal de uma oportunidade de marcar uma posição de luta contra todas as discriminações e, especificamente, de luta contra a discriminação na lei a que as pessoas LGBT ainda estão sujeitas.
Sob o lema "Igualdade de Direitos: aqui e agora!", vai realizar-se a 8ª Marcha do Orgulho LGBT.
O percurso terá início no Príncipe Real, às 16h30 do Sábado 23 de Junho.
Desta vez, cabemos muit@s. Uma das maiores praças de Lisboa, e talvez a mais nobre do país vai acolher a grande festa do Orgulho LGBT, o
11º Arraial Pride.
É já no dia 23 de Junho, a partir das 18h (e até às 02h) na Praça do Comércio - Terreiro do Paço.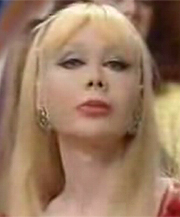 [Spain]
Spain local election sees first transsexual woman as councillor
Manuela Trasobares holds the political balance of power in her Castellón village. El Mundo reported on Wednesday that Sunday's local election has left the government of the village of Geldo, in Castellón, in the hands of the first transsexual woman in Spain to be voted in as a councillor.
«Una transexual edil es la democracia a la enésima potencia»
La alcaldía del municipio castellonense de Geldo está en manos de la artista, mezzosoprano, escultora y transexual, Manuela Trasobares, quien ha obtenido más del 18% de los votos con su candidatura de ARDE (Acción Republicana Democrática Española). Manuela decidirá los próximos días si forma coalición con PP o PSOE, ambos con tres ediles. De su decisión depende el color del Consistorio.
Castellón, en manos de la primera concejala transexual
Es la primera mujer que cambia de sexo que logra un escaño en un consistorio. Toda decisión habrá de tener el visto bueno de Trasobares, cabeza de lista de ARDE.
Una transexual decidirá la alcaldía de Geldo
Manuela Trasobares deberá decidir entre PSPV y PP después del empate registrado el domingo.

[UK]
UK gender specialist guilty of misconduct
Excerpt: "This was a wholly inappropriate way of dealing with an individual whose approach to treatment is extremely successful and potentially far less damaging than the approach of some other doctors in the UK. He is more interested in caring for his patients than managing them," Terry Reed, of the Gender Identity Research and Education Society, told The Guardian.
[Ireland]
Transsexual to get results after landmark case
The State Examinations Commission has agreed to reissue a transsexual' s Leaving Certificate results, taking into account her new identity. The woman had taken a case against the commission under the Equal Status Act.
[India]
Helpline to reduce violence against transgender people
Eight stitches on the head and a bone fractured. This is what the Stanley Medical College Hospital had to deal with a few months ago. The patient was a member of the transgender community.
[Chile]
Capturan a homicida de transexual chilena
La Brigada de Homicidios de la Región Metropolitana capturó al asesino de la transexual Graciela Carrasco Berríos, tras una extensa jornada de seguimiento que culminó con la colaboración del Movimiento de Integración y Liberación Homosexual.
[FL,USA]
Stanton doesn't get job
The former Largo city manager finishes third in Sarasota's search.
Photo: Susan Stanton awaits her interview Wednesday with Sarasota's City Commission after being seated by search consultant Tom Freijo.

[USA] [Blog/Commentary]
Gender Musings
One of the things I've been thinking about recently is why some people get so bent out of shape when someone is perceived as not being in conformity with the binary gender system.
[USA] [Commentary]
Religion and transgender: Can the twain meet?
Question: What do these three people have in common: an African government worker who had been studying scripture in Jerusalem and was traveling near Gaza, a young minister named Malcolm who is working in a large parish in Minnesota and Joan of Arc?
Answer: They are all people of faith, all leaders, and all lived (or are living) their lives outside of the lines drawn by cultural gender expectations.
[NC, USA] [Blog/News]
Transgender minister speaks
The Rev. Erin Swenson called back too late for me to include her comments in our story about the Church of Reconciliation holding a transgender forum June 8-10.
[MD,USA]
Gender-bender Methodist minister wins approval of denomination
A conservative activist believes the United Methodist Church's affirmation of a transsexual minister in Baltimore "sets a troubling precedent." Mark Tooley contends the denomination isn't helping anyone "when it fails to faithfully transmit the gospel of hope and transformation. "