[Europe]
EU treaty is first to ban discrimination against gays
The European Union's Treaty of Lisbon, which came into force December 1, incorporates the EU Charter of Fundamental Rights, the only international governmental document that bans discrimination based on sexual orientation.

[Italy/Vatican]
Vatican Cardinal Rejects Homosexuality
Homosexuals and transsexuals will never go to heaven, Javier Lozano Barragan, Cardinal from the Roman Catholic Church.
Desmiente el Vaticano prohibición celestial a gays
[Opinion] Sin gays no hay paraíso
Los gays pueden ir al cielo si mantienen su castidad, asegura obispo de N. Laredo
"El corazón de la virgen está abierto para todos"

[UK/Malaysia]
Fatine faces prosecution
London based Malaysian transvestite Fatine will face the Syariah court if 'she' returns home and continues to cohabit with her 'husband'.
Born Mohammed Fadzil Min Bahari, the 36-year-old makeup artist who is living with Briton Ian Young following a civil marriage, is fearful of repercussions if Fatine comes to Malaysia with her mate.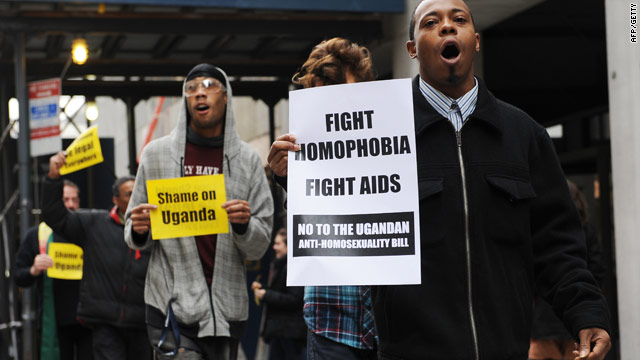 [Uganda]
Why is Uganda attacking homosexuality?
As a gay man in Uganda, Frank Mugisha is used to the taunts, the slurs and the daily harassment of neighbors and friends.
But if a new bill proposed in the east African country becomes law, Mugisha could be put away for life, or worse, put to death for having sex with another man.
(Photo: Protesters against a planned anti-homosexuality bill in front of the Ugandan Mission to the U.N. in New York on November 19.)
Withdraw anti-gay law, Uganda told
Uganda's anti-gay law riles U.S.

[Australia]
Trangender teacher guidelines released
State schools have been given tips on how to deal with teachers who want a sex change.
The Victorian Education Department has told principals that concerns about any effects on students are not grounds for banning transgender teachers, the Herald Sun reports.

[USA]
Immigration Equality joins coalition calling for action on ENDA
On Friday, Immigration Equality joined a coalition of other LGBT organizations in calling on Congress to take immediate action on the Employment Non-Discrimination Act (ENDA). The coalition letter follows an indefinite postponement of Congressional hearings on the bill, and calls on lawmakers to move the bill immediately.
[Blog/Commentary] This BS Is Why ENDA Needs To Be Passed NOW!
[Blog/Commentary] The recession won't be over until ENDA is passed
[Blog/Commentary] Why ENDA's necessary
[Blog/Commentary] ENDA: See You Next Year!

[USA] [Blog/Books]
New book: 'Facial Feminization for the Transgendered Woman' by Douglas Ousterhout
I just got my preview copy of Facial Feminization Surgery: A Guide for the Transgendered Woman by FFS pioneer Douglas Outserhout. It's an excellent 185-page overview of available procedures, with many illustrations and images. I highly recommend it for anyone considering these procedures, as it is the definitive consumer guide. It includes an introduction by Donna Rose, who, like me, had life-changing results from these procedures. Both of us are among the many patients who consented to having our results included in the book.
It is scheduled to be available in December 2009 and is already available for pre-order.


[FL, USA]
McDonald's jobseeker told: 'We do not hire faggots'
A 17-year-old transgender jobseeker in Florida is filing a complaint with the state's Human Rights Commission after she was told "we do not hire faggots" by the manager of a McDonald's branch. (Photo: Jobseeker Zikerria Bellamy)
Transgender Teen Sues McDonald's
Transgender teen files discrimination complaint against Orlando McDonald's
Transgender teen: McDonald's refused to hire me

[MA, USA]
Convicted killer Michelle Kosilek adds request for electrolysis treatments to sex-change lawsuit against Mass.
A convicted killer seeking a state-funded sex-change operation has added a demand for electrolysis treatments to her lawsuit against state prison officials.

[MI, USA]
Interview with Julie Nemecek, Michigan Equality
Interview with Julie Nemecek, a lobbyist with Michigan Equality (an LGBT Interest Group), was conducted on October 28 in the Burger King at 505 E Saginaw St, Lansing, MI.

[NY, USA]
Remembering LaTeisha Green
On Thursday, Nov. 12, people from across Syracuse filled the Syracuse University Warehouse auditorium to commemorate LaTeisha Green's life on the first anniversary of her death. Her parents, Roxanne Green and Albert Cannon, family members and a cross section of the community gathered so that the we could come together over our shared loss to grieve and celebrate in harmony with our humanity and our diversity.

[UT, USA]
Transsexual police officer transitions successfully in Utah
In more good news from unlikely places for the LGBT community, a female-to-male (FTM) transsexual police officer has successfully transitioned in Bountiful, Utah, a suburb of Salt Lake City. Forty-two-year-old Corporal Kerry Bell, who has worked for the Bountiful Police Department for fourteen years, began his surgical and hormonal transition from female to male about a year and a half ago. Bell, who states he has always felt male, said he had no anxiety about coming out as transsexual to his fellow police officers.
[Puerto Rico]
Llamado a acudir a Tribunal a vista preliminar muerte Jorge Steven
Grupos de diversos sectores hicieron un llamado para que el pueblo asista hoy, a las nueve de la mañana, al Tribunal de Justicia de Caguas, donde se llevará a cabo a la vista preliminar contra el hombre que confesó haber asesinado al joven Jorge Steven López Mercado, con el fin de ejercer presión para que el caso sea tratado como uno de crimen de odio.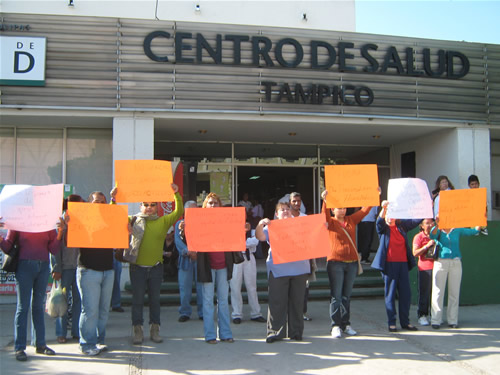 [Mexico]
Pacientes protestan por la falta de medicamentos y exigen destitución
Falta de medicamentos, de personal médico, así como discriminación, denunciaron hoy integrantes de la agrupación Tamaulipas Diversidad VIHDA Trans A.C. y del Centro de Prevención y Apoyo en VIH, al manifestarse en la Jurisdicción Sanitaria No. II, en donde exigieron la destitución del titular Ernesto Lavín Hernández a quien acusan de homofobico. (Foto)
Surten medicamento al 97 por ciento: ELH