[España]
Colectivo LGTB Gehitu del País Vasco pide abrir el mercado laboral a personas transexuales
La asociación de lesbianas, gays, transexuales y bisexuales del País Vasco, Gehitu, pidió hoy "abrir el mercado laboral a las personas transexuales" ya que, según denunció, la realidad laboral de estas personas "se caracteriza por el desempleo, la precariedad, el subempleo, la exclusión y el acoso", y reclamó al Gobierno una Ley contra la discriminación.

[Spain]
VIDEO: Gays, lesbianas y transexuales solicitan asilo en Europa

[Malawi]
El Presidente de Malawi afirma que Satanás está tomando el control de su país y pone como ejemplo la homosexualidad
Palabras inquietantes las del Presidente de Malawi, Bingu wa Mutharika, que en estos momentos ejerce también como Presidente de la Unión Africana, pronunciadas durante la ceremonia de ordenación de Montfort Stima como nuevo obispo auxiliar de la archidiócesis católica de Blantyre.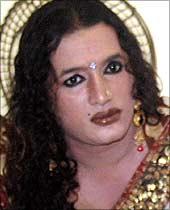 [India]
'Stop treating eunuchs as second-class citizens'
Besides being the 'unofficial spokesperson' of the eunuch community and gay activism, Laxmi Narayan Tripathi is one of the prominent eunuch celebrities of India. Recently she was in the news for being chucked out of the Bombay Gymkhana.
Intelligent, well educated and bold, a trait common among the transgender community, Laxmi she is busy working for the welfare of the sexual minorities through her non governmental organisation Astitva. Laxmi speaks to N Ganesh on the discrimination faced by her and the members of her community. (Photo)


[Singapore]
From son to daughter: A Singaporean family's transformation
Jamie Yee, 36, is a post-op transgender person. With the love and support of her family, Jamie, at the age of 24, underwent an operation to become what she had always felt she was: a girl. (Photo)

[Australia]
Anger over inaction on Human Rights Charter
Excerpt: Sally Goldner of TransGender Victoria said the government's refusal to draw up a charter of human rights meant equal opportunity legislation at the federal level was now vital. "The glaring absence regarding Federal Equal Opportunity Law covering sexual orientation and sex and gender diversity during the human rights address means we continue to be non-existent at the federal level," Goldner told MCV.

[USA] [News/Film]
Gay Entertainment Report: 'Trinidad' Arrives On DVD
Directors PJ Raval's and Jay Hodges' story about what makes "sex-change capital of the world" Trinidad, Colorado tick is now available on DVD.
Trinidad premiered at the Los Angeles Film Festival in 2008.

[USA] [Commentary]
Mottet: Why We Need the Employment Non-Discrimination Act
Americans all over the country are out of work, with many lesbian, gay, bisexual and transgender people — transgender Americans in particular — facing tough times because of workplace bias. Thankfully, our nation is on the cusp of seriously addressing this injustice: The House is forecasted to soon consider the Employment Non-Discrimination Act, which would prohibit workplace discrimination based on sexual orientation and gender identity.

[USA] [Blog/Commentary]
Vet to Obama: I'm not an "it"
On April 20, six members of GetEQUAL were arrested outside the White House when they handcuffed themselves to the fence to protest "Don't ask, don't tell." One of them was Autumn Sandeen, a retired Gulf War veteran. She served in the Navy for 20 years and has a service-related disability.
Sandeen, who is transgender, released a letter today that detailed her treatment after her arrest. She was called "impersonator," "it" and "shim" by federal law enforcement officers.
[Blog/Commentary] Veteran is Not "It," "Shim" or "Impersonator"
[Blog/Commentary] Transgender DADT Protester Autumn Sandeen Called 'It', 'Shim', 'Impersonator' by Federal Law Enforcement
[Blog/Commentary] U.S. Marshals' New Motto: 'Look At The Shim'
[Blog/Commentary] President Obama: A Transgender Veteran Is Not An ''Impersonator,'' ''It,'' Or ''Shim''

[USA] [Blog/Commentary]
Wash. Times calls for discrimination against transgender people
The April 23 Washington Times editorial is titled, "Discrimination is necessary," and states in a subtitle that, "Subjecting kids to weirdos undermines standards of decency":

[CA, USA]
Man charged in transgender prostitute murder
A convict with a record of violent crimes against women was charged Tuesday with the 2007 slaying of a transgender prostitute, the first in what authorities described as a yearlong series of attacks targeting San Francisco's transgender sex workers.

[FL, USA]
Local Church Leaders Rally for Human Rights Ordinance
They represented ten different religions of different faiths. But Monday afternoon, clergy members stood together at the Leon County Courthouse with one united message: pass the human rights ordinance.
Ministers rally to support Leon gay-rights ordinance

[IL, USA]
Illinois House approves bill against homophobic and transphobic bullying
The House in the US state of Illinois has unanimously approved a bill to prevent homophobic and transphobic bullying.
Illinois House Approves Gay, Trans-Inclusive Anti-Bullying Bill

[MD, USA]
Death sheds light on transgendered community
April Green. Or "Miss Dee." Or Darren Neal Green Jr.
Regardless of the name, or the sexual orientation, Green died a violent death on the streets of Baltimore, the type of death that unfortunately too too often goes unnoticed, drowned out in other violence.

[NY, USA]
Ticked-Off Trannies With Knives
A La Luna Entertainment presentation, in association with Toucan Prods. Produced by Whitney Blake, Toni Miller. Executive producer, Anne L. Gibson. Directed, written, edited by Israel Luna.

[TN, USA]
Another Crime Committed Against Memphis Gay and Lesbian Center
They speak up when others cannot, or will not. They represent members of society who are criticized, ridiculed and condemned for their sexual orientation. And now, the protector has become the victim.
Another crime has been committed against the Memphis Gay and Lesbian Community Center.

[Puerto Rico]
Piden evaluación siquiátrica para acusado por la muerte del homosexual Jorge Steven
La defensa de Juan "Casper" Martínez Matos solicitó que el psiquiatra del Estado esté presente el día que se discutan las mociones previo al juicio para ver si está mentalmente apto para comenzar el procedimiento en su contra.

[Bolívia]
Evo Morales esclarece em carta ligação entre frangos e homossexualidade
Depois de afirmar que ao ingerir frangos geneticamente modificados homens podem se transformar em gays, o presidente boliviano Evo Morales enviou uma nota à comunidade gay da Espanha afirmando que em nenhum momento quis ofender os direitos homossexuais.
[Opinion] ¡Listo el pollo! parafriegas racistas

[Chile]
Presidente del Senado inicia gestiones para acelerar tramitación de ley contra discriminación
El senador Jorge Pizarro se reunió con el Movilh y brindó su respaldo a la norma, al igual como ya lo han hecho este año la parlamentaria Ximena Rincón, el Servicio Nacional de la Mujer y el Ministerio Secretaría General de Gobierno en otros citas con activistas del mencionado movimiento de minorías sexuales.

[Argentina]
"Vuelven los edictos policiales"
Así lo afirmó la titular de la Federación de Lesbianas, Gays, Bisexuales y Trans, María Rachid, en referencia a la modificación del Código Contravencional sobre oferta y demanda de sexo en la vía pública. "Es de una gravedad en materia de Derechos Humanos impactante. La intervención directa de la policía es tan alarmante como el delito de vestimenta que propone este proyecto", dijo.