[España]
Crean el Primer Centro Andaluz de Atención a Transexuales y Homosexuales
Los homosexuales y transexuales de San Juan de Aznalfarache ya podrán resolver sus dudas gracias a un innovador punto de información. Tanto, que no existe precedente en Andalucía, según aclaró el Ayuntamiento, que cree que este nuevo centro coloca al municipio a la cabeza en el ámbito de la igualdad.

[Spain]
Two cis women imprison, torture and murder a man in his own home
Via El Pais (translation by the OII's founder, Curtis Hinkle), this report is a rare example of the abuses that can be inflicted on trans men by cis women; in this case two cis women who imprisoned a trans man in his own home and, over a nine month period, tortured and eventually murdered him.


[Norway]
Viktor never let himself be brainwashed
The doctors decided that Victor would be a girl, and at six months old they removed his penis. But Viktor was born a boy, and was never a girl. This evening he is Eias' trump card on the latest "Brainwashing". (Photo)

[Uganda]
Homophobic Ugandan MP may be banned from Britain
The government is attempting to ban the Ugandan MP who introduced legislation to execute gays from entering the UK.
Inglaterra deve impor sanções a Uganda caso não revogue lei homofóbica

[Australia]
Demand for open investigation into an Aboriginal trans death in custody
On March 10, 2009, three days after Mardi Gras, 34-year-old Veronica Baxter was arrested by Redfern police. She was charged with six counts of supplying a prohibited drug and held on remand at the all-male NSW Silverwater Metropolitan Reception and Remand Centre.

[USA]
Gwyneth Paltrow abandona elenco de filme sobre pintor transexual
A atriz Gwyneth Paltrow não irá mais participar do filme sobre a história do pintor transexual Einar Wegener. Paltrow decidiu deixar o filme por conta da mudança de endereço das filmagens. Ela considerou que iria ficar muito longe de seus filhos e que isso seria ruim para as crianças.
(

Neste artigo expressei o meu descontentamento pelo tratamento dado a Lili Elbe, tratando-a sempre no masculino, num comentário onde considero este tratamento como transfóbico, ofensivo para a memória de Lili bem como para toda a comunidade transexual e demonstrativo da ignorância existente sobre a transexualidade. O mais certo é ser censurado.

)

[USA]
Video: Obama heckled by gay rights activists
Gay rights activists interrupted a fundraiser yesterday to heckle US president Barack Obama on repealing the military gay ban.
Obama Heckled by 'Don't Ask Don't Tell' Opponents
Obama Heckled Over Gay Rights at Fundraiser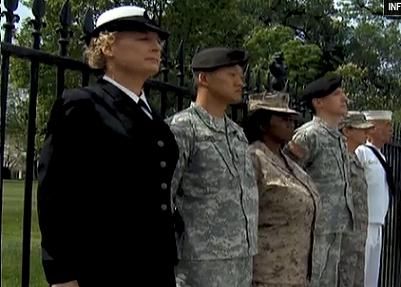 [USA]
BREAKING: GetEqual military veterans, including Autumn Sandeen, chain themselves to WH fence
As a transgender veteran, Autumn was prepared to put her service -- and her pension -- on the line for repeal of DADT. The Blend is proud of her sacrifice in the name of equality.
(Photo: A woman chained herself to the White House fence today. When she did it, she had nothing to gain for herself and everything to lose. She made a heroic stand and performed a selfless gesture. By all standards of human behaviour, her conduct is "Exemplary" and "Laudable," When released from prison, she ought to be hoisted high upon the shoulders of a crowd of cheering LGBT's)
(

As mulheres transexuais sempre na frente de batalha, sem medo de darem a cara, sem medo de lutarem contra as injustiças. É ao ver fotos destas que não consigo deixar de me sentir orgulhosa

)

[LA, USA]
Transgender Community in New Orleans Fights Police Harassment
New Orleans' Black and transgender community members and advocates complain of rampant and systemic harassment and discrimination from the city's police force, including sexual violence and arrest without cause. Activists hope that public outrage at recent revelations of widespread police violence and corruption offer an opportunity to make changes in police behavior and practice.

[NY, USA]
Vigil for Amanda Gonzalez-Andujar
On March 30th, Amanda Gonzalez-Andujar was killed in her Queens home. You can read more about it here. On Saturday, April 24, please join us at a vigil commemorating Amanda's life. There is still much work to do to keep our communities safe from violence and intolerance. Please join us as we remember Amanda and work towards a safer tomorrow.

[TN, USA]
Mistrial Declared in Police Beating of Duanna Johnson
A Federal Judge in Memphis last night declared a mistrial in the case of the February 2008 beating of Duanna Johnson at the hands of Memphis police. The jury was deadlocked after four days of deliberation, with eleven jurors believing that Memphis Police Officer Bridges McRae was guilty of violating Johnson's civil rights, and one juror believing he was not guilty
Bridges McRae Mistrial
Mistrial In McRae Case
Mistrial In Beating Of Transgender Woman
Transgender Beating Case: Judge Declares Mistrial
Mistrial Declared in McRae Trial
Mistrial declared in transgender beating case
Mistrial declared in police beating case involving transgender prisoner
Reaction To Judge's Decision In Transgender Beating Case

[TX, USA]
Transgender DART employee placed on leave for comments alleging discrimination
Dallas Area Rapid Transit reportedly placed a transgender bus driver on paid administrative leave Sunday, April 18 in response to written comments she made suggesting that the agency discriminates against employees.

[VA, USA]
Research on Transgender Christians to be Presented at the Virginia Psychological Association's Spring Conference
Members of ISSI have been conducting a study on the experiences of transgender individuals who identify as Christian. The project was completed in the fall of 2009, and Dr. Mark Yarhouse and Trista L. Carr, M.A., will present the findings at the Virginia Psychological Association's (VPA's) spring convention in a paper titled, "Transgender Christians' Experiences: A Qualitative Study." Here is the abstract:


[Puerto Rico]
Transgender woman stabbed to death in Puerto Rico home
A transgender woman was found stabbed to death in her home outside San Juan on Monday, April 19.
Primera Hora reported authorities discovered Ashley Santiago's naked body in the kitchen of her house in Corozal, which is roughly 25 miles southwest of the Puerto Rican capital. Santiago, 31, was a popular hair stylist at a local salon.
(Photo: Puerto Rican authorities said Ashley Santiago was stabbed 14 times in her own home in Corozal; police discovered her naked body in a large pool of blood in her kitchen on Monday, April 19.)
Investigan asesinato a puñaladas de un transexual en Corozal
Se estremece Corozal por asesinato de joven homosexual
Investigan asesinato puñaladas de una mujer transexual en Puerto Rico, no descartan crimen de odio