[Latin America]
CIDH urge a Estados a adoptar medidas urgentes contra la violencia homofóbica y transfóbica en la región
La Comisión Interamericana de Derechos Humanos (CIDH) expresa su profunda preocupación ante la violencia homofóbica y transfóbica que azota a la región y urge a los Estados a adoptar medidas urgentes para poner freno a los homicidios, ataques y agresiones contra las lesbianas, los gays y las personas trans, bisexuales e intersex (LGTBI), y contra cualquier persona percibida como tal.
IACHR Urges the States to Adopt Urgent Measuers against Homophobic and Transphobic Violence

[Latin America]
¿Nacer en el cuerpo equivocado?
Cuatro personas trans le responden a Sentiido por qué creen acertada o no la común expresión "nacer en el cuerpo equivocado" para hablar de esta identidad de género.

[España]
La Justicia obliga a la Comunidad de Madrid a pagar la subvención a organizaciones de prevención de VIH
En total, el presupuesto destinado en la convocatoria para el año 2009 ascendia a 266.000 euros. La denuncia fue interpuesta por Cogam, Hetaira y Médicos del Mundo junto a otras asociaciones y organizaciones sin ánimo de lucro en la lucha contra el SIDA.

[UK]
Leicester: Trans woman assaulted in pub
A 46-year-old trans woman has been attacked just minutes after entering a pub in Leicester City Centre.
Transsexual is the victim of violent assault in Leicester city centre bar

[France]
French trans boycott women's rights meeting over expenses snub
National Transgender Association of France boycott a meeting with Minister for Women's Rights after she refused to pay travel expenses for provincial members

[Ukraine]
Fears Ukraine far right will push through anti-gay bill
Amnesty International slams Svoboda's record result in Ukraine's parliamentary election

[New Zealand]
Government putting transgender rights on the back burner
The Greens' Jan Logie has expressed her frustration that the Government has shelved The Citizenship Amendment Bill. The bill which was introduced in 2010 would make a world of difference for transgender people, allowing them to have their gender of choice on all paperwork.
Gov's delay on citizenship bill is 'heart-breaking' for trans New Zealanders says MP
Govt leaves needs of transgender people on backburner - Greens
Government leaves needs of transgender people on backburner

[USA]
Biden Calls Transgender Discrimination 'Civil Rights Issue of Our Time'
Vice President Joe Biden spoke with a woman at a campaign event Tuesday in Sarasota, Fla., telling her that discrimination against transgender people is the "civil rights issue of our time."
Joe Biden Calls Transgender Equality The 'Civil Rights Issue Of Our Time'
Joe Biden calls trans discrimination the 'civil rights issue of our time'

[USA]
Meet Laverne Cox, groundbreaking actress and transgender activist | VIDEO
Laverne Cox is on a roll as an actress and transgender activist, and 2012 has been very good to her.

[USA]
Trans advocate picked to lead LGBT military group
Two organizations dedicated to assisting LGBT service members have merged to take on the issues of the post-"Don't Ask, Don't Tell" military and have designated a new leader who personifies a lingering inequity that remains for the armed forces.

[USA]
LGBT History Month Icon Of The Day: Isis King
Isis King shot to fame -- and consequently became voice for transgender women -- when she competed in cycle 11 of hit reality TV show "America's Next Top Model." As the show's first trans competitor, King's brought mainstream attention to transgender issues, including the transitioning process and LGBT homelessness (King was in assisted living before the show), as the model openly shared her story with fellow contestants and the judges.

[IL, USA]
Where are the Nation's Most Comprehensive Services for Trans People?
Chicago house and Social Service Agency which has served people with HIV/AIDS since the epidemic's early days, has a history of adjusting its programs to meet needs. And now it's expanding its mission to serve another often marginalized group: transgender people.

[TX, USA]
Memorial service for trans murder victim Janette Tovar set for Thursday
A memorial service for family and friends of murdered transgender woman Janette Tovar is Thursday night.

[VA, USA]
Transgender violence memorial tree transplanted to campus
The week before fall break, the commemorative tree for the Transgender Day of Remembrance was transplanted from the Gay Community Center of Richmond, which is located downtown, to the University of Richmond campus.

[Mexico]
Realizarán velada para muertos por sida y por homofobia del colectivo LGBT
Recordar a las personas fallecidas por VIH/sida y protestar por la falta de información, campañas de prevención y de políticas públicas de salud enfocadas a combatir la epidemia, será el motivo por el que organizaciones de la sociedad civil realizarán la "XIX Velada en Memoria de las Personas Fallecidas por Sida", informó David Alberto Murillo, integrante del comité organizador.

[Honduras]
Comunidad lésbico-gay demandan respeto de la prensa ante el Ministerio Público
Nuevamente, miembros de la diversidad sexual, protestaron la mañana de este jueves frente a las instalaciones del Ministerio Público por los crímenes del que han sido víctimas miembros de ese colectivo, en los últimos años.

[Bolivia] [Opinion]
Transsexual in Bolivia
I wasn't shocked that roadside prostitutes in Cochabamba, Bolivia were taunted by passers-by; this was still-macho, provincial Latin America after all. But nothing could have prepared me for the strength of character of these transgender sex workers who, against all odds, have organized to argue for their right to health care treatment -- and, more important, their rights as human beings.

[Brazil]
Contestants vie for Miss Transsexual title
First Miss Transsexual Brazil 2012 contest staged in Rio de Janeiro

[Colombia]
¿Qué es eso de la Intersexualidad?
Es bien conocida la sigla LGBT que definen a Lesbianas, Gays, Bisexuales y Transexuales, pero poco o nada se habla de los intersexuales o hermafroditas.


[Colombia]
Transexual denuncia supuesto ataque homofóbico
Aún no está claro qué fue lo que motivó una pelea ocurrida en la madrugada del domingo 28 de octubre en el municipio de Arjona (Bolívar), en la cual un transexual fue apuñalado en una de sus muñecas y su oponente también recibió cortadas por las que tuvo que ser hospitalizado y operado.

[Colombia]
Por situación de comunidad LGBTI, Procuraduría participará en audiencia ante CIDH
La Procuraduría General de la Nación hará parte de la delegación que representará al Estado colombiano en la audiencia convocada por la Comisión Interamericana de Derechos Humanos (CIDH) para el próximo viernes 2 de noviembre, en la que se analizará la situación de los defensores de derechos sexuales y reproductivos y de la población LGTBI (lesbianas, gais, transexuales, bisexuales e intersexuales).

[Colombia]
Rechazan impunidad en crímenes de miembros de comunidad LGBTI
En un manto de impunidad sigue envuelto el crimen del profesor universitario Rolando Pérez, quien fue asesinado en Cartagena en febrero de 2007.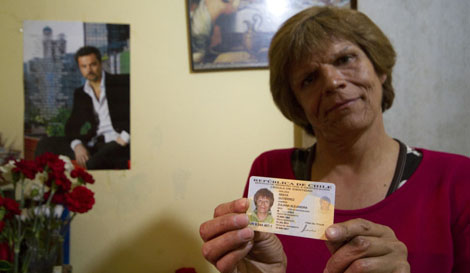 [Chile]
Zuliana, la primera transgénero de Chile que se presenta a unas elecciones
Si preguntas a alguien de La Ciudad Puerto dónde encontrar a Zuliana, todo el mundo te va a contestar lo mismo: en la subida de Ecuador. Allí está siempre, entre fruteros, carniceros, vendedores de pan y pescateros. Desde hace un mes, este porteño de nacimiento se acompaña de Michelle Bachelet, la expresidenta de Chile.
Nueva concejala transgénero Zuliana Araya: Dedico mi victoria al diputado Urrutia y otras personas homofóbicas


[Chile]
Pese a tener carnet de mujer, transexual coquimbana no puede votar como tal
Georgina Muñoz es el primer transexual en el país que asistió a votar con su carnet de mujer, hecho que aconteció en el Instituto Superior de Coquimbo (Insuco). Sin embargo, no pudo sufragar como Georgina, dado que en el Servel aparece con su nombre natural de Jorge Muñoz.

[Argentina]
Organizan una nueva marcha del orgullo gay y la diversidad
Solicitarán la derogación del Código Contravencional y la modificación del protocolo de la Ley de Sangre.