[Portugal]
Os homens são de Marte, as mulheres são de Vénus
Numa vida em que eu tive que refazer e aprender tanta coisa, é triste chegar aos 42 anos e chegar à conclusão que, na realidade, os homens são de Marte e as mulheres de Vénus.

[España]
La Policía confirma que el acusado de matar a un transexual justificó el crimen por sus amenazas
Agentes del Grupo XI de Homicidios han confirmado este martes que Raúl V.C., acusado de asestar en octubre de 2011 hasta doce puñaladas a un transexual, justificó el crimen durante la inspección ocular a su domicilio en las amenazas que la víctima le profirió en relación a que mataría a su perro y contaría a su familia su relación con travestis.

[Greece]
Greece is Waging a Horrifying War on Transgender Women
Members of the European Parliament last week condemned what appears to be a systematic attack on trans citizens by Greece's authorities.
Members of the European Parliament have issued strong statements against Greek police who, based on witness testimony and strong evidence, have been carrying out systematic arrests against trans women and detaining them without cause.
Police Conducting 'Purges and Arrests' of LGBT People in Greece
Transgender persons in Thessaloniki become victims of police violence

[Russia]
Russian Lawmaker to Create Defense From Gays Group
A Siberian regional lawmaker who has advocated the flogging of gay people in public said Tuesday that he intends to set up a group to protect Russians from homosexuals.

[Malaysia]
Penang state lawmaker seeks protections for transgender Malays
Democratic Action Party lawmaker Te Yee Cheu has proposed setting up a committee to protect the rights of transgender people in the Malaysian state of Penang but the state Opposition opposes the idea - See more at: http://www.gaystarnews.com/article/penang-state-lawmaker-seeks-protections-transgender-malays090713#sthash.Dh3dolWI.dpuf

[Indonesia]
Indonesia's Transsexual Muslims (Documentary)
Indonesian transsexuals, or Warias, still feel the urge to practice Islam despite being shunned by Islamic Authorities.

[USA]
How One Trans Man Got On a Plane With No ID
Writer Jacob Anderson-Minshall recounts his harrowing experience boarding a plane after losing his wallet and provides tips for anyone in a similar situation.

[CA, USA]
Assembly OKs transgender student accommodations
Transgender students would have the right to use public school restrooms and participate on sports teams that correspond with their expressed genders under a bill approved Thursday in the California Assembly.
Assembly passes Toni Atkins bill to streamline transgender name changes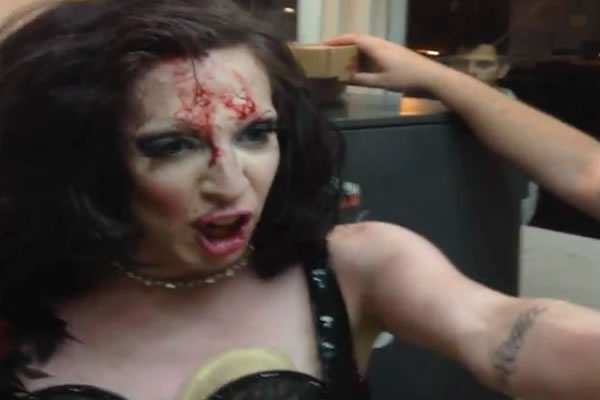 [DC, USA]
2nd suspect arrested in assault on drag performer
D.C. police on July 3 arrested the second of two women accused of assaulting a gay male drag performer inside a carry out pizza restaurant in Northwest D.C. that was captured on video and created an uproar in the LGBT community.

[FL, USA]
Adding 'gender identity' to civil rights ordinance deferred
People packed the Miami-Dade County Commission's chamber Monday to hear about a new ordinance that would add "gender identity" to the county's civil rights ordinance only for it to be deferred.


[TX, USA]
Dead body found in NW Houston gully
A man dressed in women's clothing was found dead Sunday morning in a gully in northwest Houston, police said.
Possible Trans Woman Killed In My Houston Backyard
Trans woman found dead in Texas

[Mexico]
Por un día, Chilapa se pinta de los colores del arcoíris con el desfile gay
Chilapa se pintó de arcoíris. La tarde-noche de este sábado por las calles de la ciudad se realizó la cuarta marcha lésbico-gay.

[Mexico]
Apadrina Alfredo Adame filme de transexual Bárbara Jiménez
El actor Alfredo Adame, apadrinó a la transexual Bárbara Jiménez, en un documental que narra parte de la vida de esta mujer y que vivió un calvario hasta sentirse aceptada por la sociedad.

[Panama]
'Siempre he sido mujer'
La decisión tomada desde la adolescencia de qué quería ser en la vida estaba clara en la mente de Mixair Rousseau, una mujer transexual, quien poco a poco está cambiando su cuerpo con el género que "desde un principio debió ser". - See more at: http://www.diaadia.com.pa/notas/1610258-siempre-he-sido-mujer-#sthash.kVguj343.dpuf

[Venezuela]
Comunidad GLBT de Maracaibo marchará para exigir "inclusión social, respeto e igualdad"
La comunidad de Gays, Lesbianas, Bisexuales y Transexuales (GLBT) de Maracaibo, marchará nuevamente el próximo domingo 14 de julio a las 3 de la tarde para exigir "inclusión social, respeto e igualdad".

[Colombia]
Comunidad LGBTI de Maicao marchó por la defensa de sus derechos
La comunidad de lesbianas, gays, bisexuales, transexuales e intersexuales, LGBTI, desfiló por la Troncal del Caribe, en la primera marcha que se llevó a cabo en Maicao por la defensa de sus derechos y en honor a los activistas asesinados durante el año anterior.

[Ecuador]
Orgullo Glbti insistió sobre el matrimonio
Durante la marcha de la comunidad de gays, lesbianas, bisexuales, transexuales e intersexuales (Glbti), que se desarrolló el sábado, Efraín Soria, presidente de la Fundación Ecuatoriana de Equidad, insistió en que el Estado acepte el matrimonio igualitario.


[Ecuador]
Activista transexual se postula para veeduría pública del CPCCS
La activista transexual de los grupos GLBT, Diane Rodríguez, se postuló como miembro para la veeduría pública del Consejo de Participación Ciudadana y Control Social (CPCCS), que designará al nuevo Superintendente de Información y Comunicación.
Activista transexual se postula para veeduría pública del CPCCS
CPCCS Shower Transexual in Super Mayor of Communication

[Peru]
Chiclayo registra siete casos de asesinatos y agregiones contra gays
El caso más emblemático fue la muerte por lapidación de un transexual. Comunidad gay realizará Sexta Marcha de Orgullo y Dignidad Gay.