[UK]
Transgender summit a first for Ireland
An event being held in Belfast today aims to increase awareness of the existence of transgender and transsexual people in Ireland.
[UK]
NHS slammed over trans abuse
The NHS has come under harsh criticism from health care experts and transgender rights advocates for failing to address for needs of LGBT patients.
[New Zealand]
World's first transsexual MP retires
The world's first transsexual MP, New Zealand's Georgina Beyer, stepped down on Wednesday giving thanks for being able to make amends for her "lurid" past as a prostitute.
[Canada]
Rape Relief wins
After almost 12 years of legal battles and a string of court decisions, Kimberly Nixon's case against Vancouver Rape Relief ground to a halt Feb 1 when the Supreme Court of Canada refused to hear her appeal.
PHOTO: SILVER LINING: barbara findlay (left) is disappointed Canada's Supreme Court refused to hear Kimberly Nixon's case, but says the battle was worthwhile. (TJ Ngan photo)
[NY, USA]
Trannies can rest easy now
An agreement allowing transgenders free access to Loehmann's fitting rooms and rest rooms was announced yesterday by a human rights fund and the apparel chain.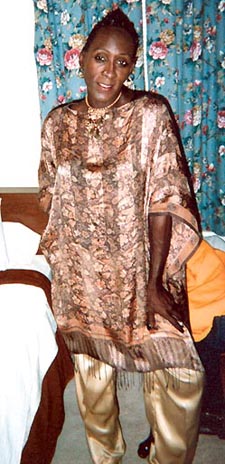 [DC, USA]
Murder suspect pleads guilty
During an emotional hearing in Courtroom 111 of D.C.'s Superior Court on Thursday, Feb. 8, Preston Randolph Logan, 43, pleaded guilty to the second-degree murder of Grafton Lee Person, a 42-year-old transgender woman who was known in the community as Diamond.


Diamond Lee Person (file photo)
[OH, USA]
Transgender warrior comes to Case
" Build genuine bonds of trust and solidarity [with other oppressed people], not quid pro quo," Leslie Feinberg told 120 people gathered in Case Western Reserve University's Ford Auditorium on February 9. "It's not `I'll do this, if you do that.' "
[NY, USA]
Free Name Changes for NY Transgenders
The Transgender Legal Defense and Education Fund has initiated a Name Change Project to help eligible transgendered New Yorkers get their names legally changed for free if they qualify.
[MI, USA]
Transgendered professor fights to keep her job
Julie Nemecek, 55, would like to keep her job as an associate professor of adult studies, teaching business and communications at Spring Arbor University.
PHOTO: Joel Skene (holding sign on right) protests the dismissal of transgender professor Julie Nenecek at Spring Arbor University.
Editorial: Transphobia should be fought on all fronts, even at home
For 15 years, Julie Nemecek has worked as an associate professor of adult studies, teaching business and communications at Spring Arbor University.