Si sposa con una donna per la cittadinanza, trans brasiliano in manette
Espulso dall'Italia perché clandestino, un viado brasiliano più volte sorpreso a prostituirsi alla Mandolossa ha cercato di ottenere la cittadinanza del nostro Paese sposando una sua connazionale, che nel frattempo era diventata cittadina italiana. Ma gli uomini della questura lo ha smascherato.
[India]
Transgenders protest delay in sex-change surgeries
A group of transgenders staged a demonstration in front of the Government Medical College hospital near here, protesting the "inordinate delay" in conducting sex-change operations. The transgenders along with volunteers of a social service organisation 'Wheel', shouted slogans in front of the hospital yesterday.
[India]
Unusual baby draws crowds, worshipped as divine
Hundreds are flocking to a house in Orissa's Balasore district to glimpse and even worship a baby born with both male and female genitalia, being described as an incarnation of Hindu gods Shiva and Parvati.
[Nepal]
Kathmandu police assault transgenders, effeminate men for carrying condoms
Police in Kathmandu, Nepal, have admitted that they target effeminate males and transgender people (both known as metis) for the apparent crime of carrying condoms.
[México]
Buscarán incluir a transgeneros en leyes de protección contra violencia
Según cálculos del INEGI en México existen alrededor de diez mil ciudadanos que son forzados a elegir entre M de masculino o F de femenino en los diferentes papelos que llevan a cabo como parte de su vida diaria.
Estos diez mil, son parte de una comunidad que no encaja dentro de los límites socialmente aceptados, de ser hombre o mujer, son transexuales o transgénero.
[Puerto Rico]
Sex-switch candidate named to ballot list
A Puerto Rican transsexual said yesterday her candidacy for a seat in a municipal assembly is a sign the island territory has become more tolerant.
Transexual optimista con su candidatura PNP en Carolina
Bárbara Santiago Solla, una transexual que aspira a la Legislatura Municipal de Carolina por el Partido Nuevo Progresista (PNP), ve con optimismo el que Puerto Rico haya avanzado hasta el punto de permitir que una persona que ha cambiado de sexo física y legalmente figure en la papeleta de un partido político.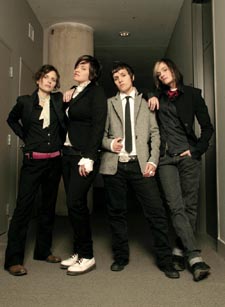 [DC, USA]
Transcendental Rock
''I remember being [pegged] as a dyke or a bitch for liking loud, aggressive music,'' says Lucas Silveira, about his days as a teenage metal head. But Silveira was neither a dyke nor a bitch, so he overcompensated, turning to softer folk music. ''I wanted people to like me for being a girl, because I was so scared of who I really was.''
Photo: The Cliks
[CA,USA]
Former trans prisoner's trial opens
Alexis Giraldo, the recently paroled transgender prisoner who is suing the state for failing to protect her from sexual assault while she was incarcerated, took the stand last week in a San Francisco courtroom and described in detail the alleged rapes that she endured.
[MA,USA]
Experts at tax trial explain gender identity disorder
Attorneys for the Internal Revenue Service (IRS) spent the second day of a trial in which a transwoman is suing the federal agency for the right to deduct her medical expenses related to treatment for Gender Identity Disorder (GID) trying to make the case that sex-reassignment surgery is a cosmetic procedure rather than a medical necessity.

Photo: Rhiannon O'Donnabhain speaks to a reporter in her lawyer's office Boston, Thursday, July 12, 2007. (Source: AP/Josh Reynolds)