[UK] [Video]
I just want people to understand me
When Sasha Burton had a sex change operation a year ago she thought her problems were over. But since becoming a woman she has been victimised and abused by her neighbours. She told her story to LUCY BOLTON.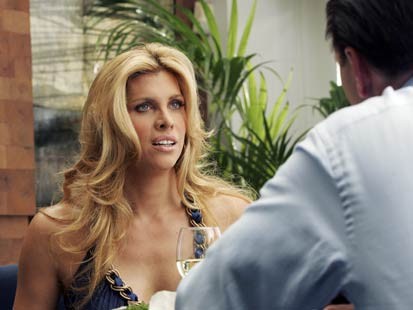 [USA] [People/Television]
Transgendered Actress Breaks Hollywood Barriers

Actress Candis Cayne heats up primetime TV in her role as Carmelita in the hit show drama "Dirty Sexy Money."
The sultry actress, who plays the transgendered mistress of a New York attorney general and senatorial candidate on the show, has made headlines as one of the few transgendered characters on television. She is also transgendered in real life.
Photo: Transgender actress Candis Cayne has made headlines in her breakthrough role on "Dirty Sexy Money." (VIVIAN ZINK/ABC)
[Entertainment/ People] Candis Cayne Transgender History
Dirty Sexy Money has captured audiences this season with a heady mix of politics, riches, and between-the-sheets action. But its most notable draw has been the presence of Carmelita, a transgender character who one-ups Ugly Betty's foray into blurry sex lines courtesy of Candis Cayne, nee Brendan McDaniel? a true life transgender who is breaking barriers in the gay, lesbian, bisexual, and transgender community.
[OH,USA]
Living in a transgender world
If Uncle Bill wants to become a woman - well, actually he's always been a woman, she's just stuck in a man's body - which public restroom will she use? What about her facial hair? Will she have surgery? And if she still likes women, is she a lesbian?
[CA,USA] [Commentary]
How I Survived Men's Prison as a Woman
Editor's Note: Transgender women are housed in men's prisons, where they must learn to survive any way they can. One transgender woman tells how she found protection – and a supportive community – on the inside.
[OH,USA]
Vigil held to remember trans-violence
Last night a group of about 20 students, faculty and community members gathered in the Gish Film Theater to remember the 15 people who were killed this year due to transphobic violence. Pictures and names of those killed were lined along the front of the stage where people and visitors were encouraged to read their stories.
[CA,USA]
Man pleads not guilty to hate campaign
A 25-year-old man allegedly shocked to learn that he was engaged in a sexual act with a transgender woman pleaded not guilty on Tuesday to waging a month-long terror campaign against his male-to-female sex partner and her live-in boyfriend.
[USA]
US to mark transgender remembrance day
In the United States next Tuesday is the Transgender Day of Remembrance, a day to memorialise those killed because of anti-transgender violence or prejudice.
[CA,USA]
Groups Lambast New Gender Law
SB 777, a new law recently signed by Gov. Arnold Schwarzenegger has been getting criticisms from various sectors of California.
[AZ,USA]
Scottsdale bar owner, transgendered patron cut deal to end fight
A Scottsdale bar owner and a transgendered woman have agreed to a settlement in a yearlong battle over use of the saloon's bathrooms.
Bar owner, transgender patron settle yearlong bathroom battle