[International]
La transexualidad no es una enfermedad…
En 38 países ayer, activistas salieron a las calles para exigir que la transexualidad deje de ser considerada como una enfermedad y se elimine de la lista de patologías de los libros de la Organización Mundial de la Salud y la Asociación Americana de Psiquiatras.
La Red Internacional contra la Patologización Transexual
— a la cual se une Puerto Rico Para Tod@s — está luchando porque se logre ese cambio en el 2012, que es cuando procede la revisión del V Manual Estadístico y Diagnóstico de Desórdenes Mentales de la Asociación Americana de Psiquiatras.
[Brasil]
Brasil integra a los presos gays
Minas Gerais abre el primer módulo carcelario para homosexuales y travestis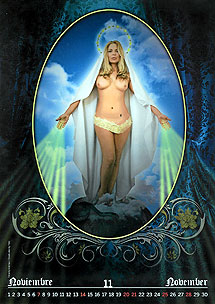 [España]
'Vírgenes' transexuales
Coronas de virgen con forma de pene. Preservativos a imagen y semejanza de brocados sobre túnicas de santos. Mortales con el trasero al aire arrodillados ante apariciones divinas...
Esta es parte de la escenografía empleada en la elaboración de un "calendario laico", un documento gráfico reivindicativo con el que, pese a lo paradójico de su temática, un grupo de transexuales solicita la sustitución de las festividades religiosas por celebraciones sociales. Donde siempre ha puesto que el 25 de diciembre es Navidad, que se coma turrón por el Día Internacional de la Democracia, con la provocación como catalizador del cambio.
Calendar features transgender models posing as the Virgin, controversy follows
[UK]
Trans woman found murdered in burnt-out flat
A graduate who was found strangled in her Brighton flat was a trans woman, police have confirmed.
Andrea Waddell, 29, a graduate of Durham University, was found dead on Thursday night. She had been strangled and her bedroom set on fire.
Man held in fire murder inquiry
Strangled graduate was hooker
Man held for murder of transsexual prostitute
Arrest over Brighton prostitute death
(Photo: Ms Waddell studied social and political thought in Brighton.)
[South Africa] [Commentary]
The word 'hermaphrodite' is inappropriate for people
Move over Usain Bolt. Bring on a new superstar, the most talked about runner this past summer, a female. Or is she?
South African runner Caster Semenya leapt into the spotlight for all the wrong reasons. Albeit an excellent runner, it was not her running prowess that put her under the microscope (literally). It was that she was a freak.
ANC demands new Caster sex tests
[India]
Transgenders in Chennai launch their own marriage website
Transgenders in India's Chennai city have launched their own marriage website through which they hope to find like-minded suitors.
One can often see them dancing at weddings or at the blessing ceremonies of newborn babies. They appear uninvited to seek money. And it is not easy to turn them away without paying a hefty sum.
[Vietnam]
Hanoi welcomes back transsexual models
The Pattaya group's five transsexual models made an appearance at a special fashion show held at the Dong Son Restaurant in Cau Giay district on October 15. (Photo)
[USA]
Trans-Parenting
One mom shares her journey of becoming a mother ... and the woman she always knew she should be

[USA] [Blog/Commentary]
Why ENDA Matters: True Stories of Anti-LGBT Employment Discrimination from the ACLU
To illustrate why Congress must pass the
Employment Non Discrimination Act (ENDA)
, a federal law that would ban discrimination against lesbian, gay, bisexual, and transgender people in the workplace, we will be posting the firsthand accounts of people from across the nation who have been fired, refused a job, or harassed in the workplace because of their sexual orientation or gender identity. This summer the ACLU put out a
call for stories
, and these are just a fraction of stories they received.

[MD, USA]
Off-duty officer shoots two while being dragged by car Friday
Excerpt: Initial reports indicated the suspects were women, but police have since identified Bright and Bailey as transgender; both were wearing women's clothes.
"We're still obviously investigating, but it appears they are transgender," Lipsey said. "As we get further into the investigation, we'll find out if this is their lifestyle — which we believe it is — or if it was a disguise."
Two Men Shot by Pr. George's Officer Were Dressed as Women
[MS, USA]
Girl in tuxedo denied a place in school yearbook
Veronica Rodriguez describes her daughter, 17-year-old Ceara Sturgis, as "a perfect child": a straight-A student, a goalie on the soccer team, a trumpet player in the band and active in Students Against Destructive Decisions.
(Photo: Ceara Sturgis wears a tux in her preferred yearbook photo, which officials won't run.)
[HI, USA]
Man who stabbed cross-dresser declared mentally fit to stand trial
Question: Whatever happened to the man charged with murder for fatally stabbing a man dressed as a woman in his car under the Keeaumoku Street freeway overpass last summer?
Answer: The murder trial of Joel C. Allen is scheduled to begin next month after a judge last month declared him mentally to stand trial.
[Dominican Republic]
Prostitución homosexual en calles de Santo Domingo
Cuando salimos a dar un paseo por la ciudad siempre estamos mirando todo el movimiento que los citadinos producen en sus diferentes obligaciones en sociedad. Pero nos detenemos en un aspecto que consideramos inusual y hasta raro por que no entendemos como en una sociedad tercer mundista aparecen en varios puntos de Santo Domingo Homosexuales (mujeres en cuerpo de hombre) que se dedican al trabajo de la prostitucion homosexual durante las noches.