[España]
El 37% de los gallegos considera enfermos mentales a las personas transexuales
El 37% de los gallegos mayores de 16 años considera la transexualidad "una disfunción hormonal o mental". Sin embargo, otro 47% admite que las personas que deciden reasignar su sexo sufren marginación social.
Book Launch: TRANS: Transgender Life Stories from South Africa
Jacana Media and Fanele are delighted to invite you to the Cape Town and Johannesburg launches of TRANS: Transgender Life Stories from South Africa. This is the first book of its kind in South Africa and indeed Africa. It takes the reader on a journey into the many worlds inhabited by transgender South Africans, who have come into the spotlight since the Caster Semenya saga began.
[South Africa]
Male, Female Or In-Between?
Runner Caster Semenya made headlines after a gender test discovered she was "intersex". Julietta Jameson talks to people who've received the same disturbing news.
[India]
Hijra mahasammelan held in city
Hundreds of eunuchs from across the country gathered at the Akhil Bharatiya Hijra Mahasammelan on Sunday.
While showcasing their varied talents, they also expressed displeasure over their status in the society.
[Philippines]
Rain Marie Madrigal: The Reigning Queen
Professional title-holder Rain Marie Madrigal eventually wound up wearing the most coveted Queen-Universe crown, after edging out her fellow veteran contestants during the first-ever Queen pageant held at the Waterfront Cebu City Hotel & Casino over a fortnight ago.
[USA]
Nicole Kidman takes on a man-sized challenge
Apparently eager for a change of pace, Nicole Kidman is to get a change of sex into the bargain with a part in the film version of David Ebershoff's novel The Danish Girl.

[USA]
Foxx and Lawrence to don drag in new film
Comedians Jamie Foxx and Martin Lawrence are teaming up for a new gender-bending movie - the pair will play drag queens in upcoming comedy Sheneneh And Wanda.
[USA]
Conservatives shop sex ops ban to GOP
The federal government would be banned from funding sex change operations and other services for transgender individuals if social conservative activists get their way.
There's no sponsor yet for an amendment to the health care overhaul – and it may remain in the dustbin of unrealized wedge issues – but culture warriors are shopping the proposal to Republican senators.
House passes LGBT-inclusive health care bill

[CA, USA]
SD Airport Employee's Lifestyle Sparks Complaints
Several employees at Lindbergh Field said a transgender worker has pushed their limits of comfort, 10News reported.
The employee directs terminal traffic, and 10News learned the worker -- who was born a man, but lives as a woman -- has caused some concern among female employees.
[MI, USA]
Anti-Discrimination Law Takes Effect
Kalamazoo voters approved an expanded anti-discrimination ordinance Tuesday, but the process for filing a complaint alleging discrimination based on sexual orientation or gender identity is still a work in progress.
[ID,USA]
Transgender Day of Remembrance film screening and discussion
In honor of Transgender Day of Remembrance, the Janet C. Anderson Gender Resource Center at Idaho State University announces a film screening and community discussion with transgender filmmaker Gwen Haworth. The screening of her award winning film, She's a Boy I Knew begins at 6 p.m, Thursday, November 12, 2009, in the College of Education Auditorium. This event is supported through grants from the Idaho Humanities Council and the ISU Cultural Affairs Council and co-sponsorships from the ISU Psychology Department and Genesis Project.
[VA,USA]
Transgender Day of Remembrance Set for November 20
The Transgender Day of Remembrance honors the memories of lives lost to anti-transgender violence. On Friday, November 20 at 7 p.m. at the Richmond Friends Meeting on 4500 Kensington Avenue, community organizations invite the public in remembering those fallen. An observance will be followed by speakers addressing issues of violence facing the transgender community.
[MA, USA]
Boston to celebrate Transgender Day of Remembrance
Boston residents will be remembered Friday, Nov. 20, in Allston, as the LGBT community gathers in honor of the worldwide Transgender Day of Remembrance.

[AZ, USA]
4th Annual Tucson Transgender Awareness Week Schedule
November 16-20, 2009 marks Tucson's fourth annual Transgender Awareness Week. This week will be filled with performances, panels, workshops, discussions, trainings, and many important speakers. The week will culminate on Friday November 20th in Catalina Park with the 11th Annual International Transgender Day of Remembrance, which is intended to be a time to memorialize those who were killed due to anti-transgender hatred or prejudice during the last year.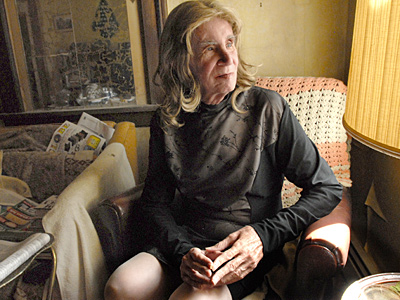 [PA, USA]
Finally, A Lady
A small but growing number of people are identifying themselves as transgender. Richard/Renee Ramsey is likely the oldest to make the surgical switch.
(Photo: April Saul / Staff Photographer - Transsexual Renee Ramsey at her Wallington, N.J. home.)
[Bermuda]
Move to end all discrimination is welcomed
Government appeared to have announced an end to the legal discrimination of homosexuals.
[Honduras]
Denuncian que 11 transexuales y 4 gays han sido asesinados en 4 meses en Honduras
La violencia y la falta de garantías constitucionales tras el golpe de Estado en Honduras han dejado un saldo mortal de 15 transexuales y homosexuales en tan sólo cuatro meses, casi la misma cantidad de travestis asesinadas en los últimos cinco años, denunció el lunes una activista hondureña.