[International]
TGEU press release: More than 160 murders of trans people in the last 12 months
Translation:
Transgender Europe: Comunicado de Imprensa: 18 de Novembro de 2009

*O Trans Murder Monitoring Project da Transgender Europe revela mais de 160 assassinatos de trans nos últimos 12 meses* *

O 11º Dia Internacional da Memória Transgénero (International Transgender Day of Remembrance) comemora-se este Novembro em mais de 120 cidades em todo o mundo: * Desde 1999, o Dia Internacional da Memória Transgénero (DIMT), durante o qual se recordam as pessoas trans vítimas de assassínio, celebra-se cada Novembro. O DIMT sensibiliza a opinião pública para os crimes de ódio dirigidos contra pessoas trans, proporcionando um espaço público para homenagear as vidas das pessoas trans que, de outra forma, seriam esquecidas.

Nascido nos EUA, o DIMT celebra-se hoje em muitas partes do mundo. Este ano, o DIMT realizar-se-á a 20 de Novembro em mais de 120 cidades em 17 países em África, na Ásia, Europa, América do Norte e Oceânia.
Infelizmente, este ano há mais de 160 pessoas a adicionar à lista para recordar e homenagear, tal como mostram os resultados preliminares do novo projecto da Transgender Europe.Os dados recolhidos pela equipa de pesquisa do Trans Murder Monitoring Project (projecto de controlo de assassinatos de pessoas trans) provêm da recolha e análise sistemáticas de notícias de mortes de pessoas trans em todo o mundo. Os dados revelaram um total de 162 assassinatos de pessoas trans registados entre 20 de Novembro de 2008 e 12 de Novembro de 2009.

Nos primeiros dez meses e meio de 2009 já foram noticiados 150 assassinatos. Contudo, sabemos que mesmo estes números elevados são apenas uma pequena parte dos números reais. A realidade é muito mais grave. Estes são unicamente os casos noticiados, passíveis de ser encontrados através de pesquisas na internet. Não existem dados reais, e é impossível estimar o número de casos não registados.

Os casos foram recolhidos de todas as seis maiores regiões mundiais: América do Norte, América Latina, Europa, África, Ásia e Oceânia. A maior parte dos casos relatados são da América Latina e da América do Norte, sendo a maioria do Brasil (41), Venezuela (22), Honduras (16) e EUA (13).Foram registados 124 assassinatos de pessoas trans em 15 países da América Latina no último ano. As ocorrências na América Latina representam 75% do total mundial de assassinatos de pessoas trans noticiados neste período.**
A recente actualização dos resultados preliminares mostra também que 16 dos assassinatos reportados ocorreram em 6 países europeus (Itália, Rússia, Sérvia, Espanha, Turquia e o Reino Unido) no último ano. Na Ásia há registos na Índia e na Malásia, em África na Algéria, e na Oceânia na Nova Zelândia.
No total, os resultados preliminares mostram que houve relatos de assassinatos de pessoas trans em 26 países nos últimos 12 meses.

A actualização dos resultados preliminares do */Trans Murder Monitoring Project/* da Transgender Europe é apresentada na forma de tabelas, listas de nomes, e mapas no website da TGEU em inglês, castelhano e alemão. A versão inglesa das tabelas pode ser encontrada em http://www.tgeu.org/tdor2009english. Aqui poderá também encontrar informação acerca do Dia Internacional da Memória Transgénero, bem como uma lista de todas as cidades onde este dia será celebrado.
Transgender Day Of Rememberance (TDOR)
[International] [Blog/Commentary] Help Fight Violence Against the Trans Community in Turkey and Guatemala
[International] [Blog/News] Transgender Day of Remembrance
[UK] Transgender Day of Remembrance
[UK] Time to end trans discrimination
[UK] Transgender Memorial Day prompts calls to end discrimination at work
[UK] TUC: Transgender discrimination must stop
[UK] Gordon Brown and equalities minister Maria Eagle mark Transgender Day of Remembrance
[Portugal]
[Africa] Transgender Day Of Remembrance - GDX Press release - 20 Nov 2009
[Canada] [Commentary] Remembrance needed for all
[Canada] [Commentary] When gender is more than just a day at the local pool
[Canada] Lest We Forget: Transgender Day of Remembrance
[USA] [Blog/Commentary] Join in Transgender Day of Remembrance Observances FRIDAY
[USA] [Blog/Commentary] What Does Transgender Day of Remembrance Mean to You? – Monica Roberts
[USA] [Blog/Commentary] What Does Transgender Day of Remembrance Mean To You? – Sassafras Lowrey
[USA] Task Force remembers those lost to anti-transgender violence
[USA] [Blog/News] Honoring Those We've Lost, Fighting for Those Still Here
[USA] [Blog/Commentary] Education Needed on Transgender Day of Remembrance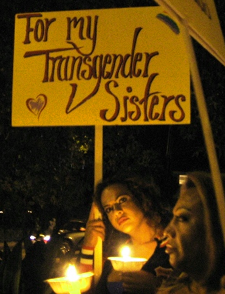 [USA] [Blog/Commentary] Transgender Day of Remembrance
[USA] [Blog/Commentary] Suicide ends transgender lives too
[USA] [Blog/Commentary] Remember We're Living 2009
[USA] [Blog/Commentary] Whose Day of Remembrance?
[AZ, USA] Transgender people face the challenge of matching mind and body
[AZ, USA] LGBTQ Coalition honors transgender victims, educates students

[CA, USA]
Remembering those who died from anti-transgender prejudice
[CA, USA] Out and About
[CA, USA] [Blog/News] Honoring the victims of hate crimes this weekend
[CA, USA] Transgender Day of Remembrance is Sunday
[CA, USA] Bay Area Community Members to Hold Vigil and Release Statement about Murders in Maryland and Puerto Rico
[CA/USA] [Blog/News] CA Bay Area: Vigil Sunday for Jorge Steven Lopez-Mercado and Jason Mattison Jr.
[CA,USA] [Blog/Commentary] Vicki Estrada: Transgender Day Of Remembrance Speech, San Diego
[USA] [Blog/Commentary] Vicki Estrada: Transgender Day Of Remembrance Speech, San Diego
[CA, USA] Killed Because They Were Different
[CT, USA]
Never forget effects of hate
[IL, USA] Transgender community today remembers its dead
[MA, USA] Transgender day of remembrance in Allston on Nov. 20
[MA, USA] Slain transgender people remembered
[MD, USA] Transgender males speak on equality
[NC, USA] Asheville event remembers transgender victims of violence
[TN, USA] Transgender Day of Remembrance
[TX, USA] Remembering the victims: TDOR services set in Dallas, Fort Worth to honor victims of violence
[TX, USA] [Blog/News] Transgender Day of Remembrance observed at SMU
[WA, USA] Vicitms of hate crimes to be remembered
[Europe]
Council of Europe debates draft on gay adoption and gender re-assignment
Next week in Europe, a committee of human rights "experts" will discuss a draft recommendation on measures to "combat discrimination on grounds of sexual orientation and gender identity to ensure respect for human rights of lesbian, gay, bisexual and transgender persons and to promote tolerance towards them."
[UK]
Woman sentenced for attempting to murder transvestite
A west London woman will be sentenced for attempting to murder a transvestite who suffered horrific burns when he was set on fire following a row over a missing handbag.
[Italy]
Ex-governor's transsexual escort found dead
The transsexual prostitute at the centre of the sex, drugs and extortion scandal involving former governor Piero Marrazzo was on Friday found burned to death in a fire at her apartment in the Italian capital Rome. (Photo)
Transsexual In Italian Political Scandal Found Dead
Transsexual prostitute in Italian political sex scandal burns to death
Transsexual at centre of Italian sleaze scandal found dead
Marrazzo case: the mystery gets deeper
Transsexual murdered after political scandal
Transsexual may have been 'silenced'
Marrazzo case prostitute found dead
Trans woman in Italian political scandal found dead
Transsexual linked to Italian politics scandal found dead
Transsexual In Italian Political Scandal Murdered
Woman in Political Scandal Is Found Dead
Prostitute in Rome scandal dies
Brazilian prostitute in Italian political scandal found murdered
Italy scandal prostitute found dead
Transsexual in Italy scandal found dead
Italian sex scandal prostitute found dead
'Brenda' Dead: Transsexual Prostitute Linked To Italian Political Sex Scandal Burns To Death
Transsexual linked to Italy's sex scandal 'found dead'
Transsexual 'Brenda' dead
Transsexual prostitutes 'afraid' after death
[News/Commentary] Transsexual woman linked to Italian politician Marrazzo dies in fire
[Croatia]
Laws on the personal name violate human rights
According to the current law, a person that changes their name has to have both names on the birth certificate.
[Turkey] [Blog/Commentary]
Change Law of Misdemeanors to End Abuse of Trans People
In recent months, the harassment of transgender and transsexual persons in Turkey has intensified as police abuse the country's Law of Misdemeanors to legitimize daily fines, extortion, eviction, detention, and police brutality. The law gives security forces tremendous leeway to punish any noise, disobedience, and disturbance, with virtually no oversight in how the law is applied or recourse to those who are penalized.
[Tanzania]
Transgender Day of Remembrance - Grief and Dreams
Aunty Victoria, attempted suicide and later died in Muhimbili National Hospital Dar es Salaam this year. The years of stigma and constant discrimination, and finally the loss of her lover made her life unbearable.
Hours before her death, naked and unconscious, a hospital worker took photographs of her body. The photos were uploaded to the internet, sent out via email list servs and widely circulated. Echoing this shocking disrespect, the morgue at Muhimbili was left unlocked and hundreds of people queued to look at her body. By the time Aunty Victoria was buried, her breasts and genitals were surgically removed to conform to the Muslim belief that her body should be the one she was born with, so that Allah would recognise her in death.


[South Africa]
Caster Semenya and the middle sex
As athletic leaders meet to decide the sex of the South African runner, our writer reveals that the NHS has pioneered a new approach to the hundreds of UK babies born each year of unclear sex
Caster Semenya found 'innocent of any wrong' to retain 800m gold medal
Caster's test results will remain a secret
South Africa Says Gender Controversy Is Over
No Resolution Yet to Semenya Case: IAAF
[News/Sports/Commentary] Caster Semenya a golden girl once more
Semenya 'could run again as woman'
IAAF keep mum on Semenya
[News/Commentary] South African Runner Keeps Medal But Loses Identity
[South Africa]
Transgender Day of Remembrance - Grief and Dreams
This Friday Daisy Dube will be remembered. Daisy was shot and killed in Yeoville in 2008 because of her
Gender identity
. She and three drag queens out for the night stopped and asked three men in a car to stop calling them "isitabane." (A Sepedi slur used for
LGBT
people). Her cold blooded murder was a result of transphobia. She was shot and killed for defending her identity. (Photo)
[South Africa]
Woman who was born as a boy
Laura Meads is slim, sexy and very feminine. It's almost impossible to believe she was born a boy.The 28-year-old, who took her name from the late pop singer Laura Branigan, had surgery a month ago - the first of several operations she will have on her journey to becoming a full woman.
[Pakistan]
SC directs gender-based registration of eunuchs
The Supreme Court on Friday directed the government to register eunuchs after determining their gender by medical check-up besides giving them the right to vote and inheritance.
SC wants right to vote and inheritance for eunuchs
[India]
Tamil Nadu CM's health insurance coverage for transgenders
Kalaignar's Health Insurance Scheme covers the transgenders too. As many as 350 transgenders were photographed on Monday for getting smart cards to avail of the life saving treatments under the Chief Minister's now popular scheme. Fingerprints of these transgenders were also recorded.
[Malaysia]
Woman loses nipples in botched sex change
A Malaysian woman, in a bid to become a man by removing her breasts, lost both her nipples after botched sex-change surgery, reports said on Friday.
[Australia]
Nova FM DJ in trans attack
A radio DJ at Brisbane's
Nova 106.9 FM
has launched a scathing attack on local trans activist Robyn Whittaker and members of the LGBT community 'lacking in humour'.
The attack by breakfast radio host Meshel Laurie comes after Whittaker complained about three 'transphobic' segments on the station.
[Canada]
Private member's bill aims to recognize transgender rights
On the eve of the Transgender Day of Remembrance, Ontario MPP Cheri DiNovo has introduced a private member's bill to amend the human rights code to recognize "gender identity."
Ontario MPP reintroduces trans rights bill
New bid for 'Toby's Law'
[Canada]
Toronto woman becomes first trans Body Worlds donor
Not many people spend time thinking about their deaths, but Dina Paige has. She's made plans to put her body on display for the education of the world through the Body Worlds travelling science exhibits.
(Photo: TEACHER & COACH. Body Worlds donor Dina Paige says that her body will help educate people about gender after she dies, because it will be plastinated as part of the Body Worlds project.)
[USA]
New Book Offers Fresh Perspective on Transgender Life
"Transgender people have been around since the beginning of time, and there are more of us than you think," writes Joanne Herman in her new book, "Transgender Explained For Those Who Are Not "(
published by AuthorHouse
). "Transgender people are very varied and diverse -- some transition genders as I did, some have an opposite gender presentation only part of the time, and some have a unique gender presentation all of the time. Contrary to common belief, few transgender people have surgery."
[USA]
Federal job bias bill may get a House vote soon
A federal law to bar job discrimination by sexual orientation or gender identity is headed for a U.S. House vote shortly after Thanksgiving, according to proponents.
[USA]
Sex change is "best decision," Chaz Bono says
Chaz Bono says beginning the sex-change process to turn from a woman to a man was "the best decision I've ever made."
(Photo: AP Jeff Chiu - Gay rights activist Chaz Bono speaks during the Transgender Law Center 7th anniversary event in San Francisco, Thursday, Nov. 5, 2009.)


[USA] [Blog/News/Law]
Name changes and forced outing: a small victory
Governments force transgender people to disclose that they are transgender all the time. They make us carry around little pieces of paper and plastic with our birth-assigned sex listed on them, just begging any police officer, bank teller, customs official, airline agent or the like to ask just what are you anyway? They keep that old sex designation in computer files – your driving record, your Social Security record, Medicare record – that get shared here and there. They make us appear in open court, or take out an ad in the newspaper, to announce that we're changing out name from Kate to Kevin, or from Kevin to Kate. They say this is necessary for "accuracy" and "fraud prevention." These government systems very seldom recognize the very real dangers of the official outing of trans people in so many areas of our lives – the dangers not only of embarrassment, discrimination and harassment, but the very real danger of violence when we are outed against our will to untold numbers of strangers. So it was refreshing recently to see one government body – namely a court in Westchester County, New York – show a genuine recognition of these dangers.
[USA]
Larry Wachowski: Transgendered Matrix Director Rare Appearance
Larry Wachowski, half of directing duo 'The Wachowski Brothers' behind such films as The Matrix Trilogy and the upcoming Ninja Assassin, made a rare public appearance leaving LAX yesterday. Larry went through with a sex change operation following the release of The Matrix Reloaded and was rumoured to be calling himself Lana Wachowski.
Director Larry Wachowski Makes A Feminine Public Appearance
(Photo)
[IL, USA] [Blog/News]
Transgender groups to discuss nightclub's ID policy
When Hunters nightclub, a gay bar in Elk Grove Village, announced in August that patrons would have to show ID matching their gender presentation, it angered some in the transgender community who don't dress as the opposite sex all the time.
[CA, USA]
Suspect's DNA sat in lab as rapes multiplied
The San Francisco police evidence lab failed to process DNA samples from the 2007 slaying of a transgender prostitute for two years, leaving the suspect free allegedly to rape and brutalize at least three other transgender women before being arrested, The Chronicle has learned.
[KS, USA]
Life as a transgender woman rewarding but challenging
"If you were interviewing a random person at K-State about any other topic, you wouldn't ask them intimate details about their bodies – it's just more personal than you would expect," said Alley Stoughton, associate professor in computer and information sciences.
(Photo by Chelsy Lueth - Alley Stoughton, associate professor in computer and information sciences, is a male-to-female transgender person. She said life at K-State is both difficult and rewarding, and she faces the same challenges other minority's face.)
[AL, USA] [News/Commentary]
Don't forget the "T" in LGBT stands for transgender
Members of the transgender community often feel they are being slighted by the gay community. A recent example here in Alabama involved the state hate crimes bill, and whether support should be given to a version that was non-inclusive, that is, did not include gender identity. And that debate was between members of the LGBT community. Imagine the confusion or lack of understanding that might exist outside the community.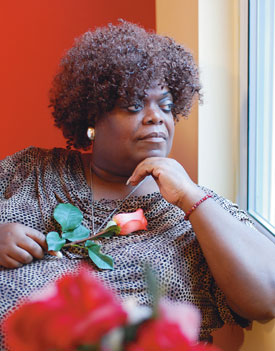 [DC, USA]
Trans Awakening
Excerpt: Budd herself will be the first to admit that she has not led a completely immaculate life. Her passion to help others stems from her own struggles as a transgender woman, from incarceration as a teenager to living on the city's streets as a prostitute and drug user. (Photo by Todd Franson . Earline Budd)
[FL, USA]
Tampa Council approves transgender protections
Opponents of the measure framed it as a thinly veiled assault on the Christian faith that would open the door for sexual predators and all sorts of abhorrent behavior.
Supporters argued it was needed to protect a group that faces rampant discrimination.
Tampa Approves Transgender Protections
In the end, Tampa council upholds idea of equality
Tampa votes to protect transgender rights
After two hours of ignorance and prejudice, Tampa City Council appproves transgendered people to human rights ordinance
[IL, USA]
Giving voice to the silent 'T' in LGBT
Transgender individuals still face many hurdles, even within the LGBT world. And the photo identification policy at northwest suburban Hunters Nightclub has come to represent some of them.
(Photo Jessica Krinke/MEDILL - Christina Kahrl is the transgender liason for Center on Halsted. She is a transgender woman and a sports writer.)
[KS, USA]
Commission votes against including gender identity in Lawrence's anti-discrimination policy
Excerpt: The concerns mentioned included the expense of adding and enforcing changes in the policy, ambiguity in the language of the term gender identity, and concerns about how the policy would affect public facilities such as public restrooms and shower facilities.
Local attorney Tim Riling argued that a policy change could create a situation where a man, dressed as a woman, could enter a women's restroom to assault a woman or child.
"If passed, the city would be facilitating people with criminal intent," Riling said.
Commission votes against addition to discrimination policy

[CA, USA]
Journeys through Transition
Marissa Martinez felt out of place most of her life because she was born in a man's body. Her discomfort did not stem from some sexual attraction to males. Instead, she truly felt she was meant to be a woman. Growing up in the Santa Cruz Mountains, she first identified with femininity during puberty when the changes her body went through, as a boy, did not seem to fit. She had fantasies about being a woman, would wear her mom's clothes, and shaved only her upper thighs so she would not get teased during gym class.
(Photo Taylor Whitehouse staff photographer - Marissa Martinez is the lead singer for a metal band called Cretin and she's been playing the guitar for 18 years.)
[NY, USA]
2 indicted on charges in Queens transgender attack
Two men have been indicted on hate crime charges in an assault on a transgender woman in one of New York City's most diverse neighborhoods.
2 Indicted on Charges in Jackson Heights Transgender Attack

[MO, USA]
Trans-activist Kate Bornstein will make you question your gender
Kate Bornstein
leans back in her chair, legs spread, teal-painted fingernails and tattooed hand partially covering the girly design on her baby-tee top. A black and white wrist cuff with anarchy symbols and a gigantic, silver watch peek out under a sheer white sleeves. The 61-year-old, male-to-female transsexual writer and performance artist is surrounded by framed photographs of local leaders in the still-empty Alumni Room at the University of Missouri-Kansas City. But she's grinning about a different set of trailblazers.(Photo: Kate Bornstein (left) with a TransFest organizer, Wick Thomas)


[MS/AZ,USA]
Phoenix Transvestite Arrested on Weapons Charges in Mississippi
His friends though he had just gone for a long road trip. But then, he was arrested thousands of miles from Phoenix -- in Pearl, Mississippi.
[Puerto Rico]
Activists, politicians, urge Puerto Rican authorities to prosecute López murder as hate crime
As activists on Puerto Rico and around the country continue to organize vigils and other memorials in honor of Jorge Steven López, LGBT rights organizations and even politicians have urged local officials to treat the teenager's gruesome murder as a hate crime.
Man Charged in Puerto Rico Slaying
Human Rights Campaign Condemns Brutal Slaying of Gay Teen in Puerto Rico
[Blog/News] UPDATE: Reports Say Suspect to Use So-Called 'Trans Panic Defense' in Jorge Steven López Murder Case
[Blog/Commentary] And if "Gender Identity" Hadn't Been in the Hate Crime Law, This Wouldn't Have Been Covered
[Blog/Commentary] Trans Erasure Again In The Coverage Of The Puerto Rico Hate Crime Victim
Task Force speaks out on brutal killing in Puerto Rico
Urge the FBI to Investigate a Possible Hate Crime in Puerto Rico
Puerto Rico gay slaying investigated as hate crime
Suspect charged with murder in slaying of gay teen in Puerto Rico
Demonstrators demand justice in Puerto Rico gay teen's slaying
Suspect arrested in brutal slaying of gay man in Puerto Rico
Espeluznante crimen de odio contra joven homosexual
Vigilia contra los Crímenes de Odio – miercoles 25 noviembre…
Piden investigar si brutal asesinato fue crimen de odio…
Exigen remoción del agente investigador de posible crimen de odio…
Investigarán si fue un crimen de odio…
Que se haga justicia…
Este País no lo conozco…
Satisface arresto de sospechoso de asesinato de Jorge Steven López…
Pretenden perpetuar violencia contra gays con defensa de "pánico homosexual"…
Agradecen a autoridades por pronta resolución de crimen de odio y exigen resolución de otros posibles crímenes de odio
Critican el silencio ensordecedor de políticos y religiosos ante crimen de odio…
Exigen radicación de agravantes por crimen de odio en caso de Jorge Steven…
[Commentary] Murder of Gay Puerto Rican Teen Generates Talk of Equality
[Blog/Commentary] The New York Times: Murder Charge Filed in Puerto Rico Teen Slaying
[Colombia]
Análisis desde una mirada trans a la política pública LGBT de la ciudad de Bogotá
Por Charlotte Schneider CallejasDirectora de TRANSCOLOMBIA. Miembro de la Red Colombiana de Personas Trans. Secretaria Trans para la Región Andina de ILGA-LAC. Miembro del Consejo Regional de la Coalición Internacional de Activistas en Tratamientos (CIAT). PF Colombia del Frente Latinoamericano de Artistas Activistas.