Cientistas da NASA dizem que o degelo da Antártida já é irreversível
Pela primeira vez, os cientistas da NASA dizem que é irreversível o degelo que se verifica na Antártida. Face a esta situação, avisam que o nível do mar pode vir a subir muito mais do que tinha sido previsto.


[Brasil]
Travesti é encontrado morto no bairro Monte Cristo, em Florianópolis
Um travesti foi encontrado morto em Florianópolis. O corpo foi localizado na madrugada desta terça-feira na rua Josué de Bernardi, no bairro Monte Cristo, na região Continental de Florianópolis. A vítima foi identificada como sendo Fábio José Rodrigues de 27 anos.

[Europe]
Joint Press Release: European Transgender Community meets for the first time in Eastern-Europe
More than 200 international delegates expected in Budapest for the 5th European Transgender Council

[Georgia]
Georgia's Orthodox Church Opposes Antidiscrimination Bill
The Georgian Orthodox Church has urged parliament to postpone adoption of an antidiscrimination bill, saying it may contain clauses contradicting Georgia's traditional values.
The Church's statement, published on on April 28, says believers consider the antidiscrimination bill to be "propaganda and legalization" of "deadly sin," because it includes "sexual orientation" and "gender identity" on the list of prohibited grounds of discrimination.

[Rússia]
Deputados russos querem competição rival da Eurovisão após vitória de travesti
Deputados russos propuseram hoje a criação duma nova versão do Festival Eurovisão da Canção, após a vitória no domingo do travesti austríaco Conchita Wurst, também conhecido como a "mulher barbuda", que originou contestação na Rússia.


[India]
Transgenders protest demanding name change in certificates
Tension prevailed at the district collector's office on Monday as two transgenders jumped into a protest urging provision to change their names in education certificates. S Swapna, a transwoman and Gopi Shankar, a gender queer person staged the protest urging the state government's intervention in changing their names in the educational certificates. While transgenders rechristen themselves, after they get changed to the gender of their choice, their educational certificates would carry their original name.
Transwoman stages protest

[Australia]
Tranny Bingo organisers reject claims of transphobia in wake of petition calling for name change
Organisers of long-running Sydney social night Tranny Bingo have rejected claims of being transphobic in response to a petition calling for the event to drop the word 'tranny'.

[Canada]
Transgender woman Miki Mappin told federal documents will arrive soon
Told it would take up to two years before her sex was changed on documents

[Canada]
Trans* March 2014 is legal (and Loooooooong)!
It's official! Pride Toronto's Trans* March has officially announced its parade route this year, and it looks to be the longest ever to be given the green light by the city.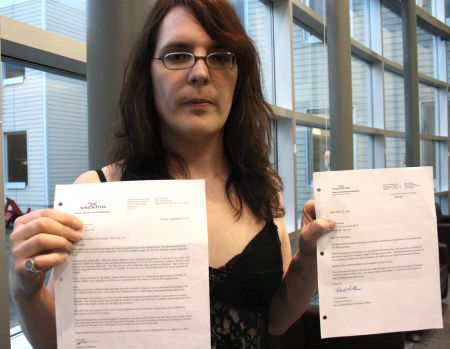 [Canada]
Transgender student files human rights complaint
Dempsey claims she was denied funding because of her gender identity
Jessica Dempsey, a transgender student at Dalhousie, has filed a human rights complaint against the Department of Labour and Advanced Education, alleging discrimination because of her learning disability and her gender identity.


[Canada]
Inmate who murdered roommate with baseball bat dies in Fraser Valley prison hospital
A woman serving a life sentence for killing her roommate with a baseball bat has died in custody.
Katherine Anne Johnson, 66, died Sunday in the institutional hospital at Abbotsford's Fraser Valley Institution for Women. A cause of death was not released.

[NJ, USA]
Two Trans People File Lawsuits Against N.J. Police Departments
A trans man and a trans woman filed lawsuits against two New Jersey police departments after allegedly being discriminated against on the basis of their gender identity.

[TX, USA]
Texas Transgender Teacher Banned From the Classroom Following Suspension
In the past month, Laura Jane Klug has been suspended from work, reinstated, outed to local and national media, and now banned from the classroom.

[Colombia]
Miembro de comunidad LGBTI acepta cargos por homicidio culposo
Ante el Juzgado 13 Penal Municipal de Medellín, con función control de garantías, la Fiscalía imputó cargos por homicidio culposo en contra de William Alexánder o Yessica Betancur Gómez, por causarle la muerte con silicona líquida al bailarín César Augusto Hernández Murillo, de 21 años de edad.

[Chile]
Identidad de género, los reparos sobre el contenido de la iniciativa legislativa
Una postura contraria al proyecto de ley que busca reconocer el derecho a la identidad de Género, ha presentado el senador de Renovación Nacional Manuel José Ossandon, quien realiza una serie de indicaciones al documento. "Estoy en contra de este proyecto, porque esta mal hecho". El parlamentario comenta que está abierto a la posibilidad de legislar, pero las personas que quieran realizar la modificación deben acreditar exámenes médicos. "Esta ley no exige nada, es un trámite. Uruguay, que es un país liberal, se pide un seguimiento, dos años de ficha clínica psiquiátrica. Se solicitan testigos y a la familia, es todo un proceso y es delicado. Ellos son un país mucho más liberal que el nuestro". Asimismo, recalca que se deben consultar las opiniones de psiquiatras y psicólogos.

[Argentina]
Nati: Antes me insultaban, ahora me respetan
Fue el primer caso mundial en que la Justicia autorizó a un menor de edad a una cirugía de adecuación sexual. "Hoy estoy fuerte, creo que quien me quiera me va a querer como una mujer, y no me importa lo que diga la gente, antes estaba débil ante eso", dice.