[Canada]
Changing records to be easier for transgender Manitobans
No need for transexual surgery in order to change sexual designation on documents
Judge rules Alberta law infringes on trans people's rights


[USA]
TransCuba: Photographer Mariette Pathy Allen Explores a Hidden Havana Subculture


[USA]
Time Has No Comment About Not Including Laverne Cox On Its 100 Most Influential People List
The actress and activist got the fifth highest number of votes in the online vote, much more than many people included on the annual list.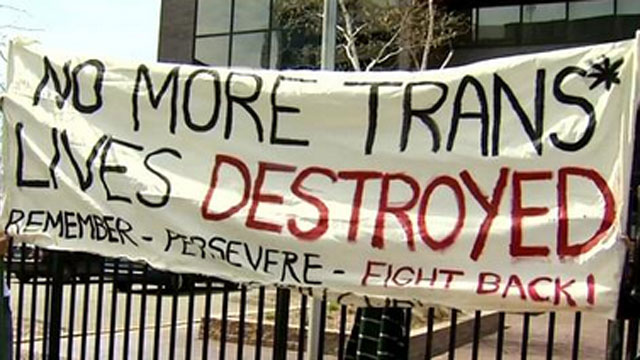 [CT, USA]
Rally Planned for Imprisoned 16-Year-Old Trans Girl
Supporters of a 16-year-old transgender girl have planned simultaneous rallies in New York and Connecticut to lobby for her release from prison after being transferred to an adult facility, without charges filed against her.
Rally held to support transgender teen who is being locked up in adult prison
As Talks Continue, Protesters Rally For Imprisoned Transgender Youth
Rallies Held in Connecticut and New York City For Jane Doe

[LA, USA]
Charges could be Upgraded In Death of Transgendered Female
The death of a transgendered female is now considered a homicide.
Originally the New Orleans Coroner's Office ruled Brad Hall died of natural causes. But now, after reviewing the case, the cause of death has been changed to homicide.
Transgender woman's death ruled homicide, coroner says
Coroner: Transgender woman's death ruled homicide

[NJ, USA]
Lawsuits filed by transgender man and woman against Jersey City and North Bergen police
A transgender woman has sued the North Bergen Police Department and a transgender man has sued the Jersey City Police Department, both claiming they were discriminated against and harassed because of their gender identity.

[NY, USA]
Transgender community protests after transgender woman says she was mistreated at Irish Times Pub in Holbrook
Long Island's transgender community staged a protest in front of a Holbrook pub Friday after a transgender woman says she was mistreated there.

[PA, USA]
Accused rapist extradited to WC
A transgender man from Wayne County has been extradited from Texas and faces charges of raping two underage females.

[TX, USA]
Trans teacher still banned from classroom, after being fired and reinstated
A transgender teacher who was fired by a Texas school says she is being kept away from the classroom, despite officially being reinstated.
Teacher suspended for being trans is allowed to return to Texas school district - but she must stay way from kids
Texas Teacher: "I was Relieved of My Substitute Duties Because I'm Transgender"

[WI, USA]
Milwaukee County board adds gender identity to nondiscrimination ordinance
The Milwaukee County Board of Supervisors voted on April 24 to amend its nondiscrimination ordinance to ban bias based on gender identity and gender expression.