[UK]
Jury considers verdict in transgender sex worker murder
The jury in the trial of a man accused of murdering a prostitute in her own home in East Sussex after he visited her for sex has retired to consider its verdict.
Satellite television installer Neil McMillan is accused of strangling transgender escort Andrea Waddell, then setting fire to her flat in Upper Lewes Road, Brighton.
Jury retires in Brighton flat murder case

[UK]
Appeal And Judical Review Denied For Flat Chested Transexual
A very determined transsexual has lost her court case appeal in which she argued that she had the right to breast augmentation surgery and that it should be paid for by the National Health Service. The person in question who was only referred to as 'C' only recently had her case thrown out but continued with the appeal for a judicial review.

[Russia]
Moscow Pride 'a success', gay activists say
A ten-minute flashmob in Moscow last weekend has been hailed as the first successful Pride parade in the city.
Gay rights activists were denied permission to hold a Pride by city officials for the fifth year running but 30 marchers were able to outwit police and security forces.

[Africa]
Homosexuality and the battle for Africa's soul
Complex anxieties are at play in the wave of homophobia that's currently sweeping over the continent, writes Mark Gevisser.

[Malawi] [Commentary]
Picking Up the Pieces in Malawi
Human rights activists plot the path forward in the wake of the recent same-sex court case.
Before the outsized international human rights outcry. Before the world had even heard of Steven Monjeza and Tiwonge Chimbalanga. Before their chinkhoswe ceremony - akin to an engagement ceremony although more complex - landed these two in prison, then convicted for "indecent practices between males," and finally sentenced to 14 years of hard labor. Before the President of Malawi reluctantly pardoned the convicted parties. Before all of this, activists were acting up in Malawi.
[Blog/Commentary] Steven Monjeza and Tiwonge Chimbalanga hold press conference
Malawi gay couple misidentified in press


[Pakistan]
'Gay couple' granted bail
A local court on Thursday granted bail to a transvestite, Rani, and a local, Malik Iqbal, arrested because they were allegedly about to marry.
'Same-sex marriage' accused bailed out
Transvestites protest against Rani's arrest
(Photo: activist Almas Bobby - left - and Rani.)

[Indonesia]
Boy Listed As Girl Is Really a Boy, Doctors, Census Takers Say
A 15-year-old who has struggled to be recognized as a boy for years can officially do so now, having undergone intensive examinations at Dr. Karyadi Hospital in Semarang.
The hospital concluded on Thursday that Maemunah, who is listed as a girl in his birth certificate, has the requisite sexual organs to prove he is indeed a boy, and there no longer needs to be any confusion over the matter.

[Canada/Philippines] [News/Film]
The drag-queen express, Philippine style
A group of transvestite entertainers drive across the country to take part in gay beauty pageants and, at the same time, reveal some of their hopes and aspirations and, yes, fears.
No, it's not Priscilla, Queen of the Desert, although the Philippine movie The Thank You Girls has often been compared to it.
'Thank You Girls' like 'SATC'

[USA]
ONU evita reconocer ONG de derechos de homosexuales
Una comisión de la ONU que decide cuáles organizaciones no gubernamentales pueden ser reconocidas ante el organismo mundial evitó votar este jueves sobre una solicitud de la Comisión Internacional de Derechos Humanos de Gays y Lesbianas.

[USA] [Blog/Commentary]
Angie Zapata's Mother Speaks Out Against "TICKED OFF TRA**IES WITH KNIVES"
Maria Zapata, whose slain daughter Angie's image was used in the
film's initial trailer, also spoke out in opposition to the film.
"This week we found out that there was a film that used Angie's name and the circumstances around her murder as a way to promote what is supposed to be a funny film. There is nothing funny about Angie's murder and we are deeply offended that someone would use Angie's name and memory to promote the film, Ticked-Off Tra**ies With Knives."

[USA]
Transgender Feminization Through Cosmetic Surgery
For transgender patients, cosmetic surgery can help them achieve an outer appearance that matches who they are inside.

[CA, USA]
Save TEEI - Reinstate Funding in Mayor Newsom's Budget!
San Francisco's Transgender Economic Empowerment Initiative (TEEI), the nation's only collaborative program helping transgender people find jobs, is once again facing elimination. TEEI has helped place transgender people in over 130 jobs in less than three years.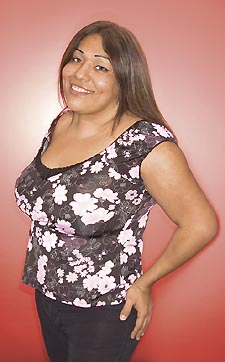 [DC, USA]
Sharing Trans Tales
Transgender activist offers local screening of Latino-trans documentary that transcends borders
It's not just a documentary film.
That's the message that resonated for local transgender activist Ruby Corado, executive director of the local LGBT Latino group Latin@s en Accione, after watching the film Translatina. (Photo: Ruby Corado)

[DE, USA]
Transgender men go topless at Delaware beach
Rehoboth Beach in Delaware isn't a topless beach — but a few transgender men caused a stir by treating it like one.
Topless transgenders cause Rehoboth stir
Gay group criticizes transgender women for going topless on Delaware beach

[WA, USA]
Seattle Man Accused of Assaulting Trans Woman
A Seattle man was charged Thursday with malicious harassment under Washington's hate-crime statute after police said he yelled a derogatory slur at a transgender woman and assaulted her.
A witness reported 51-year-old Daniel Patrick Woodward yelling at the victim at a bus stop Sunday and punching her several times, after which the witness followed him as he walked into a nearby store and later pointed him out to police officers.
Man charged with hate crime in Ballard transgender attack
Seattle man charged in 2nd hate-crime case
Stranger brutally attacks transgendered woman