[Europa]
Miembros preguntan a Parlamento Europeo si habrá Apoyo Financiero para Igualdad de Personas Transexuales
El día 4 de marzo diez Miembros del Parlamento Europeo preguntaron a la Comisión Europea si piensan proporcionar fondos específicos para las organizaciones transexuales transgénero que trabajen en la UE, así como a nivel nacional en cualquiera de los Estados que la integran.

[Brasil]
Policiais foram flagrados fazendo sexo oral com travesti durante expediente
Dois policiais militares foram flagrados fazendo sexo oral com um travesti no Parque Zé Bolo Flor, na região do Coxipó, em Cuiabá, no Mato Grosso.

[España]
Transexuales de Andalucía ha presentado una guía de buenos usos para los medios de comunicación
La Asociación de Transexuales de Andalucía ha presentado una guía de buenos usos para los medios de comunicación.

[UK]
Transvestite left with broken jaw after city centre attack
TWO men have been jailed after they attacked a transvestite leaving him in an alleyway with a broken jaw.
Neil McLean and Daniel Dean were part of a group which demonstrated hostility to Michael Roessner in Hanley city centre at about 3am on September 25.

[UK]
Britain's Channel 4 Makes Commitment to Treating Trans Issues Fairly
Bosses of Britain's Channel 4 this week signed on to an agreement committing the television channel to portraying accurately and sensitively the lives of transgender people.

[UK]
Trans man loses court battle for bigger breasts on NHS
A transsexual man who wanted his local NHS trust to pay for him to have bigger breasts has lost his case in the Court of Appeal.

[India]
Seminar tells tale of transgenders' affection
The seminar organised by students of the department of social work on the theme 'Transgender- the forgotten gender" at the D G Vaishnav College on Thursday, was an eye-opener in more ways than one.

[India]
In Hisar, eunuchs teach a lesson in gender equality
It is heartening to watch transgenders embrace the weaker sex in Haryana --notorious for its skewed sex ratio. Where the government has failed to do anything tangible in balancing the girl-boy ratio, a group of eunuchs has adopted young girls, whose parents did not wish to bring them in this world.

[Tailândia]
Transsexual tailandesa emociona ao fazer um "dueto"
Nantita Khumpiramon, um@ transsexual de 27 anos teve uma atuação surpreendente em edição recente do programa Thailand's Got Talent, a versão tailandesa do famoso reality show britânico.

[AR/TN, USA]
No new leads in trans woman's murder
Shooting death of Marcal Tye in Northeast Arkansas raises specter of string of unsolved trans murders in nearby Memphis; activists say homophobia, transphobia still rampant in states' rural areas

[CA, USA]
West Hollywood Transgender Advisory Board Seeks to Educate and Foster Understanding
The city of West Hollywood is the first in the world to have its own Transgender Advisory Board that operates independently and separate from the gay and lesbian board. As gay and lesbian people become more accepted in mainstream America, those in the transgender community fight for the most basic of rights, like being able to use the public restroom of the gender with which they identify.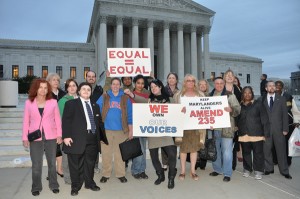 [DC/MD, USA]
Trans Maryland rallies at Supreme Court
Activists from Trans Maryland and their allies held a rally in front of the U.S. Supreme Court on Tuesday to demand that lawmakers reinstate language barring discrimination in public accommodations to the proposed Gender Identity Anti-Discrimination Bill in Maryland. (Photo)

[LA, USA]
Federal Civil Rights Suit Challenges Louisiana's Felony Sex Work Law
Eve is a transgender woman living in rural southern Louisiana. She was molested as a child and left home as a teenager. Homeless and alone, she was forced to trade sex for survival. During this time, she was arrested and charged with a Crime Against Nature, an archaic Louisiana law originally designed to penalize sex acts associated with gays and lesbians.

[LA, USA]
Her Crime? Sex Work in New Orleans
Tabitha has been working as a prostitute in New Orleans since she was 13. Now 30 years old, she can often be found working on a corner just outside of the French Quarter. A small and slight white woman, she has battled both drug addiction and illness and struggles every day to find a meal or a place to stay for the night.

[NV, USA]
Nevada Lawmakers Advance Transgender Hate Crimes Measure
Nevada lawmakers voted on Thursday, March 17, to advance a bill that would add gender identity and expression to the state's hate crimes law.

[UT, USA]
Ogden to fine employers, landlords who discriminate based on sexual orientation
The Ogden City Council has agreed to enact an ordinance that would fine employers or landlords $500 for discriminating based on sexual orientation or gender identity.
Compromise on LGBT ordinances reached in Ogden


[Ecuador]
Ecuador acoge un taller transexual
Una importante teniente de la polícia del país habla sobre temas polémicos relacionados con el trato despectivo de los cuerpos de seguridad hacia las personas transexuales, como prostitución o el grado de capacitación que cuentan para entender la realidad transexual. (Foto)


[Honduras]
Repressed fear in a transgendered world
"Even Obama cares about us! The last time a gay leader was assassinated in Uganda, Obama asked [President] Pepe [Lobo] to protect us and investigate the crimes against us in Honduras," says Bessy, a 31 year-old transsexual who does volunteer social work with the homosexual community during the day. For the last 11 years, Bessy has also been working nights as a prostitute on the streets.
(Photo: REUTERS/Edgard Garrido - Transvestite Tiffany, 19, shows a scar of a knife attack in Tegucigalpa March 10, 2011. According to leaders of LGBT organizations (lesbians, gays, bisexuals and transgenders), 34 people have been murdered in the last 18 months. The U.S. embassy and United Nations Programme on HIV/AIDS (UNAIDS) have requested the government to investigate the murders and safeguard the rights of the LGBT community, local media reported.)


[Brazil]
2 Trans Murders Rock Brazil: Priscila + Val Executed In The Streets
Priscila, a 22-year old trans woman in Brazil (born Gustavo Brandão Aguilar), was captured on surveillance camera being shot seven times, execution style, earlier this month.
Mujer Transexual asesinada Brasil: iba a dejar lel comercio sexual con Apoyo de su Madre
[Argentina]
Buenos Aires acoge a la primera funcionaria travesti del país
El documento nacional de identidad (DNI) de Mariana Gómez afirma que se llama Rubén Darío, y que nació hace 31 años en Argentina.
Mariana Gómez, primera mujer transexual empleada en la Justicia de Buenos Aires
Primera funcionaria travesti en Argentina
(Foto: La argentina Mariana Gómez hace historia al ser reconocida como la primera travesti dentro del colectivo de funcionarios del país.)