[Sweden]
Christian Democrats uphold sex change sterilization demand
The Christian Democrats on Thursday voted to retain the demand for sterilization for those choosing to undergo a sex change, arguing that if "a woman becomes a man, she should not be able to become pregnant as a woman".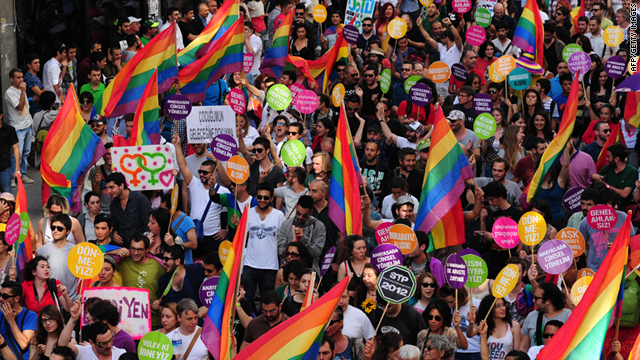 [Turkey]
"Equality Here and Now"
"Equality Here and Now - Stop Discrimination against Lesbian, Gay, Bisexual and Trans Individuals in Turkey" was a panel of the 19th LGBTT Istanbul Pride Week where LGBT individuals described the rights violations they experienced. (
Photo
)
Los turcos desafían el miedo y celebran la fiesta del Orgullo Gay
Turkish gay pride march draws thousands
[Turkey]
Tomates hormonados
Al día siguiente volvieron a caminar por el lado salvaje de Tarlabasi, la avenida de cuatro carriles y tráfico día, noche y madrugada, que separa las dos caras de Estambul. En el lado alto, los bares de Istiklal, con terraza, cervezas frescas, música suave. Tabernas irlandesas, cajeros automáticos, trapitos de marca, librerías, discotecas en el quinto piso, cervezas a quince liras.
[Pakistan]
Transgender community voice disappointment over budgets
The transgender community in the country voiced their disappointment over the current fiscal year's federal and provincial budgets, complaining that they had given nothing to the Khwaja Sirahs in the country.
[India]
A proud celebration of LGBT identity
The Marina beach wore a festive look on Sunday morning, as over 300 members of the LGBT community, along with their family members and supporters marched on its shores, waving flags of different colours, holding banners and swaying to drum beats, at the Chennai Rainbow Parade. (
Photo
)
[India]
Minister, rights body explore law for child sex surgeries
The Union ministry of women and child development is exploring the possibility of forming a law to deal with sex change surgeries performed on children. Following a report published by HT, Union minister Krishna Tirath has asked the National Commission for Protection of Child Rights (NCPCR) to look into the matter.
Indian girls aged just one forced into sex swap ops
[Cambodia]
Cross dress rehearsals
It's the middle of a weekday in Siem Reap inside the Station Wine Bar, as 24-year-old cross dresser Carole gyrates onstage to the Jennifer Lopez song "On the floor" clapped on by an audience of bar staff and fellow performers, barely visible in the dim mood lighting.
[Philippines]
Baguio pride month forum focuses on transgender rights
Human rights violations committed by the government and private parties against transgender Filipinos may soon be subject to international legal censure and corrective measures, if activists and lawyers succeed in getting the attention of the United Nations.
[Australia]
Transgender case goes to High Court
Two West Australian transsexuals aged 34 and 28, who initially won the right to change the gender on their birth certificates from female to male, had the ruling overturned after the WA Attorney-General appealed the decision.
The pair, referred to only as AH and AB, had double mastectomies and were undergoing testosterone treatment resulting in increased male characteristics. Both are infertile because of their therapy.
[USA]
U.S. Dept of Health and Human Services To Begin Counting Trans People
Today the Secretary of Health and Human Services Kathleen Sebelius announced a plan to develop and use survey questions to collect public health information on trans people. This is the culmination of a lot of work from a lot of people.
Here's the HHS Plan on Gender Identity and Sexual Orientation Data Collection
Officials to Begin Including LGBTs in Health Data
HHS Announces Plans for LGBT Health Data Collection
HHS unveils plan to start data collection on LGBT health
[AR, USA]
Investigators ask public for help with Marcel Tye killing
Clues are running thin in St. Francis County as to who killed Marcel Tye in early March.
[CA, USA]
FBI encourages LGBTs to report hate crimes
The FBI office in San Francisco is encouraging LGBT people to report hate crimes based on a person's sexual orientation or gender identity now that the federal agency has jurisdiction to investigate such criminal activity.
[MA, USA]
So they say: "I AM: Transgender People Speak"
This week's "So They Say" section is devoted to the transgender people and allies who took part in the Massachusetts Transgender Political Coalition's (MTPC) "I AM: Transgender People Speak" project, an ongoing public education effort that allows transgender people to speak from the heart.
[MN, USA]
Transgender suspect Chrishaun McDonald didn't kill Dean Schmitz, witnesses claim
Just after midnight on June 5, two groups of strangers began shouting at each other outside Schooner Tavern in south Minneapolis.
A brawl broke out, and when it was over, Dean Schmitz, 47, lay in the street bleeding to death.
Chrishaun McDonald, 23, was arrested and has been charged with second-degree murder.
(
Photo: Chrishaun McDonald
)
[PR,USA]
Muerto a tiros persona de interés en caso asesinato transexual
Un individuo que sería colocado en una rueda de confrontación como "persona de interés" en relación a la muerte de la transexual Karlota (Carlos Alfredo Gómez Peña), fue encontrado muerto a tiros el sábado en la noche en Villa Palmeras.
[PR, USA]
18 Murders in 18 Months: Puerto Rico's LGBTTs Face New Threats, Old Politics
While the rest of the world is celebrating Pride, Puerto Rico is reeling from a spree of violent hate-based crimes against its LGBTT community.
Authorities speak up on hate crimes against the LGBT community... to say they have nothing to do with being LGBT
Gay, transgender people targeted in deadly assaults
Cruzada legislativa contra los crímenes de odio
Feuding drug gangs spark violence in Puerto Rico, authorities say
[PR, USA]
Comunidades LGBT se unirán a convocatoria para repudiar abuso policíaco
La organización Puerto Rico para Todos, que lucha por los derechos de las comunidades lésbica, gay, bisexual y transgénero (LBGT), anunció hoy que se unirá a las actividades del Colectivo 30 de junio, convocada para conmemorar mañana el aniversario de los ataques de la Policía contra estudiantes, profesores universitarios, periodistas y otros sectores de la sociedad el año pasado.
[TN, USA]
Nashville disc jockey accused of transphobic comments
A transgender woman who attended this month's All-White Affair in Nashville has accused a local disc jockey of making transphobic comments in front of the assembled crowd.
[Mexico]
Cierran Lucía Méndez, Lorena Herrera y Maribel Guardia la marcha gay del DF
Las cantantes Lucía Méndez, Lorena Herrera y Maribel Guardia fueron las encargadas de cerrar la 33 Marcha del Orgullo LGBT en el Distrito Federal, con un espectáculo en el Zócalo capitalino donde además de cantar se pronunciaron en favor de la diversidad sexual. (
Photo
)
[El Salvador]
La comunidad homosexual reclama sus derechos
Decenas de integrantes de la comunidad homosexual de El Salvador reclamaron hoy respeto a sus derechos y recordaron la importancia de la familia, en la decimoquinta edición de la "Marcha del Orgullo".
[Colombia]
Comenzó la celebración de la comunidad LGBT en Chapinero
Este miércoles comenzó la tercera edición de la 'Semana al Rosa Vivo'.
Se trata del festejo de quienes pertenecen a la comunidad de Lesbianas, Gay, Bixesuales y Transexuales (LGBT), organizado por la alcaldía local de Chapinero.
[Peru]
Un informe sobre los derechos de los homosexuales en Perú criticó la ineficacia del Estado
El informe del 2010 sobre derechos humanos de las personas transgénero, lesbianas, gays y bisexuales en Perú criticó hoy "la incapacidad e ineficacia" del Estado peruano en la implementación de medidas para proteger a este grupo social.
Nuevo informe sobre situación de los TLGB
Perú: hubo 18 asesinatos por homofobia
[Peru]
Pocas ordenanzas apoyan la identidad de género
Solo diez ordenanzas de gobiernos regionales y locales promueven la identidad de género en el país, según dio a conocer el Informe Anual sobre Derechos Humanos de Personas Trans, Lesbianas, Gays y Bisexuales en el Perú del año 2010. Según el especialista Martín Jaimes, relator del informe, si bien existen estas 10 ordenanzas, la mayoría no va acompañada de acciones de ejecución para proteger los derechos fundamentales de esta población.
[Argentina]
Reclamos por una ley de identidad de género
Con diversas manifestaciones artísticas se celebró en la ciudad el Día del Orgullo Gay.