[Portugal]
Hospital de Coimbra já faz cirurgias de mudança de sexo
Os Hospitais da Universidade de Coimbra (HUC) realizam este mês as primeiras cirurgias para a mudança de sexo. Dezasseis já estão autorizadas pela Ordem dos Médicos, disse esta sexta-feira o coordenador da equipa multidisciplinar criada para o efeito, citado pela Lusa.
Hospital de Coimbra realiza primeiras cirurgias de mudança de sexo das 16 já autorizadas pela Ordem dos Médicos
Coimbra realiza primeiras operações de mudança de sexo este mês
HUC realiza primeiras cirurgias para mudança de sexo
Mudança de sexo: Hospital de Coimbra realiza primeiras cirurgias, 16 já autorizadas pela Ordem dos Médicos
Hospital de Coimbra realiza primeiras cirurgias de mudança de sexo
Hospital de Coimbra realiza primeiras cirurgias
HUC já tem 16 cirurgias programadas para mudança de sexo
HUC vão fazer primeiras operações de mudança de sexo
Hospitais de Coimbra realizam primeiras cirurgias de mudança de sexo

[UK]
Reporting of Anti-LGBT Crimes Up in U.K.
Hate crimes overall decreased somewhat in England, Wales, and Northern Ireland in 2010, but those motivated by the victim's sexual orientation or transgender status grew — although past underreporting may account for the increase, says Stephen Otter (pictured) of the U.K.'s Association of Chief Police Officers.

[Nepal]
Nepal Constitution Aims High
A draft constitution for Nepal would enshrine LGBT rights advances as breathtaking as the heights of Mount Everest if lawmakers are willing to adopt the document.
The Word on Women - Nepal Looks Set To Officially Recognize Third Gender

[Pakistan]
'Miracle' surgery spares father the imperative to re-marry
"I no longer need to re-marry," says Muhammad Sharif, father of a girl who became a boy following a sex-change operation at Mianwali district headquarters (DHQ) hospital on Monday. 19-year-old Abdullah, earlier known as Ruqayya Bibi, was divorced a month ago after three years of marriage.

[Australia]
Workplace discrimination still largely underreported
Only a fraction of gay and lesbian people who suffer harassment and discrimination in the workplace report their experiences to authorities.

[USA]
"NCTE Celebrates HHS Enforcement of Hospital Visitation Rights for Patients
Today, the Department of Health and Human Services announced new guidance that steps up enforcement of rules that allow patients to designate their own hospital visitors, and empowers patients to identify a person to make medical decisions should they become incapacitated. In response to these developments, NCTE Executive Director Mara Keisling says:

[USA]
Chaz Bono ignores 'Dancing With the Stars' controversy, focuses on dancing and fan support
Chaz Bono isn't thinking about the controversy surrounding his casting on "Dancing With the Stars." He says he's been flooded with fan support and is focused on the cha-cha.
[Commentary] Bozell: Dancing With the Lecturers
[Commentary] An Open Letter on Dancing With Gender
Russell Simmons Defends Chaz Bono on Dancing With the Stars

[USA] [Commentary]
For Transpeople, Having A J-O-B Is Fundamental To Human Rights
'We talk a lot about human rights, but I don't know of any human right that is more important than having a job'

[USA] [Commentary]
Transgender Inc. and The Transgender Borg Collective and Why I Use those Terms for the "Transgender Community"
I am not transgender.
I am not part of the "Transgender Community".
[Commentary] A "Transsexual Versus Transgender" Intervention*

[USA] [Commentary]
Feminist Blog Outs Trans Women, Posts Pictures,
As it's become clear that the "WBW" policy is no longer a policy, trans women have begun attending MichFest openly. In response, that repository of anti-trans hate speech – GenderTrender (not going to link) – has posted pictures and real names of four trans women for the purposes of harassing them and possibly inciting violence.

[USA]
Where do transgender athletes fit into sports?
Until recently, the existence of transgender athletes was largely ignored, although the concept of "sex-testing" is nothing new.

[LA, USA]
Lawsuit on La. 'crime against nature' law survives
A federal judge has refused to throw out a court challenge to a Louisiana law that has required people convicted of soliciting oral or anal sex to register as sex offenders.

[NC, USA]
Challenge and triumph in the transgender community
Transgender students come out about their struggles and cathartic moments.

[NY, USA]
Lawsuit Breaks Ground for Transgender Supermax Inmates
A nonprofit lawyer has been tapped to pursue claims against a drug-treatment center whose alleged discrimination led to the incarceration of a transgender woman in an all-male, supermax prison, court documents show.

[Cuba]
Entrevista con Mariela Castro: Prejuicios impiden aprobar los derechos de la comunidad LGBT
Mariela Castro es la directora del Centro Nacional de Educación Sexual, CENESEX, desde donde lucha, junto a cientos de activistas, por lograr que se respeten los derechos de la Comunidad de Lesbianas, gays, bisexuales y transexuales (LGBT).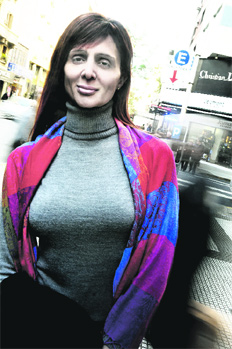 [Argentina]
María Eva Ros, vocación docente
María Eva Rossi inició su transformación después de recibirse de psicóloga en Nueva York, cuando volvió a su ciudad natal, Bahía Blanca, donde todavía vive. Este paso a paso, dice, le otorga algunos privilegios que ella destaca como tales desde su profesión de formadora de docentes. "Prefiero estar en un aula que encerrarme en un consultorio, esta visibilidad es mi compromiso". (Photo)