[International]
Russia rejects G8 statement affirming rights, freedoms of LGBT individuals
Russia is openly distancing itself from language included in a joint statement released by the G8 Foreign Ministers Meeting Chairman on Thursday that supported the rights and freedoms of LGBT individuals.
Russia Rejects G8 Endorsement of LGBT Rights

[Brasil]
Decisão judicial aprova mudança de nome de transexual em Ceres, Goiás
Registrado como Vando, microeemprededor pretende se chamar Ana Kely.
Para advogado, conquista abre as portas para outros transexuais.
Um juiz da 2ª Vara de Ceres, a 177 quilômetros de Goiânia, acolheu parecer do Ministério Público (MP) e foi favorável a um pedido de mudança de documentação civil de uma transexual.

[India]
House owners in city slam the door on transgenders
The state might have accorded them special status and rolled out welfare schemes, but transgenders continue find it hard to rent houses in the city.

[India]
Eunuchs cannot be covered under SC/ST Act, state tells high court
The state government on Friday informed the Bombay high court that eunuchs could not be covered under the Scheduled Caste/Scheduled Tribe (SC/ST) Act.

[Malaysia]
5 homophobic NGOs apply permit to hold anti-gay rally on Sat
Five non-governmental organisations (NGOs) including the Malaysian Malay Network Organisation (JMM), today submitted a permit application to the police to organise a peaceful rally against lesbians, gays, bisexuals and transsexuals (LGBTs) at Merdeka Square here on Saturday.

[Philippines]
Palace keeping out of debates on transgender issue in beauty pageants
Saying the issue is something that does not involve President Benigno Aquino III, Malacañang is keeping its distance from the debate on whether transgender women can join beauty pageants.
Miriam Quiambao: No to transgender women in Miss U
A transgender Miss Universe? How about a Bb. Pilipinas transgender?

[Canada]
Hate Crimes Targeting LGBT Community Remain Most Violent in Canada
Today's release by Statistics Canada of the 2010 police-reported hate crime data confirms that violence against the lesbian, gay, bisexual and trans (LGBT) community continues to be the most severe of all forms of hate crime in Canada.

[Canada] [Commentary]
Miss Universe Ditching Anti-Trans Rule a Sign of Change in Public Attitudes
This has been a big year so far for the advancement of trans people, and I'm not just referring to legislative efforts like C-279 and Toby's Act. Take a look in the media.

[USA]
Obama Fumbled Gay Rights, Groups Say
The Center for American Progress and other rights groups have condemned President Barack Obama's refusal to sign an executive order barring government contractors from discriminating against gay, lesbian and transgender workers.
News Analysis: Obama Executive Order Decision Raises Question Whether He's Broken 2008 Pledge
[Commentary] President Obama: LGBT Workers Can't Wait

[USA]
How States Disenfranchise Transgender Voters
Tens of thousands of transgender voters may not be heard at the polls because of strict photo identification rules in nine, mostly conservative, states.
Report: Voter ID laws pose unique barriers for transgender voters
The Potential Impact of Voter Identification Laws on Transgender Voters
Voter ID Laws Pose Unique Barriers and Possible Disenfranchisement for Over 25,000 Transgender Voters

[USA]
Astonishing Number Transgender Latina Women Assaulted By Law Enforcement
Sixty-nine percent of Transgender Latina Women reported having been verbally harassed, physically assaulted or sexually assaulted by a law enforcement personnel, a new report conducted by the Williams Institute reveals.
Interactions of Transgender Latina Women with Law Enforcement

[USA]
Victory for Trans Immigration Documents & Marriage Benefits
Today, U.S. Citizenship and Immigration Services (USCIS) issued a Policy Memorandum revising the treatment of gender designations for transgender people on their immigration documents. The new guidance also makes clear that if a couple has married as a different-sex couple under state law, the federal government will continue to recognize the marriage for immigration purposes regardless of a person's subsequent gender transition.

[USA]
The State of Gay and Transgender Communities of Color in 2012
The Economic, Educational, and Health Insecurities These Communities Are Struggling With and How We Can Help Them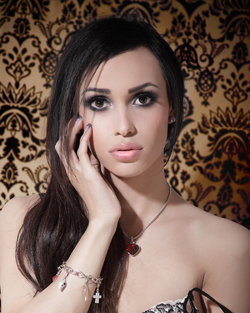 [USA]
Peek into the Sex Life of a Transsexual Porn Star: An Interview with Madison Montag
While on the red carpet at the AVN Awards back in January, I couldn't help but notice a cute, petite girl in a mirrored dress coming down the carpet after me. Waiting in line to be interviewed by Showtime, I found out that that the tiny woman was Madison Montag, who was nominated as "Transsexual Performer of the Year." She has a real magnetism and a disarming kind of charm. A few weeks ago, I asked Madison if she would open up about the intimate details of her sex life, her struggles, and what it was like growing up trans. She revealed both titillating secrets and sweet dreams for her future.

[USA]
NCTE's Mara Keisling to be a Featured Guest on MHP Show Discussing Trans Issues
From the first appearance at a trans event by a sitting Cabinet Secretary to the incredible list of policy victories we've achieved in the past year, trans policy is now firmly part of the political debate. Of equal importance is that now, the conversation around the country is moving in our favor, symbolic of important cultural progress in our movement.

[AK, USA]
A Quiet Success in Alaska: Important Ruling in Transgender ID Case
It's hard to find the silver lining in the confused and unsettled results over last week's Anchorage Proposition 5 vote — that city's effort to pass by popular vote a law that would protect LGBT people from discrimination in employment, housing, and access to business serving the public. Perhaps when the votes are all counted, we'll discover that the announced loss was premature and inaccurate.

[CA, USA]
Transgender Awareness Week sees high turnout
Campus participation in Stanford's 2012 Transgender Awareness Week has far exceeded expectations, according to members of Stanford Students for Queer Liberation (SSQL), which was the primary organizer of the event.

[CA, USA]
LAPD Will Separate Trans Inmates to Ensure Their Safety
Transgender women will no longer be held with male prisoners while they're arraigned.
Los Angeles Police Department designates separate holding facility for transgender inmates

[DC, USA]
New Plea Deal in Works for Furr
U.S. Attorney's Office expected to offer deal to off-duty police officer accused of shooting at transgender women

[NC, USA]
Author Kate Bornstein shares personal transsexual experience
She was a hippie that didn't grasp the peace movement. A phone sex hostess with the voice of a man. A daughter who used to be her mother's son.

[NY, USA]
Transgender series wins a top reporting award from Sigma Delta Chi
A Times Union series that examined the lives, struggles and triumphs of transgender people in the Capital Region won a top reporting award from Sigma Delta Chi, a nationwide organization for journalism.

[PA, USA]
Subpoena issued in Pitt bomb threat case
A transgendered couple from Cambria County with ties to the University of Pittsburgh have been subpoenaed to appear before a federal grand jury in Pittsburgh that is investigating the rash of bomb threats at Pitt.

[PA, USA]
Abington Passes Anti-Discrimination Ordinance
Late last night, the Abington Township Board of Commissioners passed an ordinance that prohibits discrimination on the basis of sexual orientation, sexual identity or sexual expression. It also establishes a human relations commission.

[UT, USA]
Springdale becomes 15th Utah municipality to pass anti-bias measure
Springdale, Utah's Town Council unanimously passed an ordinance protecting against bias based on sexual orientation and gender identity in the workplace and housing on April 11. Modeled after similar measures passed in Utah, the town located at the gateway to Zion National Park is the first to pass a such an ordinance in Washington County.
Gateway to Zion National Park bans anti-gay bias

[Mexico]
Never Forget Them
I've been avoiding writing about Agnes Torres Sulca for almost a month now. For those of you who don't know, Agnes Torres was a trans* activist in Puebla, Mexico who was found murdered on March 10. Her Twitter account is active until the day of her disappearance, with a link to an interview she did being the final post. Agnes was a psychologist, an activist, and an academic. She was one of the most prominent advocates for Queer people in Mexico, and Mexican authorities went from writing off her death as a crime of passion to stating that the motive behind her murder was the theft of her car, not hatred nor transphobia.

[Mexico]
Lupita Jones no aprueba transexuales en Miss Universo
Después que los organizadores de Miss Universo anunciaran que de ahora en adelante permitirán que personas transexuales participen en el concurso, Lupita Jones se pronunció en contra de la nueva resolución.
Debate por la inclusión de una miss transexual

[Bolivia]
Like Jenna Talackova, Bolivian Transgender Wishes To Compete In Miss Universe
Well, the way isn't that far! Canadian beauty queen Jenna Talackova's struggle to participate in international beauty pageant for women has opened new doors for other transgender women like her.


[Bolivia]
Muere travesti que usó silicona industrial
El travesti identificado como Roberto S., a quien se le inyectó silicona de uso industrial en pechos y glúteos, murió el jueves en la noche por un cuadro de neumonitis química (inflamación que se presenta en los pulmones), en Santa Cruz.
Murió el travesti que se inyectó silicona industrial a sus glúteos
Travesti muere tras seis días de agonía
Fallece travesti en Bolivia tras inyectarle silicona de uso industrial

[Venezuela]
Tamara Adrián asegura que Miss Venezuela "deberá supeditarse y aceptar concursantes transgénero"
A propósito de la apertura que mostró en días pasados el concurso de belleza Miss Universo al permitir la participación de concursantes transgénero, la activista gay venezolana Tamara Adrián ofreció su punto de vista.

[Venezuela]
Activista gay criticó las declaraciones "homofóbicas" de Maduro: esperan una disculpa pública
Tras las tildadas "homofóbicas" declaraciones ofrecidas por el canciller venezolano Nicolás Maduro el día de ayer, la doctora en derecho y activista gay, Tamara Adrián, compartió con Noticias24 sobre sus impresiones al respecto.

[Uruguay]
Exigen que se resuelvan crimenes de mujeres trans
El esclarecimiento de los asesinatos de dos mujeres trans y un trato respetuoso de la diversidad sexual por parte de los medios de comunicación son los reclamos que realizó la organización uruguaya `Oveja Negra`.

[Argentina]
En Chacarita funciona el primer secundario para travestis y trans
El escritor Oliverio Coelho participó de una clase de este bachillerato que busca que el saber sea accesible para todos. El testimonio de alumnos y profesores.