[Brasil]
Madalena, vereadora travesti de Piracicaba, retorna à Câmara após licença para tratar o câncer
Afastada para um tratamento contra o câncer, a primeira vereadora travesti da Câmara de Piracicaba (SP), Madalena (PSDB), voltou a frequentar as sessões parlamentares na quinta-feira (21).


[Brasil]
Mais um travesti morto em Goiânia
Um travesti foi morto a tiros nas proximidades do Agnos Motel no Bairro São Francisco, em Goiânia, na noite desta segunda-feira (18/3).
PALOMA / TRANS* – 24 ANOS / TIROS / GO, GOIÂNIA


[UK]
Teacher due to begin new term at school as a woman is found dead
The news of Lucy Meadows death was announced to pupils and staff at St Mary Magdalen's School, in Accrington
Trans woman commits suicide after being bullied by the Daily Mail

[Malta]
'I fought Government on transgender issue'
Woman angered by Gonzi's reference to her marriage battle

[Turkey]
Parents Get on Board With Turkey's LGBT Movement
In Turkey, the word "family" often carries coded messages. A "good family girl," for instance, denotes a virgin, and a "family restaurant" usually means one with no alcohol on the menu. Director Can Candan has now made what he calls a "family film." But far from catering to taboos, his documentary breaks one: Parents of lesbian, gay, bisexual and transgender (LGBT) individuals in Turkey are speaking out for the first time in support of their children, marking a new milestone for the movement in the country.

[South korea]
Transsexual people can amend official gender without surgery, South Korean court rules
Five transmen win a court case in Seoul to get gender officially recognized without needing a genital operations

[New Zealand]
Queer Avengers support 'two ticks' campaign
Tuesday 5 March is Census day in New Zealand and The Queer Avenger's are supporting a call for gender diversity in the census.

[GA, USA]
LGBT state employment protections reintroduced in Ga. General Assembly
Ga. State Rep. Karla Drenner (D-Avondale Estates) reintroduced the Georgia Fair Employment Practices Act this week. The bill, first introduced in 2011, would add sexual orientation and gender identity to protected statuses for public employment under the Fair Employment Practices Act.

[GA, USA]
Atlanta banishment legislation dropped; task force to study prostitution issues
In a work session today, the Atlanta City Council's Public Safety Committee dropped the proposed banishment ordinance targeting prostitutes and decided to instead form a task force to study the root causes of sex work.
LGBT advocates help put Atlanta's 'banishment ordinance' on hold

[IL, USA]
Trans man from IDHR complaint attending mediation with spa
A transgender man who filed a complaint against a spa that refused to allow him use of the men's shower facilities will attend mediation with the spa.

[MA, USA]
Appeals court to hear case on gender reassignment surgery for convicted murderer
A federal appeals court will hear arguments in April in an appeal of a judge's ruling granting a taxpayer-funded sex change for a Massachusetts transgender inmate.

[MA, USA]
The State House event from hell: Mass. Governor and top politicians join radicals celebrating transgender law -- bizarre bill signing ceremony
Vocal anger & hostility toward pro-family citizens. (See photos & videos.)
Coming to other states soon . . .

[MA, USA]
Did State Board of Education use radical transgender group's document to draft their directive for state's schools?
Radical lobbying group's similar document published three months earlier
Fighting back: MassResistance addresses State Board of Education and Education Commissioner over forcing transgenderism in schools!
Schools review gender guide
Concerns over transgender-students policy
GLAD Fights to Protect Transgender Youth in Schools

[MT, USA]
Transgender male: 'I never associated with being female'
On Sept. 28, 1992, Jill Gliko gave birth to an 8 pound, 3 ounce girl that she and her husband, George, named Monica Michelle.

[NY, USA]
Transgender Woman Reported Gang-Raped in New York
A transgender woman was sexually assaulted by at least three men Thursday in a hotel room in midtown Manhattan, website DNAInfo.com reports.

[PR, USA]
Transexual Ivana Fred Millán termina su declaración contra 18 policías
La transexual Ivana Fred Millán terminó hoy con su declaración contra 18 agentes del orden público, a quienes les imputa efectuar un allanamiento ilegal en su apartamento en Santurce, el pasado 15 de mayo.

[VA, USA]
Spa World, Virginia Bath House, Admits Discriminating Against 'Abnormal' Gay, Transgender Visitors
UPDATE: Spa World manager James Lee said reports his business had admitted to refusing gay and transgender customers was inaccurate. Though he did not deny Suising's claim, Lee said President Sang Lee had misinterpreted the question, had meant to write only that sexual activity, either gay or straight, is not allowed at Spa World. "The Korean-English barrier just made a small miscommunication," he told Washington City Paper. (as of March 4 at 11:07 a.m.)

[Mexico]
Agnes Torres, un activismo con-ciencia
eguramente con la intención de comprenderse a sí misma, emprendió un serio trabajo científico para demostrar que la transexualidad no es una condición anómala y, desde ahí, incidir en las leyes y las políticas públicas

[Caribe]
Caribbean LGBT group reports: Two homophobic deaths a month in 2012
Caribe Afirmativo, a group that champions gay rights in Colombia's Caribbean region, documented 25 homophobic deaths in the region last year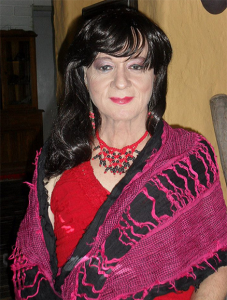 [Colombia]
"Soy travesti poque así naci"
Diana Caballero es una persona travesti heterosexual de 65 años. Desde hace un tiempo decidió hacerse visible para intercambiar experiencias con personas que comparten su identidad.

[Argentina]
No es cosa de nenas
La convocatoria llamaba, a todas aquellas mujeres que recordaran alguna "escena chonguita" en sus infancias, a buscar el registro fotográfico y tratar de decodificar el significado de esa imagen y esa vivencia que tan poco concordaba con lo que se espera de una niña, hecha y derecha. Así nació el libro Chonguitas: masculinidades de niñas (La Mondonga Dark), con 44 imágenes y testimonios, compilado por fabi tron y valeria flores.