[France]
LA FRANCE SE CONTREFOUT DU DROIT DES TRANS ET TOUT LE MONDE S'EN BRANLE
Je suis née dans le bon corps et sans doute que vous aussi. Je suis née fille, avec un vagin, des seins qui ont poussé à l'adolescence, une voix aiguë, on m'appelle « Mademoiselle » à la boulangerie et tout ça correspond à ce que je me sens être : une femme. Les choses sont plus compliquées pour les personnes dites « transidentitaires », c'est à dire dont l'identité de genre diffère de leur sexe de naissance. Ces personnes sont transsexuelles, intersexes, transgenres, bigenres,… et le moins qu'on puisse dire, c'est qu'elles en prennent plein la gueule.

[France]
Une femme trans verbalisée par la SNCF pour son état civil
A l'occasion de la Journée internationale en souvenir des victimes de la transphobie le 20 novembre 2013, une militante trans-identitaire a rappelé sur Twitter la verbalisation discriminatoire d'une passagère trans par la SNCF, en mai dernier.

[Ukraine]
'Evaluated' to Be Yourself: Ukraine's Flawed Gender Recognition Procedure
This is the week in November when we honor the memory of people who have been murdered because of their gender identity or expression. By coincidence yesterday I was invited by two transgender people seeking legal recognition of their gender identity in Ukraine to accompany them to a meeting where their request would be evaluated by a Health Ministry committee.

[USA]
Owen Smith Says He Was Beaten In 2002 Attack For Being Transgender
Owen Smith shared his emotional story of being assaulted for being transgender in an emotional interview with HuffPost Live.
Smith, who is now the Community Programs Manager at Equality Utah, recalled the 2002 incident, which he says began "because of a misunderstanding and a mistaken identity" in a Baltimore grocery store.

[USA]
The Conservative Media's Responsibility For Transphobic Violence
November 20 marks the annual Transgender Day of Remembrance - a day to memorialize the members of the transgender community who lost their lives as a result of transphobic hate and violence. Transgender people are disproportionately the targets of hate-motivated attacks, and acts of brutal transphobic violence are a constant reminder of the work that remains to be done on the path to full LGBT equality and acceptance.

[IA, USA]
Dubuque's first Transgender Day of Remembrance celebrated
Transgender Day of Remembrance is a day that occurs annually to remember those who have been killed as a result of transphobia -- but in Dubuque, it's also a time when people can learn about the community.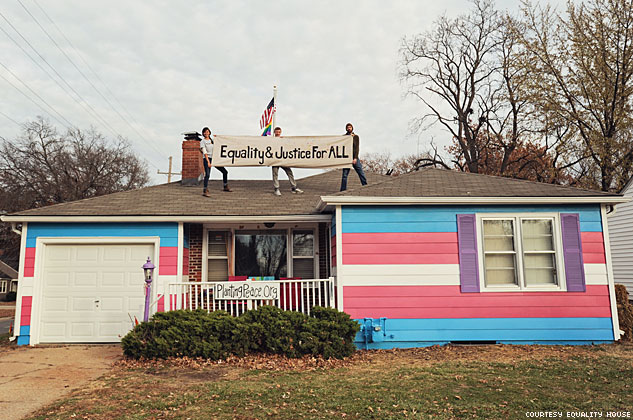 [KS, USA]
Equality House Gets Makeover for Transgender Day of Remembrance
The home, located across the street from the Westboro Baptist Church, has adopted the colors of the transgender flag in honor of Transgender Day of Remembrance.

[MD, USA]
Mayor Rawlings-Blake commemorates 2013 Transgender Day of Remembrance
On Wednesday, Baltimore Mayor Stephanie Rawlings-Blake will commemorate the 15th annual Transgender Day of Remembrance.

[MI, USA]
Transgender Workers Are At A High Risk Of Unemployment And Poverty
Recent Center for American Progress polling shows that 73 percent of voters support protecting transgender people from discrimination in employment. Despite this strong public support, no federal law provides explicit legal protections for transgender workers based on gender identity/expression--and only 17 states and the District of Columbia offer these protections. As a result, transgender workers face higher rates of unemployment and are at greater risk of poverty.

[MI, USA]
Justice For Shelly: Civil Rights Complaint Filed Against Police In Gruesome Murder
The October 2011 death and dismemberment of 19 year-old Shelly Hilliard (Moore) sent shockwaves through the community and has reappeared in media reports this week, as Detroit investigates another brutal murder of a transgender individual that took place Nov. 7. The Hilliard murder occurred after she had served as an informant in a marijuana delivery case.

[MI, USA]
Transgender Woman Murdered in Detroit
According to an Equality Michigan press release, a murder victim found last Friday, Nov. 8, discarded in a trash receptacle off Woodward Ave. in Detroit has not yet been identified, but is believed to be a member of the transgender community.

[MN, USA]
Vigil for Transgender Victims of Violence
It's a group some call controversial, their friends say they're misunderstood. We are wrapping up 'National Transgender Remembrance Day' and in Rochester, people came together paying tribute to those killed because of it.

[MO, USA]
Momentum builds with third consecutive Trans* Awareness Week
With celebrity headliner Laverne Cox slated to discuss her experiences as a transgender woman, the third annual Trans* Awareness Week, running from this past Monday to Saturday, promises to be bigger than ever.

[NC, USA]
Candlelight vigil brings violence toward GLBT community to light
The Raleigh LGBT Center held a candlelight vigil Wednesday outside the State Capitol.

[ND, USA]
Transgender Day of Remembrance Vigil held in Moorhead
Many of the pews were filled at a local church this evening, to remember 71 people killed this year alone.
More than fifty people took part in the 15th Annual Transgender Day of Remembrance.

[NY, USA]
Charges Dropped In Beating Death Of Transgender Woman, But Family And Advocates Hopeful
When Delores Nettles heard that charges had been dropped against the young man accused of assaulting her daughter, she was hopeful.

[NY, USA]
Remembrance vigil pays tribute to transgender community
In front of a crowd at Syracuse City Hall on Wednesday night, Terri Cook said it was difficult to write her speech because it is hard for her to think about violence against the transgender community.

[OR, USA]
Gathering for Transgender Day of Remembrance
People gathered to publicly, silently mourn transgender individuals

[UT, USA]
Utah's transgender community remembers those lost, looks ahead to better future
Honoring those lost over the past year, Utah's transgender community gathered Wednesday night to give voice to those who no longer have one.
Vigil memorializes transgender victims of homicide