[Portugal]
Quando o corpo não corresponde ao cerebro
A transexualidade apresenta-se como um tema atual, mas ainda capaz de gerar algumas dúvidas e preconceitos. As associações, os transexuais e os especialistas na área tentam combater a falta de informação. Apesar da evolução portuguesa, ainda existe um longo caminho a percorrer.


[UK]
Transgender joiner Michelle Pindar opens beauty salon after sex change
She made her living fitting kitchens but always hoped to have a more glamorous life.
Now, joiner Michelle Pindar, 56, has fulfilled her dream by swapping hammer and nails for a hairdryer as she embarks on her new life as a woman.
She says she is much happier since becoming a woman and now spends her days waxing, applying make-up or perfecting women's eyebrows and hair in Hull.
"Being a joiner just didn't fit with the girl I wanted to be," she said. "I had a fantastic life as Mike but it is Michelle's time now."
(Photo: Michelle with staff at Body Beautiful Salon)

[UK]
Green candidate apologises for offending trans people
Green Party candidate Rupert Read has apologised "unreservedly" if anyone was offended by his tweets.


[Turkey]
Trans activist passed away after gender reassignment surgery
Doga Asi Cevik who said "Trans people are born twice; once from their mothers and once from themselves" has passed away due to complications after her gender reassignment surgery.
Trans activist Doga Asi Cevik, who provided peer consultations at the Counselling Centre for Transgender People Association (T-Der) passed away on 20 January 2015 due to complications after her gender reassignment surgery.
It was stated that Cevik contracted an "unidentified hospital microbe" and had difficulties breathing due to problems in her lungs after her operation in Antalya.
Cevik had recently left T-Der to complete her gender reassignment process. Lawyer Sinem Hun will follow the legal process in case of neglect in her death.
Former soldier dies after sex change surgery in Antalya
(Photo: Cevik holding a banner which reads "Respect my name, my body, my look, my shape, my gender, my identity!")

[Turkey]
Inmate's gender reassignment request approved
The court has accepted a lawsuit filed by a male inmate incarcerated at the Maltepe Closed Prison concerning his wish to change gender.

[Israel]
Feel Like a Woman? Just Change Your ID Gender!
State tells High Court Israelis may change their gender without undergoing a sex change operation.

[Fiji]
Call for equality
Discrimination faced by some members of the transgender community remains rife in everyday areas of Fijian life.
This is the comment made by Bonita Qio of Pacific Rainbows Advocacy Network during a talanoa session in Lautoka yesterday, organised by the Citizens Constitutional Forum and US-based International Republican.
According to Mr Qio, transgenders faced numerous issues when trying to get registered as an NGO.

[New Zealand]
Charlotte Loh to be farewelled tomorrow
A funeral service will be held for 22-year-old Auckland trans woman Charlotte Loh tomorrow.

[Canada]
Award honours New West murder victim
An award honouring a New Westminster transgendered murder victim is being established by her former employer.


[USA]
Transparent Season 1 Will Stream Free For Everyone, Get The Details
One year ago, Amazon Studios was mostly known for bringing John Goodman back to episodic work for the political satire Alpha House, but it's now the home of a bustling line of original programming and intriguing upcoming projects. The current standout in the bunch is the Jill Soloway-created comedic drama Transparent, and the recent Golden Globe winner will soon be available for everyone to watch for free, with or without an Amazon Prime account.

[USA]
Only 13 US states give trans students the right to use the correct toilet
Across the United States, the issue of education rights for trans students is becoming a big issue. Particularly, the rights of trans students to use the toilets and changing rooms that match their gender.

[USA]
Trans woman pushes NPR to edit 'offensive' podcast about her
NPR's Invisibilia, one of 2015's biggest new podcasts, will edit future broadcasts of the episode

[USA]
Violence Against Black Transgender Women Goes Largely Ignored
They struggle with transphobia and ignorance—and trying to find a place inside the Black Lives Matter movement.

[AZ, USA]
Detained Trans Immigrant Marichuy Gamino to Be Released
Activists are rejoicing that the transgender asylum-seeker from Mexico, who was reportedly raped and placed in solitary confinement this past year, will be freed — but say there are many more who need help.

[NC, USA]
North Carolina Democratic Party candidate called transgender opponent 'a man' at forum
'There ain't no man left in here, honey,' Janice Covington, a transgender woman, told former state House Rep. Patsy Keever at a Gaston County forum Tuesday after being called 'a man.' She compared the comment to a 'bigoted slur.'

[NE, USA]
UNL to offer 'gender-inclusive' housing to transgender students
When a transgender student applies for housing at the University of Nebraska-Lincoln, these are the options: room with people who don't match your gender identity, live alone or go someplace else.

[NY, USA]
Horrors Persist for Trans Inmates at Rikers
The transgender housing unit on New York City's Rikers Island, announced as opening imminently in mid-November as one of a raft of reforms to reduce violence at the troubled jail, has only just accepted inmates now. And Gay City News has spoken to two transgender prisoners who say that in the interim, they were mistreated by staff and sexually assaulted by other inmates.

[TX, USA]
S.A. transgender male fights for parental rights
Dino Villarreal always considered himself the father of Sandra Sandoval's sons.
Villarreal, 48, a San Antonio transgender male, had been living with Sandoval for eight years when she adopted a newborn boy with Down syndrome in 2002. Two years later, Sandoval adopted another boy.

[VA, USA]
Police ID victim of early morning Norfolk shooting
A Norfolk man was killed and another man injured early Saturday morning in separate shootings that occurred about two blocks apart.
Trans Woman of Color Lamia Beard Murdered in Norfolk

[Chile]
Vivir y morir como transexual en La Pintana: La horrorosa muerte de Dilan
Dilan Vera Parra, transexual de 26 años, murió tras ser apuñalado en el tórax en la comuna de La Pintana. Su madre dice que horas antes las mismas personas le rociaron bencina en el rostro e intentaron quemarlo. Ahora clama por justicia y asegura que la muerte de su hijo fue un crimen homofóbico. Aquí su historia.


[Chile]
Joven transexual fue encontrado muerto en Lo Espejo
El cuerpo de un hombre que ejercía el comercio sexual fue encontrado en la madrugada de este lunes en la comuna de Lo Espejo con, al menos, 8 heridas cortopunzantes.
Se trata de José Luis Salazar Almeida, transexual de 24 años, que en la mañana de este lunes fue encontrado muerto por los vecinos en la calle Guadalupe, cerca de la caletera de Américo Vespucio.
Investigan muerte de travesti que recibió al menos ocho puñaladas en Lo Espejo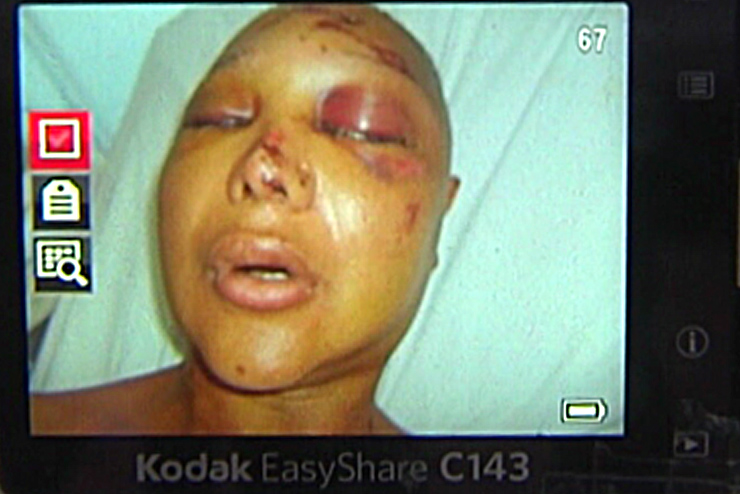 [Argentina]
Le partieron el cráneo a una trans en Villa Carlos Paz
Fue a las cuatro de la madrugada en la Avenida San Martin, en la ciudad cordobesa de Villa Carlos Paz. Desde la noche del 1 de enero Gabriela está internada y casi no puede hablar, por lo que le resulta difícil reconstruir quién o quiénes la agredieron.
Gabriela, una mujer trans, estaba en su parada habitual en la avenida San Martín, una de las más concurridas de la ciudad cordobesa de Villa Carlos Paz. Eran las 4 de la madrugada y se estaba prostituyendo cuando recibió una golpiza con odio: quedó internada con fracturas en la cara, el cráneo, un hematoma cerebral y moretones en todo el cuerpo. Un vecino la vio tirada, pensó que estaba muerta, y la ayudó. Desde la noche del 1 de enero que Gabriela está internada y casi no puede hablar, por lo que es difícil reconstruir quién o quiénes la agredieron.