[International]
World Cup officials ask Genoveva Anonma to strip to prove her 'womanhood'
International sports star Genoveva Anonma revealed that she was asked to strip naked to prove her "womanhood" in front of World Cup officials. Not only was her personal torment mortifying, but it further opened the once closed-door on sports and their debate of gender and power when it comes to female athletes.

[Europe]
Fundamental Rights Agency Publishes first specific EU Trans Report: Young, Unemployed and Poor Trans People are Most at Risk
TGEU welcomes the EU Fundamental Rights Agency's report Being Trans in the European Union: Comparative analysis of EU LGBT survey data. The new report analyses the findings of the EU LGBT survey data (2012) for its nearly 7000 trans respondents. It is thus the largest survey in Europe looking particularly into the situation of trans people.

[UK]
I got my first pair of heels as a three-year-old boy: Retired IT teacher finally has gender reassignment surgery 59 YEARS after he started wearing women's clothes
Steph Holmes, 65, from Lancashire, rang in the new year as a woman
It comes 59 years after the retired IT teacher started dressing as a girl
As a boy, his mother bought his first pair of heels aged three
Retired teacher born a man finally has sex change 59 years after being bought first pair of heels

[UK]
Man jailed for transphobic attack in Liverpool
20-year-old Ryan Kenny from Wirral has been jailed for 20 months for a attacking a trans woman in Liverpool.

[Belgium]
Belgium to change its outdated sex change law
Equal Opportunities Secretary Elke Sleurs has said that the procedure required by law to allow people to change sex should be simplified.

[Greece]
Drama school rejects a trans man because of his gender identity
Greek Transgender Support Association (G.T.S.A.), a recognized organization for the protection of the rights of the trans community, informs with this press release about the case of a trans man who became the subject of a very serious transphobic discrimination when he was rejected from the Dramatic Art Theatre School because of his gender identity.

[Russia]
Health Ministry Says Transsexuals Can Still Drive in Russia
The Health Ministry has denied widespread reports that transvestites and transsexuals could lose their rights to drive in Russia based on a new road safety decree.

[South Africa]
2014 Trans* Health, Advocacy and Research Conference
The 2nd Trans* Health, Advocacy and Research conference, themed "Rooted in the past, reaching for the future" took place 31 May – 2 June 2014. The report provides an overview of the conference, organised in thematic categories. The report embarks on a section bringing the 2011 conference recommendation in context to the 2014 conference by reflecting on accomplishments in that period, and simultaneously points to gaps, still needed to be bridged. Available for download in PDF:

[India]
Centre plans financial aid for parents of transgender children
Pre-and-post-matric scholarships also proposed for such students

[India]
Sexual minorities stage protest over atrocities, harassment
Criticising various instances of harassment and violence, meted against sexual minorities in Hassan district and other parts of the State, sexual minorities and activists under the banner of Coalition of Sexual Minority and Sex Workers' Rights, took out a rally, here, on Sunday.

[Thailand]
'Third gender' will be acknowledged in the new constitution
The Constitution Drafting Committee (CDC) agreed yesterday to note the "third gender" or people of different sexuality in the new Constitution, a move likely to empower transgender people so they have rights equal to others in society under the law.

[Australia]
WATCH: Young transpeople in local TEDx talk
Two young Australian transpeople were invited to speak out about what life's like for them in an illuminating TEDx talk in Sydney recently.

[USA]
"Transparent," Jeffrey Tambor Win Golden Globes
Last night, the Hollywood Foreign Press Association honored Transparent with the Golden Globe award for "Best Television Series—Comedy or Musical" and honored Jeffrey Tambor with the Golden Globe award for "Best Performance by an Actor in a Television Series—Comedy or Musical."

[USA]
How A Catholic Mom Learned To Love Her Trans Son — And His Wife
Liam Lowery talks with BuzzFeed about coming out to his parents as trans, and why it's just as important to hear from families who have learned to love their LGBT kids without reservation.

[USA]
Gwen Stefani Supports Her Sons Wearing Nail Polish
The pop rocker says she supports her three kids' gender expressions no matter what — a stance many psychologists agree is best for all children.

[USA]
Snoop Dogg Threatened with Lawsuit Over Transphobic Instagram Post
Snoop Dogg is not known as being one of the more homophobic rappers in the music industry; in fact, his song "Dove of Peace" that he performed with Elton John at the end of Sacha Baron Cohen's Bruno along with explicitly stating that he's cool with gay people seems to make him an outright ally.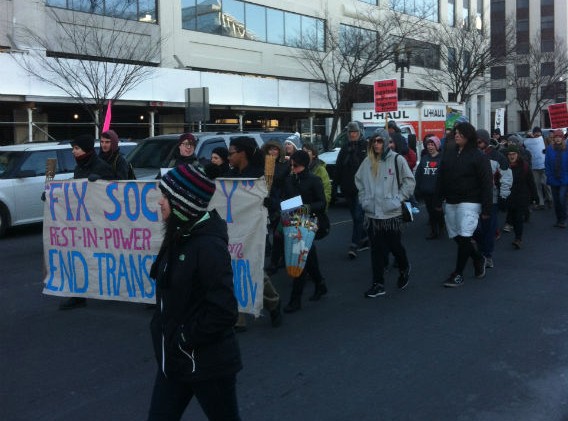 [DC, USA]
Hundreds March in Support of Trans Rights
Activists issue demands in call to "fix society" after suicide of Ohio transgender teen Leelah Alcorn
WATCH: Trans Leader's Speech Perfectly Explains Why We Must 'Fix Society,' Not Trans People

[NY, USA]
Trans New Yorkers can now change gender on birth certificate without convertive surgery
Name change is also no longer a requirement


[OH, USA]
Leelah Alcorn's best friend kept from funeral
Parents blame her for sharing photos of the transgender teen in a dress

[Cuba]
El drama transexual llega al cine cubano con 'Vestido de Novia'
Esta es una ópera prima de la realizadora cubana Marilyn Solaya.

[Cuba]
Fátima: Una película sobre la voluntad de seguir adelante
Aunque el centro del relato de Fátima o el parque de la Fraternidad es la historia de un travesti, no intenta ser una película de tema homosexual, sino un canto a la voluntad de todo ser humano para seguir adelante ante la adversidad.

[República Dominicana]
Policía apresa principal sospechoso de homicidio de una joven trans
Agentes de la Policía Nacional, apresaron el pasado 01 de diciembre a un sospechoso del homicidio de una joven trans en noviembre.

[Colombia] [Editorial]
Cambiar de sexo
Desde hace un tiempo, una linea jurisprudencial está siendo sentada en la Corte Constitucional: la orden a varias EPS de este país para que autoricen operaciones de cambio de sexo.

[Colombia]
Fiscalía inicia investigaciones por homicidios de mujeres trans en Risaralda
En el marco del Día Internacional de los Derechos Humanos, la Fiscalía General de la Nación reafirma su compromiso con investigaciones penales que atienden a un enfoque respetuoso de los Derechos Humanos, con perspectiva de género, y comparte la afirmación que realiza la Fundación Grupo de Acción y Apoyo de Personas Trans -GAAT- al señalar que: "No podemos defender los derechos humanos, sin defender los derechos de las personas Trans".