[UK]
No UK asylum for cross-dressing Singaporean
British judge rejects claim of possible inhumane treatment in the Republic
A cross-dressing Singaporean who sees himself as a woman has failed in his bid to remain in Britain on human rights grounds. He had argued that he would be under pressure to live as a male here and would have to do reservist training.


[UK]
Christine Goodwin, whose case launched the Gender Recognition Act, dies
Trans campaigner Christine Goodwin has died aged 77 after a long illness.
In 2001 she won her case against the United Kingdom at European Court of Human Rights (ECHR) to be legally recognised as female. She had previously been unable to marry, or draw her pension at the age of 60, and had been unable to do anything that would require presenting her birth certificate, such as taking out a loan.

[Ireland]
Amnesty: Ireland is 'short-changing' trans people with new gender bill
Amnesty International has attacked the first draft of Ireland's new gender recognition bill.
At present, Irish law has no process for recognising that transgender people do not identify as their birth gender, but the Irish government finally published a long-awaited bill today which will recognise the gender of trans people.
The bill, which was first announced in June, will bring Irish law in line with that of other countries, by legally recognising the gender of trans people in all dealings with the State, public bodies, and civil and commercial society.
However, activists have reacted with dismay to some of the proposals, which they say impose a number of unrealistic conditions.

[Belgium]
30 pc more sex changes in Flanders
Ghent's transgender team helped nearly 150 people to change sex last year. The team attached to Ghent University Hospital says that the number of up 30 percent on the year and that the number has trebled in only five years.

[Netherlands]
Taxi driver suspended for refusing transvestites
A taxi driver who refused to transport two transvestites, has been temporarily suspended by Taxicentrale Amsterdam (TCA).


[Israel]
Trans woman denied access to Western Wall in Jerusalem
A trans woman was denied access to both the woman's and the men's section of the Western Wall in Jerusalem.
Kay Long, a dress designer, was trying to access the women's section of the Western Wall, the only remaining section of the Temple, considered to be holiest site for Jewish people. Worshippers place pieces of papers with their prayers on into the wall, believing God will answer them sooner.
Transgendered woman barred from Western Wall prayer
Transgender woman prevented from accessing Western Wall
Transgender woman denied entry to Western Wall

[Nepal]
Nepal to issue passports with third gender
Nepal will issue passports to sexual minorities, adding a third gender category, an official said on Wednesday in a sign of the conservative Hindu-majority country becoming more liberal since the end of a decade-long civil war.

[New Zealand]
NZ joining global Leelah Alcorn solidarity
Action will be held across New Zealand this Saturday in solidarity with global measures to mark the death of a transgender Ohio teenager, and push for gender issues to be taught in schools.


[USA]
'American Idol': Former Contestant Josh 'JDA' Davila Is Now A Woman
"I feel like I am ready to do something different that I didn't get to do last year"
One of AMERICAN IDOL's most memorable boys is now a girl.
Josh "JDA" Davila was among the show's first out and proud contestants back in season 12, making it all the way to the semi-finals in Las Vegas.
Since then, Josh has become Jaidah Christina, found a new love and landed a dream singing job at Chicago's biggest Trans-friendly nightclub.
American Idol Contestant Josh Davalia Transitions To Jaidah Christina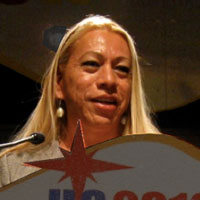 [USA]
HIV Activist Bamby Salcedo Recognized as 2014 Top Woman of Color
Colorlines, a news website dedicated to issues regarding race in the U.S., made a list of the top 14 women of color who rocked 2014. The list was representative of many different fields -- media, advocacy, politics and more -- and among those recognized was HIV and transgender justice activist Bamby Salcedo.

[USA]
Trans teen's death sparks movement
The death of a 17-year-old transgender Ohio woman has been called a "Matthew Shepard moment" in the fight for transgender equality. While Shepard was killed by others, and Leelah Alcorn took her own life Dec. 28, she first issued a call to action to make her life have meaning for the transgender community. The community, and mainstream media, have responded with calls to action.
Leelah Alcorn's Friend: Her Suicide Is 'Heartbreaking'
Leelah Alcorn's friend has broken heart over transgender teen's suicide
Transgender teen's death calls for action: #tellusatoday
Leelah Alcorn: Group raises money for memorial for transgender teen who committed suicide
2nd Leelah Alcorn vigil moved to Woodward Theater

[USA]
Carolinas advocates rally in honor of transgender teen
LGBT advocates across the Carolinas have rallied to raise awareness and build support for transgender youth in the face of an Ohio transgender teen's death three days after Christmas.

[USA]
Protecting Trans Prisoners
LeslieAnn Manning, a transgender woman in a male facility, says she was raped because her prison didn't keep her safe. How should prisons protect their most vulnerable inmates?

[CA, USA]
Suspect Arrested, Charged With Hate Crime In Stabbing Of Transgender Woman
Brodes Wayne Joynes of San Francisco was identified as the sole suspect in the stabbing of a transgender woman, Samantha Husley, as police Sergeant Monica Macdonald has told the Examiner.
Allegedly, it was this 54-year-old man who hatefully harassed Hulsey and her partner Rae Raucci on a 49 Muni bus before pursuing the women once they got off and eventually stabbing Hulsey.

[FL, USA]
Man found guilty of manslaughter of local transgender woman
The man responsible for the murder of Ashley Sinclair, a popular local performer, has been found guilty of manslaughter. A jury delivered Kent Louis' verdict Dec. 12.
Sinclair,who was also known as Mohagany Shylanda Singleton, was shot and killed in April 2013.The 30-year-old transgender woman's body was found in a wooded area off of Nimrod Lane early in the morningon April 4, 2013.
Man found guilty in death of transgender woman gets 30 years in prison

[OR, USA]
First transgender mayor in U.S. history leaves office
On Monday, Jan. 5, Stu Rasmussen handed a small wooden gavel to Mayor Rick Lewis at the first city council of 2015, his final act after serving six years as mayor of Silverton.

[OR, USA]
Transgender surgeries, hormone therapy will be covered under Oregon Health Plan: Diversity news roundup
The Oregon Health Plan will add medical coverage for low-income transgender people early this year, including gender reassignment surgery, hormone therapy and puberty suppression. The state estimates that the "utilization rate" in the health plan will consist of 175 people in any 12-month period. The total cost of adding all treatments is expected to be less than $150,000 annually.

[PA, USA]
Rep. Mark Cohen to Introduce Transgender Rights Bills in New Session
Last spring, Philly Representative Mark Cohen announced that he would introduce Pennsylvania's first transgender rights bill in the House. That, unfortunately, never came to be, because, as Philly trans activist Jordan Gwendolyn Davis tells me, of changes during the drafting process. But don't fret, a new and more-specific series of bills are on their way.

[VA, USA]
Court documents shed new light on missing person case in Charlottesville
Charlottesville Police are no closer to finding the transgendered teen, but unsealed search warrants are now shedding new light on the case.