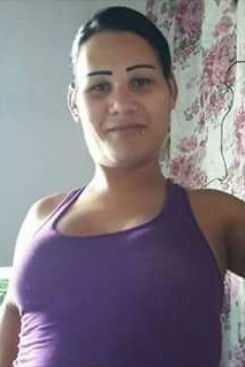 [Brasil]
Travesti agredida a pauladas morre no hospital
Ela foi vítima de parada cardiorrespiratória devido à gravidade dos ferimentos
Uma travesti que estava internada desde o domingo (12), vítima de agressão a pauladas às margens da BR-101, na altura do Terminal do Barro, na Zona Oeste do Recife, não resistiu aos ferimentos e faleceu de parada cardiorrespiratória na tarde desta quarta-feira (15) no Hospital da Restauração, na área central do Recife, de acordo com a assessoria de comunicação do hospital.
HR começa protocolo de morte encefálica de travesti espancada na BR-101
Morre no HR travesti brutalmente espancada
Morre no HR travesti espancada na BR-101 no último domingo

[Brasil]
Jovem de Naviraí e mais três travestis são presos acusados de assassinato em Campo Grande
O naviraiense Gustavo Berluche Fernandes, 22 anos (Fernanda) foi preso em flagrante juntamente com Kelvin Luis Cirilo Santos, 21 anos (Giovanna), Rafael Proença Amaral, 23 anos (Rafaela) e Evandro Chagas da Silva, 23 anos (Babi).
Os quatros são responsáveis pela morte de Renato Souza dos Santos, de 34 anos, conhecido como "Bruna Toro", na noite de quinta-feira (9) na Rua Estevão Capriata esquina com Simon Bolívar, na Vila Progresso, em Campo Grande.
Travesti foi assassinado na Vila Progresso por cobrar "pedágio" de colegas
Assassinato de travesti envolveu quatro e foi motivado por cobrança de ''pedágio''
Travesti foi assassinada em emboscada por cobrar 'pedágio' das colegas
Travesti assassinada é suspeita de cobrar 'pedágio' por ponto de colegas

[Australia]
Christian school accused of victimising 10-year-old transgender girl
These days it's not politically correct to immediately comment on a little girl's looks. But when Olivia* shows me a photo of her 10-year-old daughter Charlotte*, there's no other word for it. She's pretty.

[Canada]
Did Conservatives sign Vancouver Pride trans pledge?
What happened when Daily Xtra investigated party's rumoured exemption request

[USA]
A transgender soldier looks beyond celebration of Pentagon's policy change
On a day that many seemed ready to celebrate the Pentagon's decision to allow transgender service members to serve openly, one prominent transgender soldier and LGBT advocate watched and waited.
Fox's Erickson Smears Transgender Service Members As "Mentally Ill" In Response To DOD's New Policy
Family Research Council Urges Pentagon to Focus on Readiness, Not a Transgender Policy
Advocacy groups hail military move to study transgender issues
NCTE Responds to Military Announcement Allowing Open Trans Military Service
TLDEF Responds to Pentagon Plan to End Transgender Military Ban
Military to allow transgender members to serve openly
Pentagon Confirms Plans To Lift Ban On Transgender Military Service
Pentagon poised to lift trans military ban
Military Announces Plan to Lift Transgender Ban

[HI, USA]
Hawaii eases process to switch gender on birth certificates
Gov. David Ige signed a bill Monday that will allow transgender men and women in Hawaii to more easily change the gender on their birth certificate.
Transgender people benefit from new law

[IN, USA]
Vote probable this week on gender identity, sexual orientation amendments
Terre Haute City Council is expected to vote this week on amending the city's human relations ordinance to include gender identity and adding language related to sexual orientation.

[OK, USA]
Federal Court Refuses to Dismiss Transgender Professor's Sex Discrimination Lawsuit
U.S. District Judge Robin J. Cauthron denied a motion to dismiss a Title VII sex discrimination claim filed by the Justice Department on behalf of a transgender woman against Southeastern Oklahoma State University, alleging that she suffered discriminatory treatment and a denial of tenure after she announced her intent to transition. %United States v. Southeastern Oklahoma State University%, 2015 U.S. Dist. LEXIS 89547 (W.D. Okla., July 10, 2015).
Complaint by trans professor against former employer may proceed, court rules
Transgender hostile work environment lawsuit will move forward in OKC federal court

[TX, USA]
Houston Man Sues City Over Law Allowing Trans Citizens to Use Correct Bathrooms
Longtime anti-LGBT activist Dave Wilson is angry the city won't heed his petition, which also demands businesses define 'gender' as one's birth-assigned sex.