[Deutschland]
Transsexualität: Kims Kindheit im falschen Körper
Kim ist 14 Jahre alt und ein ganz normales Mädchen.

[USA] [News/Sports]
Race driver risks all for longtime dream
Excerpt: In 1992, veteran professional racer James Terrell Hayes had sexual reassignment surgery and became Terri O'Connell. Afterward, she continued to race and became a spokeswoman for transgender issues. ... ''You've got to look at the target audience. In all of sports, target audience is stereotypically not very open to homosexuality, '' says Cyd Ziegler, co-founder of Outsports.com, a website for gay athletes. 'Ask the average person and they'd say`Yes, car racing is a macho sport.' . . . There is some kind of persona to car racing. That goes to cars. Cars are manly guy things.''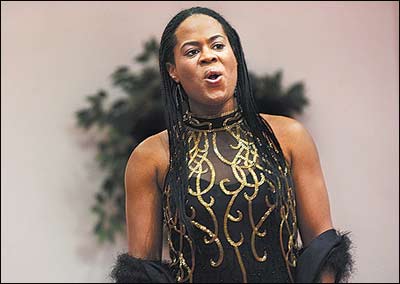 [VA, USA] [News/People]
Transgender opera singer settles into new identity
The night before a recital, Tona Brown stands facing her best friend and vocal coach.
Photo: Tona Brown at a recital. DELORES JOHNSON / THE VIRGINIAN-PILOT

[CO,USA]

Not running from her past

Pam Bennett marched into a meeting with a local newspaper editor last month and announced, "As you know, I'm not the girl next door." It's a line that has served Aurora's first-ever openly transgender City Council candidate well in the four years since she started living life as a woman. She expects to use it often between now and November's city election.
[USA] [Blog Commentary]
Bobbie Ritacco's Death
Yesterday morning I received an email notifying me that Bobbie Ritacco had committed suicide. Bobbie was the president of the GIC (Gender Identity Center of Colorado) for a couple years before the current board took over. We often battled over the issue of whether Gender Identity Disorder is a mental illness or not. We also disagreed on the idea of having suicide prevention counseling available through the GIC. I guess her recent actions have proven my side on these issues. I hate being proven right. I want to be right based on the strength of my arguments. I don't want to be right like this. I don't want people to die because I couldn't persuade crazy people to seek help. I'm sad.
[USA] [Blog Commentary]
Gender Confusion- An American Epidemic
For the past year, I have felt that there is a serious epidemic amongst our youth (ages 13-24). This epidemic being Gender Confusion. I have seen more girls dressed as boys and "exaggerated" feminine boys. Some people believe that there is an increase in young gay people being outward with their sexuality. I on the other hand would argue that our youth are confused and acting out this confusion in the way they dress and present themselves to the public. These young people have yet to define their sexuality- they are not gay, they are confused about their Gender Identity!
[USA] [News/Commentary]
Trans not on board(s)
Most gay and lesbian organizations have become LGBT organizations in recent years. If their missions now include transgender people, why don't their boards?