[Portugal]
Segunda 30 Abril
FESTA MAYDAY CONTRA A PRECARIEDADE
o primeiro de maio começa às zero horas.
22H. Karnart
DJs, VJs, Personal Trainers para a Manif, etc
Rua da Escola de Medicina Veterinária, junto ao Liceu Camões
(M: Picoas)
Entrada - 3 euros
[UK]
Musical transvestite kicked out
A one-legged transvestite drummer has been evicted for playing her collection of instruments too loudly.
Trannie with 1 leg gets boot
A ONE-LEGGED harp-playing transvestite has been evicted by council bosses after making neighbours' lives a misery.
[Pakistan] [People]
Pakistan drag diva bends rules of gender, society
Female impersonator' s wildly popular TV show underscores society's extremes
[Jamaica]
Mob beats cross-dresser
Police who were called to the scene had to fire warning shots to disperse the stone-throwing, stick-wielding mob, which succeeded in tearing off the man's black-and-white form-fitting blouse and jet black wig.
Scenes from the beating of a cross-dresser in Falmouth yesterday morning.
[TX, USA]
Transgender teen accuses school of discrimination
A male Fort Worth high school student who has been dressing as a girl has been suspended from school.
Eastern Hills High School sophomore Rodney Evans says he has been punished by school officials numerous times for dressing as a girl, which he began doing when he was a freshman. 'I can't be who I am. They basically stripped me of who I am,' he said.
[USA]
Transgender Children: Resources
Stephanie Grant and Renee Jennings, two of the mothers who appear on Barbara Walters' special, have joined together to launch a new foundation called TransKids Purple Rainbow
[USA]
Transgender Children: Frequently Asked Questions
Frequently Asked Questions to Help You Understand Transgender Children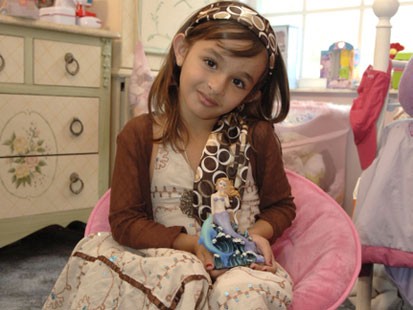 [USA]
'I'm a Girl' - Understanding Transgender Children
From the moment we're born, our gender identity is no secret. We're either a boy or a girl. Gender organizes our world into pink or blue. As we grow up, most of us naturally fit into our gender roles. Girls wear dresses and play with dolls. For boys, it's pants and trucks.
But for some children, what's between their legs doesn't match what's between their ears -- they insist they were born into the wrong body. They are transgender children, diagnosed with gender identity disorder, and their parents insist this is not a phase.
Six year old Jazz is a transgender girl. (Heidi Gutman/ABC )
[USA] [Blog/Commentary]
A Reader's Thoughts on Alexis Arquette
There were so many comments this week that we don't even know where to begin with this week's Queerty ReBUTTal. So, rather than offending someone by not picking their comment - they were really all lovely, thank you - we're using this space to feature an electronic exchange between ourselves and a reader.