[UK]
Gender equality
Excerpt: The new duty also covers the welfare of transsexual staff as discrimination on the grounds of sex includes discrimination on the grounds of gender reassignment in employment and vocational training.
[New Zealand]
Noeleena facing new future
Last week Noel became Noeleena.
The retired 60-year-old married man and father of three returned to Waimate from Phuket on Saturday after gender reassignment surgery, legally making he a she.
John Bisset/Timaru Herald: Noeleena Lochhead has returned to Waimate after gender reassignment surgery in Thailand.
[Malaysia]
Different and diverse
By embracing diversity, we can learn to understand, and not fear, each other.
[USA] [Commentary]
A Gender Query
Maybe you've overheard it in conversation, or seen it plastered to a telephone pole. It's a word that seems to be getting more and more popular, but remains a mystery to many: genderqueer.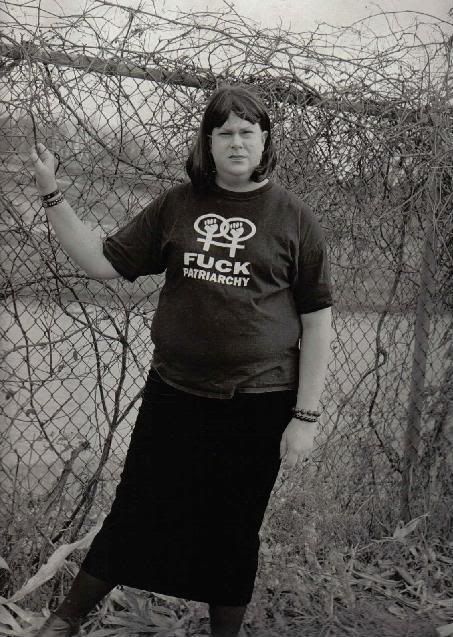 [USA]
Transfeminism - Joelle Ruby Ryan
Excerpt: I think the most important founding paper in transfeminist discourse is Sandy Stone's "The Empire Strikes Back: A Posttranssexual Manifesto," first published in 1991. Written in response to Janice Raymond's anti-transgender "radical" feminist diatribe The Transsexual Empire, Sandy Stone lays out a brilliant interrogation of Raymond's faulty ideas as also exposes the conservative logics behind early, traditional transsexual treatment clinics and how we must work to liberate transpeople from these gate-keepers and allow for greater flexibility of sex, gender and sexuality diversity and expression.
[PA, USA]
Transsexual jailed for castration death withdrawing guilty plea
A Butler County transsexual in jail for the castration death of her husband no longer wants to plead guilty to charges that she threatened her prosecutors and spit on a state trooper.
[MA,USA]
Dyke March draws more than 2000
Excerpt: Prior to the event, Dyke March organizers fielded complaints about the decision to book Bitch as the event's headline performer. Bitch performs at the Michigan Womyn's Music Festival, which prohibits transwomen from attending. Each year outside the festival transwomen and their allies protest the policy. "The Dyke March is for everyone. The whole point is to create unity in the community. We are responsive to community input." Trigilio said. "Our first responsibility is to the community." Trigilio said march organizers have received many emails about the controversy; most of which, she added, were supportive of the decision to cancel Bitch's performance.
[NY, USA]
Transgender Health Fair Draws 150
More than 150 people turned out Monday evening, June 6, for a first of its kind transgender health fair at the LGBT Community Center on West 13th Street. The event was initiated by the Transgender Health Initiative of New York, a joint project of the Transgender Legal Defense and Education Fund (TLDEF), the New York Association for Gender Rights Advocacy (NYAGRA), and the Center's Gender Identity Project. St. Vincent's Hospital Manhattan and the Callen-Lorde Community Health Center were also sponsors of the event.