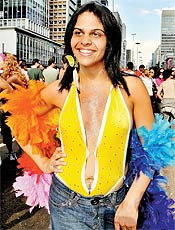 [Brasil]
Morre travesti que se envolveu em polêmica com Ronaldo
Morreu nesta quinta-feira o travesti Andréia Albertini, que se envolveu em polêmica com o atacante Ronaldo, do Corinthians. André Luiz Ribeiro Albertini, nome verdadeiro do travesti, estava internado na UTI do Hospital Nardini, em Mauá (Grande SP), havia dois dias.
(Foto: João Sal-25.mai.08/Folha Imagem - Travesti Andréia Albertini, do caso Ronaldo, morreu em Mauá, em SP)
Confusão marca fim de velório de travesti envolvido em polêmica com Ronaldo
[UK]
Trans woman who went on hunger strike wins funding
A trans woman who went on hunger strike after her local primary care trust refused to fund her gender reassignment has been told it will now pay for her hormone medication.
[India]
A tragically complicated love story
Swathi and Sneha were men who became women in the hope of finding male lovers. They've now found each other and want to marry
[Canada]
Transgender activist opposes Downtown Eastside pharmacy ban
The Vancouver Women's Health Collective says transgender women will not be served at its new pharmacy on the Downtown Eastside. And that has a neighbourhood transgender activist alleging that the collective is discriminating against women like herself.
[USA]
Obama White House won't appeal transgender ruling
The Obama administration is not going to fight a nearly $500,000 judgment for a Library of Congress hiree who lost the job while undergoing a gender change from a man to a woman.
[USA] [Commentary]
'Hate' Crimes Bill a Threat to Liberty
The U.S. House of Representatives easily approved "hate" crimes protections for homosexuals and transgendered individuals April 29. The Senate is expected to take up the Local Law Enforcement Hate Crimes Prevention Act prior to leaving for their August recess.
[IL, USA]
Transgender Chicagoans find refuge in their city
When transgender activist and performer Alexandra Billings grand marshaled Chicago's Pride parade last month, the broader LGBT community was offered an opportunity to ponder a few questions: "What does our city offer for our transgender community? Is Chicago a safe, welcoming place for the 'T' of our alphabet soup?".
(Photo: Chicago Pride grand marshal Alexandra Billings raised the profile of the city's transgender residents last month.)
[NY, USA]
2 arrested in Queens bias attack on transgender female
A transgender female walking down a Queens street was attacked by a pair of bigoted thugs who pelted her with rocks and beer bottles, prosecutors said.
"I was being attacked because of who I am," said victim
Carmella Etienne
, 22.
(Photo: Pace for News - Carmella Etienne tells the News about her ordeal.)
Transgendered Woman Beaten With Rocks, Bottles
Suspects Arraigned In Alleged Queens Bias Attack
Transgender Woman Attack
[NY, USA]
Transsexual Loses Libel Suit Against NY Post
In 2007, transsexual Ava Cordero was the sweetheart of the gossip pages -- and the
gossip
bloggers
-- when her high-profile New York lawyer boyfriend
William J. Unroch
sued the even higher profile billionaire money manager Jeffrey Epstein alleging that he pressured the then-16-year-old into sex in exchange for promises that he would help her get modeling work.
[IL, USA]
Drag Queen Lady Vera Parker Arrested In Chicago
Thomas Flanagan, also known as drag entertainer Lady Vera Parker, has been jailed on two felony counts, one of theft and one of theft by deception as confirmed to ChicagoPride.com by the Circuit Court's Information Office.