Celebra-se dia 17 de Maio, o Dia Internacional Contra a Homofobia e a Transfobia porque, ao teu lado, há quem viva a discriminação todos os dias, mesmo que num silêncio imposto pelo medo, pela solidão ou pela vergonha. Por isso, importa sair à rua, olhar nos olhos, ocupar o espaço. Para muitas pessoas, tu podes fazer a diferença. É a ti, também, que compete dar uma resposta, derrubar muros, combater a ignorância, promover a igualdade e o respeito. Não faças de conta que não sabes. Não faças de conta que nada disto de afecta. Não compactues, não silencies, não encolhas os ombros. Este dia é teu, sai do armário, e vem marcar a tua presença junto de nós!
16h30 Concentração - Largo da Portagem
17h00 Marcha - Largo da Portagem - Praça 8 de Maio
18h00 Leitura do Manifesto/Performances (Praça 8 de Maio)
19h00 Beijaço contra a Homofobia (Praça 8 de Maio)
20h00 Jantar Convívio - Cantinas Amarelas
23h00 Festa - Bar Bigorna - Sé Velha
Todas as informações em:
http://marcha2010.naoteprives.org/
Nota: Se pretendes ir »a marcha ou se, mesmo não estando presente, concordas com a sua realização, envia para o email
marcha.17maio2010@naoteprives.org
o teu testemunho (podem ser duas linhas apenas) e uma fotografia (facultativo) para o colocarmos na página da internet.
[Internacional]
El rechazo familiar multiplica por ocho el riesgo de suicidio en homosexuales y transexuales, según un estudio
El rechazo familiar multiplica por ocho el riesgo de suicidio en jóvenes lesbianas, gays, bisexuales y transexuales (LGBT), según un estudio realizado por la doctora de la Universidad de California, Caitlin Ryan, la primera investigación sobre las consecuencias que tiene sobre la salud de estos jóvenes la aceptación de su entorno, que se ha presentado hoy en Madrid.

[Portugal]
15 mil € para mudar de sexo
No privado os transexuais pagam entre 15 e 25 mil euros para fazer a intervenção.

[España]
"Roberto en la tumba de Conchi" Transexuales piden que se cambie lapida indigna para identidad del asesinado
Nació mujer, pero se consideraba hombre e inició el tratamiento para reasignarse de sexo. Murió asesinado, y la jueza reconoció su nueva identidad. Sus amigos quieren que también conste en su tumba. La familia guarda silencio

[UK]
Man on trial for murder of trans woman Andrea Waddell
The man accused of killing trans sex worker Andrea Waddell strangled her and set her body alight, a court heard yesterday.
Satellite installer Neil MacMillan, 41, of Bennett Road, Brighton, denies the 29-year-old's murder.
Sex swap prostitute strangled and set on fire - court
Client 'strangled woman' at her own flat in Brighton
Sex-change prostitute strangled

[Francia]
Crecen agresiones homofóbicas y Transfóbicas en Francia pese al refuerzo de la Ley
El número de agresiones homófobas y transfobas en Francia creció en 2009 con respecto al año anterior pese al refuerzo legislativo que agrava las penas para este tipo de delitos, según el informe anual publicado hoy por la asociación "SOS-Homophobie".


[France]
Transgender Activist Pascale Ourbih On Cannes Gay Prize Jury
A new independent prize at the Cannes Film Festival will focus on gay-themed films screened at the world's most prestigious film festival. The prize's inaugural jury includes transgender activist-actress Pascale Ourbih. (Photo)

[France]
Transgender model to front for Givenchy
Givenchy designer Riccardo Tisci has chosen a transgender model to be the face of his northern hemisphere Autumn/winter advertising campaign.

[Turkey]
Turkish LGBTs protest trans murder
Around 100 members of the Black Pink Triangle Association in Izmir, Turkey, staged a candlelight vigil April 28 following the killing of transgender member Azra.
Azra "was murdered by a gunshot to the back of her head...in what seems to be a serial murder," said Hossein Alizadeh of the International Gay and Lesbian Human Rights Commission.

[Uganda]
In Uganda, AIDS War Is Falling Apart
On the grounds of Uganda's biggest AIDS clinic, Dinavance Kamukama sits under a tree and weeps.
Her disease is probably quite advanced: her kidneys are failing and she is so weak she can barely walk. Leaving her young daughter with family, she rode a bus four hours to the hospital where her cousin Allen Bamurekye, born infected, both works and gets the drugs that keep her alive.

[India]
Eunuchs can guard frontiers, suggests Arunachal minister
A regiment of eunuchs could be used to guard India's borders as they are known for their integrity and have played a similar role down the ages, Arunachal Pradesh Home Minister Tako Dabi has suggested to the central government.
Eunuch regiment could protect India: state minister

[Brunei]
Transvestite Fined $1,500 For Prostitution
A Local man was fined $1,500 by the Magistrate Court last Saturday for soliciting a male for the purpose of prostitution at the Jeruton Hotel in Sengkurong.
The 30-year-old defendant, Jeremy Mg Nyok Foo, pleaded guilty under Section 294a of the Penal Code (Chapter 22), which can carry a maximum penalty of $5,000 and a year in jail for first-time offenders.
According to court documents, Foe poses as a woman and goes by the name of "Lisa". On record, he has no previous convictions.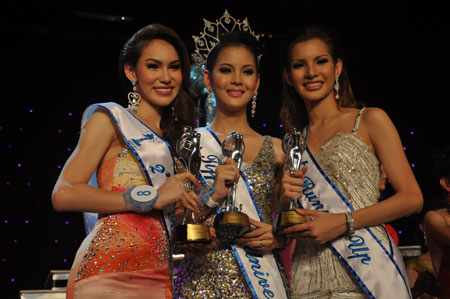 [Thailand]
Student, 19, wins Thai transgender beauty pageant
When Siripahawarin Mongkhonphanmani went to compete in this year's Miss Tiffany's Universe pageant in Thailand's seaside resort Pattaya, she considered it a once-in-a-lifetime experience.
The 25-year-old Thai transgender contestant, whose nickname is Jen, owns a beauty salon in Bangkok. Besides Thai, she can speak English and Chinese. She had finished the male-to-female gender reassignment surgeries and, in her own words, she had become "99-percent woman." To be a beauty queen at Tiffany's pageant was her dream.
[Photo: Chen Di/chinadaily.com.cn - Champion Nalada Thamthanakom (C) poses with first runner-up Chanya Denfanapapol (R) and second runner-up Numpath Prasochok after winning the annual Miss Tiffany's Universe 2010 transvestite contest in the beach resort town of Pattaya, Thailand on May 7, 2010.]

[Canada]
Calgary to get its first dyke march this year
March is intended to be a political, non-commercial event, says organizer.

[USA]
Fury over Family Guy's 'transphobia'
An episode of Family Guy showing frisky character Quagmire's dad undergoing gender reassignment surgery has angered transgender networks in the US, who describe it as "extremely transphobic."
Among the many gags in the Quagmire's Dad episode is a scene showing canine character Brian vomiting upon learning he has slept with a woman who used to be a man.
GLAAD Concerned Over Family Guy
[Blog/Commentary] GLAAD Shares Community Concerns About Last Night's Family Guy
[Blog/Commentary] Family Guy's Transphobic Mother's Day Episode
[Blog/Commentary] Was Family Guy's Trans Episode Horrifically Offensive?
[Blog/Commentary] Is "Family Guy"'s Seth MacFarlane a Complete Idiot?
[Blog/Commentary] 'Family Guy': Funny or just plain offensive?
[Blog/Commentary] Why I Am Not In An Uproar Over Family Guy's Transphobic Episode
[Blog/Commentary] History Repeating: Family Guy goes transphobic

[USA] [Blog/Commentary]
It's Not the Transploitation That Makes Ticked-Off Trannies Bad. It's Everything Else
Between Chaz Bono and RuPaul's Drag Race, transgender people are finally getting some long-overdue media play. Then comes Israel Luna's Ticked-Off Trannies With Knives, a "transploitation slasher flick" that proudly cast transgender actors in trans roles. Critics (read: GLAAD) took offense at the "tranny" title and the trailer's tasteless mention of real-life bashing victims (issues the director later addressed). But the film's biggest problem isn't its depiction of transgender people but its pacing and tone. Luna's bashed trans-women ultimately get their bloody revenge, but getting there is nowhere near as fun or edgy as it should have been.

[USA]
Without Legislation, Many LGBT Workers Must Go Back Into the Closet
Young activists are working for changes to employment discrimination law that would allow gay, lesbian, bisexual, and trangender employees protections in the workplace.
[Commentary] SPRIGG: ENDA sanity?
Centrist Democrats Balking at ENDA Vote
[Blog/Commentary] Dueling Capitol Versions of ENDA: "It's A Sure Thing" "No, It's Not"

[FL, USA]
Police: Man beat girlfriend, led chase over 'pride'
The issue of his girlfriend's sexuality apparently prompted a Gainesville man to attack her in front of relatives so he could "reclaim his pride," police reported.
Cops: Man beat transgendered girlfriend, led chase over 'pride'

[NY, USA]
Greenwich Village Residents Call For Summer Crackdown on Prostitutes
Excerpt: Prostitutes tend to work stretches of Christopher, Greenwich and Hudson streets, residents say. Many of them are transgendered, and were pushed south from the Meatpacking District once that neighborhood became a popular nightspot.

[México]
Preparan caminata contra la homofobia en Querétaro
Con un encuentro cultural en contra de la homofobia, además de una caminata por algunas calles del Centro de Querétaro, integrantes de diferentes organizaciones de Derechos Humanos se preparan para comenzar a conmemorar 5 años del crimen del activista Octavio Acuña Rubio.

[Mexico]
Feroz atraco perpetraron los gays en la 11 de Julio
Un noctámbulo más que atracan, de manera violenta, sujetos travestidos apostados en la entrada de la popular colonia 11 de Julio, sobre el bulevar Colosio, en La Reforma.

[Cuba]
Ativistas denunciam que gays estão na prisão devido sua orientação sexual
Cerca de sete centenas de gays encontram-se na prisão em Cuba "pelo simples fato de serem homossexuais", segundo Aliomar Janjaque, membro da fundação Reinaldo Arenas, que milita em defesa dos direitos LGBT.

[Chile]
Lanzan campaña contra la discriminación sexual
La iniciativa del Movimiento de Integración y Liberación Homosexual (Movilh) incluye la instalación de gigantografías en 40 buses del Transantiago y en puntos como el Paseo Ahumada y Plaza Italia.