[Europe]
European Parliament internal note: Transgender Persons' Rights in the EU Member States
European Parliament services have released an internal note, detailing transgender people's rights in the EU Member States. The note, already downloadable here (PDF), will soon be available to the public on the Parliament's website along with similar internal studies.As part of its policy-making work, the European Parliament regularly produces internal notes and studies to help committees in their legislative drafting. The Committee on Civil Liberties, Justice and Home Affairs had requested a briefing on transgender rights via Raül Romeva i Rueda MEP, Vice-president of the Intergroup.


[Portugal]
Marcha Orgulho LGBT: O dia do "arco-íris" no Porto
A quinta Marcha do Orgulho LGBT decorreu neste sábado no Porto. 15 instituições e muitos cidadãos saíram as ruas para reivindicarem mais igualdade para homossexuais e transexuais e também para celebrarem o que já foi conseguido.
Marcha celebra casamentos 'gay'
Centenas de pessoas na 5ª Marcha do Orgulho Gay no Porto
Porto: Centenas de pessoas na 5ª Marcha do Orgulho Gay
Mais de 2 mil pessoas na 5ª Marcha do Orgulho LGBT
As conquistas passadas e as lutas futuras em marcha LGBT no Porto
Marcha LGBT celebra casamento homossexual e reivindica adopção
Marcha LGBT celebra casamento homossexual e reivindica adopção
Marcha LGBT no Porto para celebrar conquistas deste ano e iniciar novas lutas
Marcha LGBT celebra casamento homossexual e reivindica adopção
Marcha Porto: O que reivindicaram os activistas LGBT
E o Porto marchou pelo centro da cidade



[UK]
So, I had a sex change
Hostility, ridicule and financial ruin are some of the difficulties faced by Britain's 6,000 transsexuals. But against the odds some do achieve personal and professional success


[UK]
Boy, 18, wants sex change to become like idol Katie Price
The hair, the eyebrows, the eyelashes, those pouting lips... even the shape of the face. You already have to look twice at Cindy Jackson to be sure she isn't Katie Price.
But "Cindy" isn't what she seems. She's an 18-year-old boy called Richard – who is desperate to have a sex-change to look even more like the former Jordan, and ­become a top glamour model just like her.
"To me she is the perfect woman," says Richard, who has changed his name to Cindy by deed poll. (Photo: John Alevroiannis - Cindy Jackson)

[Germany]
Sex Swap Pop Girl Models For New Fashion Range
Sex swap pop sensation Kim Petras has been signed up as the body ambassador of a top fashion label.

[Algiers/Lebanon]
Algerian transsexual's memoirs reveal life of discrimination
An Algerian transsexual has published her memoirs, describing the discrimination she faced in her home country, which culminated in death threats that forced her to flee to Lebanon.
Randa, who says she's "around 30," now lives as a woman in Beirut, Lebanon, but was born a boy, called Fouad, in Algeria.
Even as a child she identified more with her three sisters than her brother, she says.

[Siria]
Persecución de la población LGTB en Siria
Llegan preocupantes noticias desde Oriente Próximo, ya que al parecer las autoridades sirias estarían efectuando redadas en fiestas privadas de hombres homosexuales. En una de dichas operaciones habrían sido detenidas 25 personas, la mayoría por ser homosexuales y algunos acusados de poseer drogas. Las autoridades dicen trabajar por la seguridad, mientras que numerosas organizaciones de derechos humanos denuncian una caza de brujas claramente homófoba.

[UAE]
Transvestites offering make-up advice at RAK hotel arrested
Two male transvestites have been arrested for cross-dressing after someone tipped off police they were offering women dance classes and make-up advice.
Police arrested the East Asian pair in two separate raids at a Ras al Khaimah hotel.
The men, a 38-year-old illegal resident, and his 33-year-old friend, were arrested after being discovered dressed in a provocative manner, said Major Hamad Ali al Dabani, chief of the RAK Police's CID. Police did not know the residence status of the second man.
They were dressed in a way that meant they could be mistaken for women, he said. He would not identify the hotel.
Transvestites arrested at RAK hotel


[Pakistan]
Pakistan to soon have first transgender doctor
A 23-year-old transgender is about to make history in Pakistan by becoming a doctor.
Sarah Gill, who is enrolled at Jinnah Medical and Dental College in Karachi, told a local daily, "Our community enjoyed tremendous respect in Islam as well as in the history of Muslim rulers...
First transgender to become a doctor

[India]
`No relief for transgenders in Karnataka'
Lack of medical help and government welfare schemes is plaguing the transgender community. To top it all, indiscriminate use of hormone tablets without doctors' help poses a huge threat to their health.
Founder of Sahodari Foundation of Transgender Women, Kalki, spoke to TOI about the plight of the community which is craving for attention. She received an award from Ladies Circle India on Friday for her contribution to the community.


[China]
Caught in the middle
Pictured is Huang Wei, a 22-year-old transsexual woman in Shenzhen, Guangdong Province who suffered botched surgery that left her with no testicles, but no female genital organ. Now Huang's identity card is considered invalid and because the ID card says "male" but with no testicles.
It's caused Huang difficulty finding employment since coming to Shenzhen from Sichuan Province some years ago. "Once I went to a kindergarten to apply for a job as a dancing teacher," Huang said. "The employers were satisfied with this 'girl' but when they saw my ID they were shocked. I've lost many job opportunities because of this."

[Australia] [Commentary]
Trans as intersex: Crossing the line
People from intersex, sex and/or gender diverse groups need to declare and emphasise our own identities, rather than letting others bully us into fitting into their version of who or what we are, writes Tracie O'Keefe.

[CA, USA]
Tough Love For State's Transgender Inmates
Unique Roberts sprays Paris Hilton perfume on her neck. With perfectly lined eyes and cornrow hair, she's on her way to meet her boyfriend in the yard of San Quentin State Prison, an all-male facility.
Roberts is not a visitor there. The 32-year-old is one of more than 300 California prison inmates who identify as trans gender women and are being housed in male facilities because they are biologically male.

[CA, USA]
Suspect Arrested in Hollywood Transgender Murder
Authorities have announced an arrest in the murder of a transgender woman last year in Hollywood.
Police believe 24-year-old Jesus Catalan stabbed 27-year-old Paulina Ibarra to death inside her apartment on Mariposa Ave. on August 28, 2009.
Arrest Made In 2009 Transgender Stabbing Murder
Police: Man arrested in LA transgender stabbing
Suspected killer of Hollywood transgender in custody
LAPD Announce Arrest in East Hollywood Transgender Murder Case

[GA, USA]
Police: Transgender woman beaten in Midtown
A transgender woman was assaulted in Midtown Friday morning after she allegedly solicited her apparent attacker for sex, according to the Atlanta Police Department.
The woman rode with her alleged attacker to College Park to have sex and when they returned to Midtown, the man brandished a handgun and fought with the victim, police said. The transgender woman, who was beaten in the face and bitten on the ear, was transported to Grady Memorial Hospital to be treated for her injuries. The suspect fled in a gray sedan.
Transgender woman attacked in Midtown
Fugitive Jesus Catalan Arrested For Allegedly Murdering Hollywood Transgender Woman Paulina Ibarra

[MD, USA]
Transgender seeks millions for 'distress' and damages
A Montgomery County man who has made a physical change to the opposite gender has filed a lawsuit against his Maryland county for reaping "emotional distress."
The Maryland province gained national attention when it passed an ordinance protecting transgendered people, meaning a man who says he is a woman can use public facilities reserved for females -- restrooms, for example.
Wayne Beyer, who now goes by the name "Dana Beyer," is a transgendered individual who serves as policy advisor to Councilmember Duchy Trachtenberg. He has now brought suit against the county.
Transgender lobbies for 'rights,' uses law to seek $5 million

[Puerto Rico]
Sin identificar transexual baleado
El único vínculo entre los asesinatos de un transexual en el sector Terraplén de Loíza y de un empleado del aeropuerto frente al condominio Lago Mar, en Carolina, es el auto que se encontró en la escena del primer crimen.
Sin relación aparente con el transexual el otro asesinado

[Costa Rica]
TSE To Respect "Sexual Identity" On Cedulas
If a man wants to look like a woman or a woman like a man on his or her cedula (Costa Rica's identity card), the Tribunal Supremo de Elecciones (TSE) says it will not oppose it. The decision is included in the Reglamento de Fotografías for cedulas issued after 21 June 2010, but only made public on Tuesday.

[México]
Respeto ante la ley y seguridad social objetivos de la marcha del orgullo gay 2010
Seguridad social y representatividad ante la ley son los objetivos principales de la marcha del orgullo gay 2010, informo Sofía Bautista, organizadora de este evento.

[Ecuador]
Juzgado de lo Civil impide cambio de género
Según reportó Televistazo, Ricardo Rivadeneira, juez primero de lo Civil de Guayas negó la solicitud de Diane Rodríguez, un transexual guayaquileño, para cambiar su género de masculino a femenino en su cédula de identidad.
Pese a que el juez no dio mayores explicaciones sobre el caso, Rodríguez asegura que el fallo carece de argumentos válidos.
"El juez ha citado varios versículos de la Biblia y cualquier abogado puede dar fe de que eso, en materia legal, no tiene nada que en lo absoluto porque es parte de la subjetividad de cada quien... Creencias, dogmas y ese tipo de cosas no entran en materia legal", reclamó.


[Honduras]
Con marcha celebran los "gay" sus "10 años fuera del closet"
Durante una marcha denominada "10 años fuera del closet", las organizaciones de la diversidad sexual Lésbica, Gay, Trans y Bisexual (LGTB) en Honduras, desfilaron la tarde de hoy, por las principales calles de San Pedro Sula, para pedir por el respeto a los derechos humanos.
"Porque la diversidad sexual es un derecho"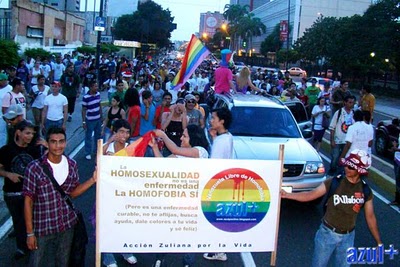 [Venezuela]
Primer Orgullo LGBT: Maracaibo se vistió de colores
Superando las expectativas en cuanto a asistencia, el pasado sábado 26 de junio se realizó en la ciudad de Maracaibo la primera Marcha del Orgullo LGBT en la capital zuliana. Cerca de 500 personas caminaron desde la plaza Indio Mara hasta la plaza de La República, atravesando casi la totalidad de la calle 77 o boulevard 5 de julio, con el propósito de hacer visible un movimiento que viene en franco crecimiento en Venezuela.
Marchan gays por libertad para la diversidad


[Peru]
Multitudinaria y Festiva Marcha del Orgullo en Lima en demanda de Igualdad
En una tarde cálida y con sol a pesar de ser invierno miles de personas participaron de la Novena Marcha del Orgullo LGBT que se realiza en Lima. Una multitud que superaba largamente las 5,000 personas ( algunos dicen que la cifra es más cercana a 10,000) y veintitres carros decorados se desplegaron sobre la avenidas Wilson y Colmena ocupando una extensión de más de un kilómetro.
Cientos de personas participaron en IX Marcha del Orgullo gay en Lima