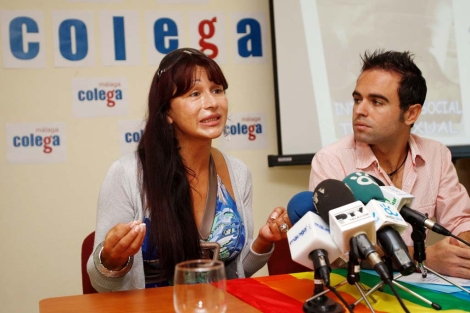 [España]
Transexuales reivindican su integración en la sociedad y en el mercado laboral
La Asociación de lesbianas, gays, bisexuales y transexuales, Colega Málaga, ha lanzado este martes un programa de difusión social referido al colectivo transexual. El objetivo es reivindicar el derecho de los transexuales a un trabajo digno y promover la educación como instrumento clave para erradicar la discriminación.
Transexuales en Málaga reivindican su integración en la sociedad y en el mercado laboral
(FOTO:A.Pastor - Johanna Zárate y el presidente de Colega, Pedro Biedma.)


[UK]
Vets give 'hermaphrodite' dog the snip to help her find a home
A rare hermaphrodite dog has been transformed into a female by surgeons after no-one wanted to give her a home.
Sex change dog seeks new home
Manchester Dogs' Home operates on hermaphrodite dog
(Phoro: Georgie, a Staffordshire bull terrier cross, was abandoned by her owner after being born with both male and female organs.)

[France]
French trans woman continues fight to be recognised as female
Bad news for French trans woman Delphine Ravisé-Giard, as an appeal court yesterday refused, once again, to recognise her as female. This follows a year of legal to-ing and fro-ing, as initial willingness by the French state – in the form of the French Air Force – to recognise her female identity was revoked by a court in Nancy last August.
Tribunal francés pide "cambio sexo irreversible" para dar nuevo DNI a mujer transexual militar

[Sweden]
Participants attacked at 3rd European Transgender Council
Two Turkish delegates to the Third European Transgender Council in Malmö, Sweden, were attacked as they left a restaurant Sept. 30. They were physically assaulted and pelted with eggs by five to seven attackers, they said.

[Swaziland]
Mocked sex change teacher, freed by court
The controversial sex change teacher, Patricia Dludlu, was allegedly mocked at the Correctional Services' remand centre by other inmates while awaiting his appearance in court.

[China]
Primera transexual consigue DNI en provincia china busca novio en Internet, pese criticas
Hasta hace cinco meses se la conocía en su DNI como hombre, pero hoy está registrada como mujer, según consta en su documento de residencia. Shen Qingqing, ahora famosa como "primera transexual de la provincia de Jiangxi", acaba de publicar varios anuncios personales en Internet que la han convertido en blanco de la atención y polémica de más de 280.000 internautas. ¿Es este anuncio personal un truco o una decisión consecuente? Frente a las numerosas críticas en línea, Shen decidió conceder una entrevista a medios de prensa el 7 de octubre.

[India] After EC, UIDAI gives transgender identity a boost
The Election Commission was the first to do it, and the Unique Identification Authority of India (UIDAI) has followed the example — the transgenders of India are finally being recognised by its government.

[Thailand]
Where Bangkok's sex workers go to school
CNNGo reader Justin Calderon visits SWING, an organization that educates and counsels Bangkok's transsexuals and sex workers

[New Zealand]
Transvestite murder trial starts
Two Upper Hutt men have pleaded not guilty to murdering an Upper Hutt transvestite last year.
Accused blame each other for transvestite's murder
Men blame each other for transvestite's murder
Murder suspects were drunk
Killing scene like a horror show, jury told

[USA/Canada]
The 'two-spirit' people of indigenous North Americans
Excerpt: Because of this tradition of respect, in the 90s many gay and lesbian Native American activists in the United States and Canada rejected the French word berdache in favour of the term two-spirit people to describe themselves. Many non-American Indians have incorporated knowledge of Native American two-spirit traditions into their increasing acceptance of same-sex love, androgyny and transgender diversity. Native American same-sex marriages have been used as a model for legalising same-sex marriages, and the spiritual gifts of androgynous persons have started to become more recognised.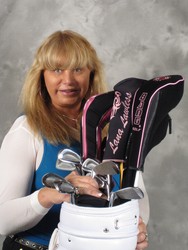 [USA]
Transgender Woman Sues Ladies Professional Golf Association (LPGA) for Unlawful Discrimination
A transgender woman, Luna Lawless, has filed suit against the Ladies Professional Golf Association (LPGA) for violation of her civil rights. The suit, filed by Christopher Dolan of The Dolan Law Firm, claims that the LPGA has engaged in discrimination based on sex/transgender status in violation of California's landmark UNHRU anti-discrimination law which protects transgender persons from discrimination in the provision of goods, services and contracts. (Photo)
Transgender Woman Sues L.P.G.A. Over Policy
Report: Transgender woman sues LPGA for birth rule
Transgender Golfer Sues LPGA

[OH, USA]
Male student beats the odds and wins homecoming queen
There is something familiar and something different about homecoming court this year.
According to this year's queen, the title for the last three years now has gone to a Greek organization member, but now the crown belongs to a man.


[PA, USA]
Body of transsexual found in Point Breeze
A transsexual whom neighbors described as "beautiful" was found dead in her Point Breeze home Monday night by her live-in boyfriend.
Philly man details how he found transgender victim dead at home

[MI, USA] Chaz Bono speaks about gender identity, struggles as transgender
Chaz Bono began life as the daughter of Sonny and Cher, but spoke Monday night as his own self-defined person.

[NC, USA]
Family Demands Justice In Death Of Transgender Man
The sister of a man killed six months ago met with homicide detectives Monday hoping to learn of any progress in the investigation.


[TX, USA]
Transgender girl not a finalist for homecoming queen despite enough votes
Trangender student Andy Moreno wasn't among the three finalists for homecoming queen at North Dallas High School announced Monday, according to her sister, Daisy Moreno.
Daisy Moreno told Instant Tea that according to poll watchers and friends on the counting committee, Andy received more votes than at least one of the three finalists. However, based on the principal's previous decision, school officials didn't allow votes for Andy to count.
Transgender Teen Not on Homecoming Court
WATCH: N. Dallas High School doesn't want you to know if trans student won homecoming vote
Transgender student can't be homecoming queen, Dallas principal decides
Transgender student banned from running as homecoming queen
Transgender Dallas student fails in homecoming bid
Protest planned to support transgender student
(Photo: Andy Moreno, left, and her sister Daisy Moreno)

[México]
Juez dicta que transexuales que no hayan nacido México DF pero que residan podrán cambiar de nombre y sexo
El Registro Civil del Distrito Federal deberá realizar el trámite, a pesar de que el solicitante no haya nacido en la Ciudad de México, determina magistrado del fueron común, tras revisar el caso.