[International]
Action Alert: Demand Governments of the World Condemn LGBT Executions!
Act Now!
Demand that the Member States of the United Nations condemn extrajudicial, summary and arbitrary executions of lesbian, gay, bisexual, and transgender people.

[Europe]
European Parliament calls for protection of LGBT people's human rights worldwide
Today the European Parliament voted its annual report on human rights in the world. The report pays particular attention to human rights violations on grounds of sexual orientation and gender identity, and calls for increased efforts to combat the violence …

[Portugal]
Lei de alteração de nome e género entregue a Cavaco Silva
Foi anteontem, 15 de Dezembro, entregue na presidência da República a lei que regula a alteração de nome e género no registo civil para as pessoas transexuais. Cavaco Silva terá agora 20 dias consecutivos para promulgar ou vetar a lei.
Cavaco tem 20 dias para transexuais


[UK]
Hermaphrodite dog goes under the knife to become 'female' in rare sex change operation
A double gender dog had a rare sex change operation after vets discovered it had both male and female organs.
Saira, a Staffordshire bull terrier, became female after successfully undergoing rare 'sex assignment' surgery. (Photo)

[UK/Serbia] [Commentary]
Serbia: New report – "Transsexual – UNEQUAL, INEQUATE, FORGOTTEN"
Slavoljupka Pavlovic, a lawyer with the Belgrade-based Gayten LGB&T advocacy group, has written a paper on the situation for binary identified transsexual people in Serbia.

[Pakistan]
NADRA to give jobs to eunuchs
The National Database Registration Authority (NADRA) has decided to provide job opportunities to eunuchs at its regional offices.

[Australia]
Call for GLBTI legal support
A new report into the accessibility of legal services for GLBTI Victorians has called for the state to develop a more targeted response to the community's legal issues.

[USA] [Film]
Glenn Close Is an Irish Man
Glenn Close is returning to film and likely bucking for a sixth Oscar nomination as a woman who dresses as a man in 1890s Ireland in the new film Albert Nobbs.
Celeb Drag King: Who's That Star?

[USA] [Film/DVD]
"Ticked-Off Trannies With Knives"
The legendary blues singer Koko Taylor once recorded a song titled "I Can Love You Like A Woman or I Can Fight You Like a Man." That could have been the theme song for this cool and gritty homage to both grindhouse movies and revenge flicks, written and directed by Israel Luna and available on DVD from Breaking Glass Pictures. When the film debuted, it set off howls of outrage from the transgender community who felt it misrepresented them. Well, to paraphrase one of the best lines from the very funny script, "Let's get some balloons for your pity party, bitch."

[USA]
NCAA reviewing policy on transgendered athletes
The National Collegiate Athletic Association is reviewing its policies to determine if changes are needed to officially permit transgendered athletes to compete in varsity sports.

[USA] [Commentary]
Police: Black Friday's Trans Bashing Victim Akasha Adonis Started The 3am Kohl's Fight
Akasha Adonis — the transgender woman who claimed she was punched in the face by another customer at 3am during a Black Friday sale at Kohl's in Jacksonville, Tenn., and then brushed off by cops at the scene because she is trans — has some answering to do, say police, who viewed the surveillance tape and say it was Adonis who threw the first punch.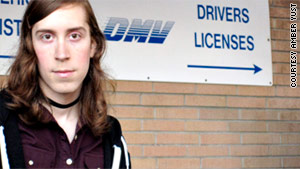 [CA, USA]
Transgender woman says DMV employee warned her of hell
A transgender woman is asking for a temporary restraining order against a California Department of Motor Vehicles employee who allegedly wrote her a letter condemning her to hell.
(Photo: Amber Yust says she got the letter after changing her name and gender on her driver's license.)

[CA, USA]
Student redefines self and life through sex change
Aydin Kennedy avoided public restrooms for years.
He would carefully plan out his schedule where he could always access a single-stall bathroom, he said, even refusing to use a public bathroom when he was desperate to relieve himself.

[PA, USA]
SEPTA Riders Group Declare Their Rights
Riders Against Gender Exclusion, along with representatives from the transgender community, gathered today at SEPTA's budget meeting and unfurled a Rider's Bill of Rights.

[Argentina]
Florencia de la V, la transexual mas famosa Argentina recoge nuevo DNI tras año lucha e intermediación FALGTB
La actriz y bailarina Florencia de la V recibió ayer de manos del ministro del Interior, Florencio Randazzo, el Documento Nacional de Identidad (DNI) que respeta su elección sexual y el nombre que eligió: Florencia Trinidad.