[International]
TDOR 2011: Again alarming figures
Transgender Europe's Trans Murder Monitoring project reveals 221 killings of trans people in the last 12 months

[Brasil]
Ela é trans! Segredo de Denise Del Vecchio é revelado em "Vidas em Jogo" da Record
A novela "Vidas em Jogo" da Record ganhou uma personagem transexual. Não que ela tenha entrado agora na trama, estava desde o início, mas só no capítulo da última quarta (16) foi revelada ao público.
Personagem trans dá ápice de audiência à Record

[Brasil]
Um ano sem Claudia Wonder
"Você precisa aprender a caminhar sozinho". Essa foi a última frase que escutei de Claudia Wonder no dia 24 de outubro de 2010. Nem eu e nem ela esperávamos que dois dias depois, no Centro de Referência e Tratamento, em São Paulo, ela diria adeus. Minha amiga Claudia morreu aos 55 anos, vitima de uma infecção causada por um fungo encontrado nas fezes de pombo.

[Brasil]
Transexual com direito de ter nome social em MG quer mudar RG e CPF
Professora de Uberlândia diz que não entendiam nome civil no diário.
Mudança foi possível por meio de pacote de ações contra preconceito.

[UK]
UK organisations to mark Trans Day of Remembrance this weekend
Bodies around the UK will be hosting a number of vigils and services to remember the memory of people who have lost their lives around the world as a result of perceived transgender identities.


[UK]
Former policeman aims to become Scotland's first transsexual MSP.. to make point to transport tycoon Brian Souter
A former policeman has been selected as Scotland's first ever transsexual election candidate.
Carol Mapley will fight a council seat in Dumfries & Galloway next May - and aims to stand for Holyrood in future.

[Russia]
Russian lawmakers back fines for gay 'propaganda'
Lawmakers from the ruling United Russia party have backed a controversial bill imposing fines for the promotion of gay "propaganda" among young people in the city of Saint Petersburg.

[Ghana]
Gay Prostitute arrested by Ghana Police



[Afghanistan]
Harassment of Trans Person by Police Caught on Camera (Video)
The video reminds of me of those passed around by cellphone in Iraq (
like this
) and others I have seen, like this one from Ghana. Afghan police 'capture' a cross-dressing man and interrogate him and a friend, and, like in those other videos, the fate of those in the video is unknown.



[India]
Queer as folk
The fragile existence of the transgender community, Hijras or Kinnars, stigmatized as the "other" sex, scrambling, for the longest time for an identity as a recognized member of community, is undergoing a slow transformation at last if events like participation of transgender social activist Laxmi in the Bigg Boss is any indication. Vatsal Varma reports

[New Zealand]
Trans artist leads charge with affirming poster
The Human Rights Commission will release a poster created by a talented trans artist to mark Transgender Day of Remembrance this Sunday.

[Australia]
Sunday marks Transgender Remembrance
This Sunday, November 20 marks the 13th annual Transgender Day of Remembrance, a day set aside to remember those who have died as a result of anti-transgender hatred or prejudice.

[Australia]
NSW Police join the community to commemorate Transgender Day of Remembrance
The NSW Police Force is joining The Gender Centre and other members of the transgender community in commemorating Transgender Day of Remembrance on Sunday 20 November 2011, an international day to remember transgender people who have been murdered and those who have been victims of violence.

[Canada]
A day of remembrance
This Sunday marks the 13th Transgender Day of Remembrance. Events will be held all over the world.

[USA]
Transgender Older Adults Featured in First-Ever LGBT Aging Publication
In a groundbreaking LGBT-themed issue of Public Policy & Aging Report, a publication of the National Academy on an Aging Society, NCTE Policy Counsel Harper Jean Tobin outlines the policy agenda of transgender older adults. From accessing healthcare to the mistreatment of transgender older adults in long-term care facilities, Tobin reviews the issues that diminish the quality of life for a growing segment of the transgender community. The introduction of Tobin's entry called, "Improving the Lives of Transgender Older Adults," reads:

[CA, USA]
Transgender Woman Claims Excessive Force In Taser Incident
A transgender woman from Ramona was stunned by a stun gun used by a Bureau of Land Management ranger in the desert near El Centro late last month.

[CA, USA]
Transgender Day of Remembrance
This week, both nationally and at the Claremont Colleges, people are celebrating Transgender Day of Remembrance. To start off, let's discuss what it means to identify as transgender. While it is certainly impossible to speak for every single transgender person's lived experiences, the term is generally taken to indicate someone who doesn't allow the sex a doctor assigned them at birth to determine their gender- something that is strictly regulated and constructed through social pressure.
Remembrance event on Sunday

[CA, USA]
A Lost Friend: A Transgender Latina Tells Her Story of Survival
Victoria Ruiz is a transgender advocate and a writer for the LGBT-themed, Spanish-language magazine, Adelante Magazine. She also works with Latino non-profit service organization Bienestar to conduct support groups and educational intervention for Latina transgender women. For Transgender day of Remembrance, Victoria recounts her and her friend Yina's experiences as immigrant Latina transgender women in Los Angeles.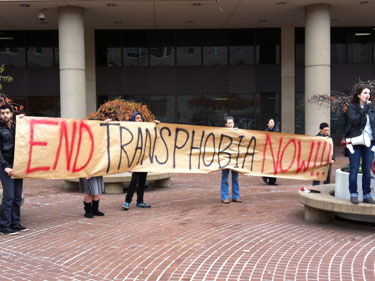 [DC, USA]
Protestors Picket Police and Prosecutors
Transgender Day of Action activists deliver complaints and demands to D.C. authorities
Transgender Activists Call For Better Treatment From Police
Activists protest mistreatment of transgender people in D.C.

[DC, USA]
Trans Day of Remembrance services set for Sunday
Several local LGBT churches are hosting Transgender Day of Remembrance events Sunday.

[ID, USA]
Boise group to hold candlelight vigil for International Transgender Day of Remembrance
The group Add the Words, Idaho will host a candlelight vigil from 6 p.m. - 7 p.m. on Sunday, Nov. 20, at the Idaho Anne Frank Human Rights Memorial in Boise to observe International Transgender Day of Remembrance.

[MA, USA]
Massachusetts passes bill making transgenderism/crossdressing a protected class
The Massachusetts legislature has passed a bill that elevates cross-dressing or transgendered individuals to a protected class, and grants universal access to sex-segregated areas such as bathrooms based on personal "gender identity or expression."

[MA, USA]
Health Plans To Cover Lower Surgery for Gender Reassignment
In a move which trans rights activist have called a step toward greater equality, the Harvard University Health Group Plan and Harvard Pilgrim Health Care have modified their coverage plans to include lower gender reassignment surgery, according to University spokesperson Nanci Martin.

[MD, USA]
Mayor Focuses on the Transgender Day of Remembrance
On Tuesday, November 15, 2011, at 10:00 a.m., members of Baltimore's transgender community and their allies came to Baltimore's City Hall to hear Mayor Stephanie Rawlings-Blake make a proclamation in honor of this year's Transgender Day of Celebration and the annual Transgender Day of Remembrance.

[MN, USA]
St. Paul man sentenced in rape of transgender person
A Ramsey County judge sentenced a man Thursday to 27 years in the St. Paul rape and robbery of a transgender person.

[MT, USA]
Supporters rally for Non-Discrimination Ordinance at Hub Coffee
The Montana Human Rights Network kicked off its campaign at hub coffee this evening, to support a Non-Discrimination Ordinance in Helena.

[TX, USA]
TDOR: 'Everyone deserves to be mourned'
Marcal Camero Tye, 25, was a friendly, outgoing young woman who got along well with most people in the small town of Forrest City, Ark., where she lived — despite the fact that she was openly transgender in such a conservative atmosphere.

[Peru]
Trans activism in South America
Peruvian human rights activist Taki Robles is late for our meeting in the Lima suburb of Miraflores. I chalk it up to Lima's formidable rush hour, which lasts until well past sundown, but as I learn later, that's not the case.