A organização do programa 'Defina família', sobre famílias e normatividades, procura contribuir para a visibilidade e o conhecimento de moldes familiares que, habitualmente, são tidos como inexistentes ou socialmente desviantes. A pertença a uma família e/ou a criação de uma nova família fazem parte do projeto de vida de muitas pessoas, independentemente da sua orientação afetiva e sexual, identidade de género ou trabalho. As definições de família são diversas, tal como as famílias. Contudo, as várias conceções aproximam-se quanto à importância da família para a vida afetiva, social e económica de cada pessoa. Por pressão de movimentos de ativismo social e de profissionais de diversas áreas, as formas não normativas de orientação afetiva e sexual, identidade de género e trabalho sexual têm conquistado, nos últimos anos, uma maior visibilidade social e legislativa em Portugal. No decorrer destas mudanças, temas relativos a estas pessoas começam a chegar ao debate público. Tais temas, nomeadamente os de âmbito familiar, envolvem tradições sociais, tecnologia biomédica e/ou a reivindicação do respeito pela autonomia e cidadania. Estas questões estão a ser colocadas em diferentes espaços, como sejam os protestos de rua, a atividade interna das instituições, os meios de comunicação social e a Assembleia da República. Assim, qualquer pessoa poderá ser chamada a estes debates, em contexto profissional, na participação cidadã ou dentro da sua própria família. Queremos, neste programa, receber as discussões e promover a partilha de conhecimentos e experiências.
ENCONTRO TÉCNICO-CIENTÍFICO:
DISCURSOS E OLHARES SOBRE (OUTRAS?) FAMÍLIAS E NORMATIVIDADES
| 11 de Maio: Universidade Lusíada do Porto.
Com a presença de Conceição Nogueira, Alexandra Oliveira, Jorge Gato, Sofia Neuparth, Telmo Fernandes, Zélia Figueiredo, Eduarda Ferreira, Rui Nunes, Gabriela Moita, Nuno Carneiro e Beatriz Briones.
PROGRAMA PARALELO:
(OUTROS) ENCONTROS SOBRE FAMÍLIAS E NORMATIVIDADES
| Espaço Gesto (R. José Falcão, 107).
OFICINAS: 12 de Maio
1. 'Famílias Arco-Íris', por Telmo Fernandes (Projecto Porto Arco-Íris - Associação ILGA Portugal).
2. 'As regras da casa: famílias, normatividade e género', pelo GATA - Grupo de Activismo e Transformação pela Arte.
3. 'Vulnerabilidades associadas ao trabalho sexual', pela equipa do Projecto Porto G da APDES - Associação Piaget para o Desenvolvimento.
TERTÚLIA: 18 de Maio
"Visibilidade LGBT na arte", por Armando Pinho.
REGISTO VÍDEO: 11 a 18 Maio
"Performance #1 (Mistress). Parte de Family Project, Miguel Bonneville
ORGANIZAÇÃO
António Américo Salema, Filipe Couto Gomes, Ana Meireles e Instituto de Psicologia e Ciências da Educação da Universidade Lusíada do Porto.
Página da organização:
http://www.por.ulusiada.pt/noticias/artigo.php?news_id=2146
PREÇO:
15€ Programa Completo (desc para estudantes ULP e entidades protocoladas
http://www.por.ulusiada.pt/ingresso/ir/protocolos.html
)
Pagamento presencial na ULP ou por transf bancária (para o nib 0007 0402 00163760006 63 com envio de comprovativo para o mail vaslopes@por.ulusiada.pt)

[Portugal]
Há cada vez mais jovens transexuais no Porto
Aumentou o número de jovens transexuais nas consultas de Sexologia do Hospital Magalhães de Lemos, no Porto, desde que entrou em vigor a Lei da Identidade de Género, em 2011. Um crescimento acompanhado por um maior número de famílias que os acompanham àquele serviço.

[UK]
"Get ready for a real-time suicide": Twitter users save transsexual's life after 'live' suicide attempt prompts rescue
A transsexual's life was saved by Twitter users who alerted police as he gave live updates of his suicide attempt on the social networking site.
The 47-year-old posted details of his bid to end his own life with a drugs overdose to hundreds of followers.
The man, who describes himself as a "transsexual rockstar" in his profile, first sparked concern when he told users that he had stockpiled medication.


[Czech Republic]
The only gay in the Stone Age village: Scientists find Czech long houses - and one male skeleton buried as if he was a woman
Archeologists who uncovered the first homosexual caveman have discovered the prehistoric village where he was 'the only gay' man.
The male skeleton - believed to be nearly 6,000 years old - was found buried in the same way that Neolithic communities buried women, suggesting he was a different sexuality.
Now the same team of experts have discovered what they believe was his home village near Prague in the Czech Republic.

[India]
Thailand big draw for sex change surgeries
Thailand is not just a cheap holiday destination. According to city doctors, several Indians wanting to undergo sex reassignment surgery travel to the country as its clinics allegedly offer attractive packages. Thailand has a large transgender population. "Recently, a couple of patients approached me with inquiries about sex reassignment surgeries. But when I told them that I only operate on two to three patients in a month, they chose to fly to Thailand where doctors do two to three surgeries a day," said Dr Anil Tibrewala, plastic surgeon, Hinduja Hospital.

[Canada]
Report: Canada mulls genderless passports
Canada is considering passports that allow for an alternative to male or female, Quebec's French-language La Presse newspaper reported Wednesday.
Canada May Get Genderless Passports Soon
Will Canada get gender-neutral passports?
[Commentary] Marni Soupcoff on genderless passports: Better your sex than your fingerprint


[Canada]
Nunavut: Transgendered woman files human rights complaint
My name is Vanida Plamondon, and I have filed a human rights claim against the Department of Health and Social Services, Government of Nunavut.
Why? Because even though medical treatment of gender dysphoria has been established as a basic human right by the Canadian Human Rights Commission and by the Supreme Court of Canada, the Government of Nunavut decided to deny me medical treatment because I am transgendered.

[Canada]
A Transgender Transition Inside EA Sports: "Will Everyone Stare at Me?"
Going from the person most co-workers know as a man to one they will know as a woman is a challenge most people won't ever have to face. Doing it in the sports division of a video game company probably adds a ridiculous degree of difficulty.
But when EA Sports producer John Worrall became Kelly Worrall, she says that company went to great lengths to prepare colleagues and support her decision.

[Australia]
Urgent trans help needed: PFLAG
Lobby group Parents and Friends of Lesbians and Gays (PFLAG) is urging the Gillard Government to commit to fully subsidise the cost of gender reassignment surgery, saying trans people unable to afford surgery are facing unnecessary hardship.
Although the federal budget was handed down this week, the call has been made, in part, following a Queensland trans woman's threat to perform her own gender reassignment surgery in protest at the current costs.

[USA]
Inside Transgender Singer Tom Gabel's Rolling Stone Interview
'She was very open and honest and generous,' says contributing editor Josh Eells

[AR, USA]
Transgender issue creates controversy at UAFS
Melanie Stout is angry.
The University of Arkansas at Fort Smith (UAFS) student and managing editor of the school newspaper, said she has tried to follow up with involved UAFS administration in a recent conflict between the university and transgender student Jennifer Braly, but cannot find anyone willing to speak with her.

[CA, USA]
Probe of woman's death continues
Oakland police are continuing to investigate the death of a transgender woman who was shot in the city's downtown as family and friends mourn.
Brandy Martell, 37, was shot as she sat in her car with friends early Sunday morning, April 29.

[CA, USA]
Transgender youth loses job after one day
Hired and fired in the same day, one Lincoln youth says her transgender status resulted in losing a Massage Envy job.
But according to S & C Therapy, Inc. president Christine Ambrecht, that's not the case. Ambrecht said S & C Therapy owns the Lincoln Massage Envy.
Andrew Hawkins, 19, is a male-to-female transgender who has not yet undergone gender reassignment surgery.
[Commentary] Making it easier for a Lincoln resident

[DC, USA]
Beninda, Budd nominated for D.C. Commission on Human Rights
If approved by the City Council, the women would be the first transgender people to serve on the 15-member commission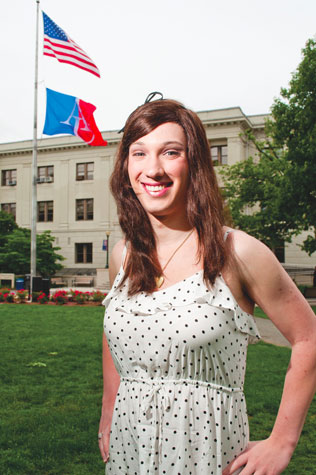 [DC, USA]
Sarah Smiles
As April turned to May, change was afoot on D.C.'s American University campus. For starters, April 30 marked the end of Student Government President Tim McBride's term. The next day, The Eagle, AU's student newspaper, featured a column from the outgoing president titled ''The Real Me.''
American University's Student Body President Comes Out, Gets Lady Gaga's Support
[Commentary] The Real Me

[IA, USA]
Iowa Man Alleges Discrimination at Hospital
For the second time in recent weeks, a transgender man in Iowa has has alleged that the state's medical profession either discriminates or doesn't know how to deal with transgender patients.

[MI, USA]
Why aren't all crimes hate crimes?
When a transgender woman was murdered last year after assisting Madison Heights police with a drug bust, some wondered why the killer was not charged with a hate crime, though her body had been badly mutilated and burned.

[Chile]
HOMOSEXUALES Y TRAVESTIS ENCARCELADOS DENUNCIAN TRATOS VEJATORIOS EN EX PENITENCIARIA DE SANTIAGO
Nosotros los internos homosexuales, habitantes de la ex penitenciaría, calle 3-B. Nos dirigimos ante ustedes para exponer ciertas falencias en nuestra calidad de vida.
Actualmente vivimos 37 reos en la calle anteriormente nombrada, divididos en 5 dependencias pequeñas de 6 metros cuadrados, ninguna cuenta con servicios higiénicos. Muchos de nosotros somos personas que viven con el VIH/SIDA estando encerrados en condiciones de hacinamiento durante 15 horas diarias, sin tener como comunicarnos con algún funcionario en caso de alguna crisis.

[Argentina]
Senado da Argentina aprova Lei de Identidade de Género
A Lei de Identidade de Género foi aprovada pelo Senado da Argentina esta quarta-feira. A lei deverá ser promulgada pela presidente Cristina Kirchner, que já declarou o seu apoio a esta lei à semelhança do que aconteceu com a lei da igualdade no acesso ao casamento.
Lei torna fácil redefinição sexual na Argentina
Congreso argentino aprueba por unanimidad ley de identidad de género
Argentina makes sex-change surgery a legal right
Argentina Approves Transgender Rights Legislation, Makes Sex-Change Surgery A Legal Right
Argentina approves gender identity law