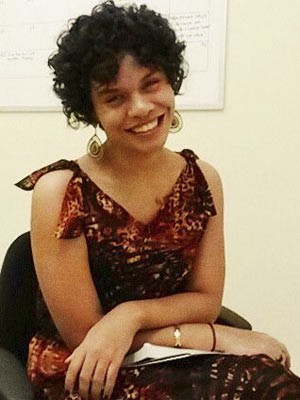 [Brasil]
'A universidade pode ser nossa', diz transexual aprovada no Sisu
Clara foi uma das 95 transexuais autorizadas a usar nome social no Enem.
Ela foi aprovada em pedagogia na UFPE na primeira chamada do Sisu.

[Brasil]
Travestis e transexuais podem emitir cartão do SUS com nome social em Vitória
O público poderá solicitar e emitir o documento nos dias úteis, das 14 às 18 horas. A emissão do Cartão SUS com nome social pode ser feito no Centro de Referência DST/Aids, em Vitória

[Spain]
First-ever transsexual minor runs for Canary Island Carnival Queen
Sixteen-year-old Lola Rodríguez is the first-ever transsexual candidate for Carnival Queen in the Canary Islands.

[Spain/Vatican]
Pope Francis 'embraces transgender man in meeting at the Vatican' and tells him there is a place for him in the Church
Pope Francis has reportedly arranged to meet a transgender man at the Vatican, embraced him and told him that there is a place for him in the Catholic Church.
Transsexual Spaniard meets Pope in Vatican

[UK]
CARMEN CARRERA, LA MODELO TRANSGÉNERO QUE ACAPARA TODAS LAS MIRADAS
"¡Un poco más de luz!" Se trata de una sesión de fotos temprano en la mañana para la revista Glamour del Reino Unido

[UK]
Green Party leader 'disappointed' by candidate's comments about trans people
Green Party leader Natalie Bennett has apologised, after Green candidate Rupert Read made controversial comments about transgender women.
UKIP leader Nigel Farage's top aide sorry for calling trans women 'she-males'
Top Ukip official Matthew Richardson forced to apologise after 'unforgivable' anti-trans rant and 'she-males' slur

[UK]
Germaine Greer: I don't believe in transphobia
Germaine Greer has claimed that transgender women aren't women, because they don't know what it's like to have a "smelly vagina".
"I don't believe in transphobia": Germaine Greer speaks out at the Union
CUSU LGBT+ host alternative event to Germaine Greer

[UK]
Tiverton transsexual's fight against discrimination continues
Campaigning for equality has become Kay Browning's passion since he hit the headlines last July for speaking out about the discrimination he had faced as a transsexual man.

[UK]
Bank ordered to pay compensation after mistaking trans woman for 'fraud'
The Financial Ombudsman Service has ordered a bank to pay compensation, after a trans woman was blocked from her account because she has a deep voice.
'Bank mistook my sex change for fraud' – when poor service counts as discrimination

[Sweden]
Swedish swimming pool opens gender neutral changing room
A public swimming pool outside the Swedish capital is reopening this weekend after building a third changing room, for people with a "neutral gender identity."


[Austria]
Transsexual asylum seeker's body found
The naked and bound body of a Turkish citizen found on Sunday afternoon after police broke down the door to her apartment has been reported as being a 35-year-old transsexual asylum seeker.
Body discovery triggers murder investigation

[Kenya]
Intersex 'not third gender'
A plea by an intersex five-year to be given legal recognition, which would have introduced a third gender in the law books, has been denied.
High Court judge Isaac Lenaola refused to give an order but directed that the baby be given birth a certificate.
In his decision the judge said Kenyans are not ready for a third gender.

[India]
Eunuchs in turf war again
A eunuch, active in the eastern city parts, has accused a rival group of assault in Sardarnagar on Monday. While police didn't buy the theory of an acid attack, they have started investigation into the assault.

[Malaysia]
Malaysia state to challenge repeal of cross-dressing ban
Malaysia's Federal Court Monday (26 January) allowed Negeri Sembilan state to challenge the Court of Appeal's ruling against its Islamic cross-dressing ban.
Federal Court grants Negri Sembilan govt leave to appeal cross-dressing ruling
Federal Court allows Negri Sembilan to appeal transgender ruling

[Philippines]
US marine's request to drop Philippine transgender murder case rejected
Joseph Pemberton charged with killing Jennifer Laude in October 2014
Panel in Manila rules that case can be based on circumstantial evidence

[Canada]
Ontario will now assess transgender inmates based on identity, not anatomy
In what's being called the most comprehensive policy of its kind in Canada, inmates in Ontario will be assessed and housed based on their gender identity — not their anatomy.

[USA]
CELEBREMOS A LYNN CONWAY, MUJER TRANSGÉNERO Y MANO INVISIBLE DEL SILICON VALLEY
LA INGENIERA TRANSGÉNERO QUE TRABAJÓ EN EL DESARROLLO DE LOS CHIPS Y MICROPROCESADORES DE NUESTROS MÓVILES, TABLETAS Y LAPTOPS.

[USA]
Two Transgender Women Of Color Killed Within Nine Days
Police and reporters misgendered the victims and, in one case, seemed to blame the woman for her own homicide, LGBT advocates told BuzzFeed News.

[USA]
HRC Condemns Rep. Chris Smith's Rejection of LGBT Rights as Human Rights
Today, HRC condemns Rep. Chris Smith (R-NJ) for his comments during today's House Foreign Affairs subcommittee on Africa hearing on Nigeria. Smith said he does "not construe homosexual rights as human rights," and continued to question whether U.S. opposition to anti-LGBT legislation had negatively impacted the U.S.'s engagement in Nigeria. The Chairman of the House Foreign Affairs' Subcommittee on Human Rights should know better. LGBT rights are human rights.

[AZ, USA]
Court Tosses Out Prostitution Conviction For Woman Who Was Just Walking Down The Street
An Arizona appeals court has vacated a conviction against a transgender woman who was profiled for sex work, creating new hope that she might receive justice.
Arizona Appeals Court Overturns Monica Jones's Conviction for 'Walking While Trans'
Phoenix transgender activist's conviction in prostitution case thrown out


[CA, USA]
Transgender woman says she was denied bathroom access inside Balboa Park
A transgender woman is sharing her story after she said she was prevented from entering a restroom inside Balboa Park.
Giselle de la Rosa said last Friday night, after having coffee with a friend at The Prado, she walked a few steps to the women's bathroom in the House of Hospitality.

[ID, USA]
'Gender Identity' Protection A Top Concern For Critics Of Idaho Gay Rights Bill
Opponents of a gay rights measure in Idaho are highlighting what they call the "bathroom" problem.
They say protections in the bill for transgender people could lead to unsafe conditions in women's public restrooms and locker rooms.

[MD, USA]
After criticism, Hogan amends executive order to include gender identity
Gov. Larry Hogan's first executive order after taking office last week didn't sit well with lesbian, gay, bisexual and transgender advocates, who said it disregarded hard-won legal protections for transgender residents in Maryland.

[NC, USA]
Local group plans transgender support rally
A month after an Ohio teen committed suicide, a local group is working to raise awareness of issues facing transgender people.

[OH, USA]
Cincinnati group to hold Twitter 'town hall' on transgender violence
The Cincinnati Human Relations Commission wants a discussion on social media about ending violence against transgender people.

[OH, USA]
Lakewood Police admit transgender shoplifter wasn't treated correctly during booking
'Dude Looks Like a Lady' song played during arrest

[OR, USA]
Oregon drivers can change gender designation under new DMV policy: Diversity news
As the Portland Metro area becomes increasingly diverse, local governments are looking for ways to reach out to minority communities. The Portland Police Bureau recently hired its first equity and diversity manager. Elle Weatheroy comes from a police family -- her father and brothers have all served in the Portland force. Maxine Bernstein has more on Weatheroy's new role in the city.

[PA, USA]
First transgender discrimination case to challenge ADA's constitutionality
In the summer of 1989, U.S. senators debating the Americans with Disabilities Act excluded behavior they deemed immoral from the ADA's protections, including "transvestism, transsexualism, pedophilia, exhibitionism, voyeurism, gender identity disorders not resulting from physical impairments, or other sexual behavior disorders," according to the text of the law.

[TX, USA]
Rafael Cruz warns Christians: 'God will hold you accountable' if transgender people use public toilets
Rafael Cruz, the father of U.S. Sen. Ted Cruz (R-TX), asserted on Tuesday that banning discrimination against transgender people would mean that football teams could "shower with girls."

[TX, USA]
Texas Trans Woman Fatally Shot; Police Search for Leads
No arrests have been made yet in the murder of Ty Underwood, but friends of the victim say police should consider the attack a hate crime.
Online movement started for transgendered Lufkin woman killed in Tyler
Transgender woman killed in Tyler, friends believe it was hate crime
Trans woman murdered in Texas

[TX, USA]
Saks Fifth Avenue Withdraws Assertion Claiming Transgender People Are Not Protected by Title VII
In two major victories for transgender civil rights, today Saks Fifth Avenue withdrew a motion to dismiss a lawsuit in which Saks had argued that Title VII of the Civil Rights Act of 1964 does not protect transgender workers, and the U.S. Department of Justice filed a historic statement of interest in the same case affirmatively stating that Title VII covers transgender people. This is the first time that the Department has made clear that Title VII prohibits any type of discrimination against transgender people, not just discrimination based on gender stereotypes.
Saks Withdraws Motion to Dismiss Trans Worker's Lawsuit
Saks backs down from claim on trans people and Title VII

[Mexico]
Corte ordena reintegro al colegio de estudiante transgénero en Magdalena, rechazada por su "apariencia"
La Corte Constitucional ordenó al colegio Jhon F. Kennedy de Aracataca (Magdalena) disponer de un cupo educativo a una persona declarada 'transgenerista' a quien le habían negado el ingreso por su apariencia.