[Brasil]
Quebra-pau entre travestis e mototaxistas resulta em prisões e protesto em delegacia
Um grupo formado por entidades de diversidade e a OAB/MS pede explicações à Depac

[Canada]
Sydney Mines student: 'I started out as Madison and now I'm Matthew'
Teenager Matthew Bond has more to concern himself with than his marks and what is trending on social media.
Sydney Mines student nominated by guidance counsellor

[Canada]
Ontario NDP MPP moves to ban conversion therapy
DiNovo says practices aimed at changing gender identity and sexual orientation are 'abuse'
NDP LGBTQ critic introduces historic protections for LGBTQ youth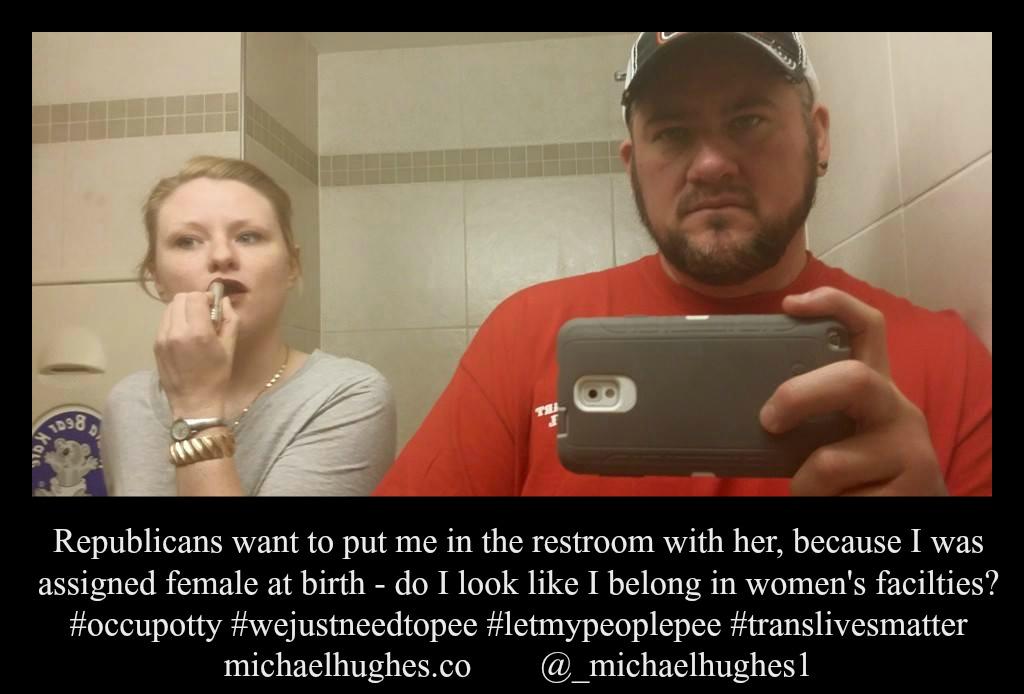 [USA]
Trans man takes on selfie campaign to fight 'ridiculous' bathroom bans
Using the hashtag #WeJustNeedToPee, the bearded activist posted pictures of himself next to women entering cubicles and doing their makeup

[USA]
Intersex advocates correct and clarify Nightline news report
Last week, Nightline ABC aired a segment in which Advocates for Informed Choice (AIC) President Sean Saifa Wall courageously confronted his childhood surgeon on a segment of Nightline ABC last week. AIC raises awareness about, and protects the human rights of, intersex children who often face pressure to undergo unnecessary surgury to conform their bodies to society's expectations.

[USA]
#TBT: When Cross-Dressing Was a Crime
Over 40 American cities passed antidrag laws in the late 1800s. How did that shape the definition of gender normality? An excerpt from Arresting Dress: Cross-Dressing, Law, and Fascination in Nineteenth-Century San Francisco explains.

[USA]
Private Manning still a 'him,' says Donnelly
An advocate for military readiness says a court order banning the U.S. military from referring to a male soldier as "he" is an example of judicial overreach.

[USA]
'All That Jazz,' TV Series, To Star Transgender Teen Jazz Jennings
Big things are on the horizon for one of our favorite transgender teen activists.
Jazz Jennings, the 14-year-old who has been an outspoken supporter of rights for trans youth, is slated to star in her own reality show on TLC this year.
The unscripted, 11-part series will be produced by This Is Just A Test and is set for a premiere date of summer 2015. Called "All That Jazz," the show will document Jenning's journey as she navigates life as a transgender teen.

[CO, USA]
Colorado state House passes bill to ban conversion therapy on minors
A measure that would prohibit Colorado mental health professionals from practicing gay conversion therapy with minors has cleared the state House.

[DC, USA]
Man sentenced to 56 months for stabbing trans teen on Metro
Reginald Klaiber on Wednesday was sentenced to 56 months in jail for stabbing a trans teen on a Metro train in July 2014.
Man sentenced to 4 years in prison for stabbing transgender girl on D.C. train
Maryland man gets 4 years in transgender girl's stabbing on Metro train

[FL, USA]
TIGLFF updates bathroom policy to be trans-inclusive
An anti-transgender bill presented in Tallahassee that would limit transgender individuals access to public restrooms has led to a policy change at the Tampa International Gay and Lesbian Film Festival.

[LA, USA]
LBC single occupancy bathrooms being converted to all-gender bathrooms
The Lavin-Bernick Center will convert all eight single-occupancy restrooms in the building to all-gender restrooms by the end of the semester. The change follows similar initiatives at Vanderbilt University and Emory University.

[MA, USA]
Smith College continues to review admission policy for transgender women, collects feedback from thousands
As all-women's colleges across the country have begun to welcome transgender women into their student bodies, Smith College administrators continue to discuss whether they will one day do the same.

[MN, USA]
TLDEF Condemns Minnesota Legislation Meant to Harm Transgender Students
TLDEF denounces yet another attempt to target transgender students for discrimination, this time in Minnesota. Republican state lawmakers introduced identical bills in the Minnesota State House and Senate. HF 1456 and SF 1543 would deny transgender students the ability to play on sports teams or use bathrooms and locker rooms that match who they are as boys and girls. The legislation would invalidate the Minnesota State High School League's transgender-inclusive athletic policy and bar school districts from implementing similar policies designed to allow transgender students to participate equally in school. The bills come in response to pressure from anti-LGBT groups in Minnesota.

[MN, USA]
UMD to offer gender-inclusive housing option, LGBT minor
The University of Minnesota Duluth is rolling out a new course of study and a housing option in its efforts to become a more inclusive campus.

[NY, USA]
Transgender civil rights bill gets renewed push in NY
Legislation that would protect transgender New Yorkers from discrimination in housing, employment and education is getting a renewed push.

[UT, USA]
Utah House passes Mormon church-backed LGBT anti-discrimination bill
A Mormon-church-backed anti-discrimination bill that protects LGBT Utah residents and religious rights received final approval at the state's Republican-controlled Legislature on Wednesday.

[WI, USA]
Report: Transgender students need better support in Wisconsin schools
Transgender and gender nonconforming students report experiencing abusive, dismissive and disruptive treatment in the halls, classrooms and bathrooms of Wisconsin high schools.
Institutions Adapting as Gender Identity Evolves

[WI, USA]
Menasha schools may change non-discrimination policy for transgender students
The Menasha School District says it tries its best to make sure all students feel welcome.