[Brasil]
Travesti é encontrado morto no bairro da Cruz em Lorena, SP
Vítima morreu após ser baleada na noite desta terça-feira (17).
Corpo foi encaminhado para IML de Taubaté para identificação.
Um travesti foi encontrado morto na noite desta terça-feira (17) no bairro da Cruz em Lorena (SP). A vítima foi encontrada caída em uma rua e tinha marca de tiro no corpo.


[Brasil]
QUEM SOMOS? GAROTO DE 13 ANOS É MORTO A FACADAS EM ARARAQUARA-SP
É com extrema dor no coração e grande pesar que venho lhes noticiar sobre este ocorrido
Na manhã desta quarta-feira, dia 18, a polícia foi acionada no CEO (Centro de Especialidades Odontológicos), na Rua Amazonas Vila Xavier, onde um adolescente foi encontrado morto.
Esse não era um garoto qualquer como muitos relataram. Michael foi abandonado pela mãe que sofre de problemas psiquiátricos e é usuária de drogas quando tinha dois anos.

[France]
« DROIT SANS POUVOIR …
En France, la puissance monopolistique de la SOFECT, régnant sans partage par le levier de la psychiatrie dans ses équipes hospitalières sur l'accès aux soins des personnes trans' a mis nombre d'entre nous dans des situations invivables, soit par le rationnement des soins, soit par des délais délibérements interminables, soit par des chirurgies souvent médiocres, dans l'intention, avec la bénédiction de l'État, de limiter drastiquement le nombre de personnes effectivement soignées et cantonner notre population dans l'ombre, en lui offrant un accès minuscule et contingenté à une normalité retrouvée, supposée être le Saint Graal pour les transgenres.

[South Africa]
Transgender women in SA either hairdressers or sex workers
Transgender is not a common thing in a country like Swaziland, but transgender rights are enshrined in the constitution in neighbouring countries such as South Africa.

[India]
Bengal govt announces Transgender Development Board
West Bengal government Wednesday announced the constitution of Transgender Development Board for the over 30,000 plus-strong community in the state.

[Australia]
Adelaide Venue Name Change Provokes Accusations Of Transphobia
A rebranded venue in Adelaide is facing a storm of controversy in the wake of unveiling its new name, with accusations of racism and transphobia being levelled against its organisers on social media this week.

[Australia]
Just because a man wears a dress, doesn't mean he's gay
Hervey Bay transgender Reg Colin can rise above the odd strange look while out wearing a dress, but getting punched in the face was taking it too far.

[Canada]
CAMH reviews gender identity programs
Complaints, as well as new research prompts look at program serving children and teens with gender identity issues.

[USA]
Court: Obamacare Protects Trans People in Health Care Settings
For the first time, a federal court has confirmed that the Affordable Care Act (ACA) prohibits discrimination against transgender people by any health care provider accepting federal funds. In the case of a young transgender man who says he was badly mistreated in a Minnesota hospital, the court ruled Monday that Section 1557 of the ACA prohibits gender identity discrimination under the umbrella of sex discrimination, and that by accepting Medicare and Medicaid funds the hospital was subject to the law.
Federal Court: Obamacare Protects Trans Health Care Patients

[USA]
US soap The Bold and the Beautiful unveils transgender character
Reign Edwards' character tells her sibling: 'You're not my sister, Maya ... You're Myron, my brother'


[USA]
How a transgender teen became a nationally known activist
"I've always known exactly who I am. I was a girl trapped in a boy's body."
Those words come from 14-year-old Jazz Jennings, a transgender teen who has announced that she will open up about her day-to-day troubles and triumphs in dating, sleepovers and high school this summer in a new reality show on the cable TV network TLC called "All That Jazz."

[USA]
CBS Shows How Easy It Is To Properly Cover A Transgender News Story
CBS produced an informative, well-researched, and compassionate segment about the military's ban on transgender service members, setting an example for other networks on how to properly cover transgender stories.

[USA]
Gordon Klingenschmitt: Impeach Obama Over Gay Rights, Mythical Election Tampering
In an email to Pray In Jesus Name Project supporters on Saturday, televangelist and Colorado state legislator Gordon Klingenschmitt blasted the Equal Employment Opportunity Commission's 2012 decision to cover discrimination against transgender people under laws that prevent discrimination on the basis of sex.

[USA]
AFA Launches Planet Fitness Boycott Over LGBT-Inclusive Policy
The American Family Association boycott machine is getting into gear to launch a pressure campaign against Planet Fitness for adopting an LGBT-inclusive policy. The Religious Right group organized the effort after a Michigan franchise cancelled the membership of one customer who unceasingly complained to staff and other customers after a transgender woman hung her coat up in the women's locker room while visiting the gym.

[AR, USA]
Arkansas lawmaker dropping bill to add LGBT protections
An Arkansas lawmaker says he's dropping his proposal to expand Arkansas' anti-discrimination protections to include sexual orientation and gender identity.

[AZ, USA]
Activists Continue to Fight for Release of Transgender Asylum Seeker Nicoll Hernández-Polanco
Earlier this month, I wrote about Nicoll Hernández-Polanco, a transgender woman from Guatemala who has been held in an all-male immigration detention center since October.

[CA, USA]
Doubtfire arson defendant: 'I'm a good person'
The transgender woman accused of setting fire to the house made famous in the 1993 film Mrs. Doubtfire said in a jailhouse interview last weekend, "I'm a good person."

[CA, USA]
Watch this 13-year-old trans boy's powerful coming out speech
I would stand under the water in the shower crying'

[DC, USA]
Senators introduce resolution to kill D.C. LGBT rights measure
U.S. Sens. Ted Cruz (R-Tex.) and James Lankford (R-Okla.) introduced a resolution in the Senate on Wednesday calling on Congress to kill the Human Rights Amendment Act of 2014, a city approved bill that would protect LGBT students from discrimination at D.C. based religious schools.

[FL, USA]
No opinion yet from Florida Gov. Rick Scott on transgender bathroom bill
Visiting Miami on Wednesday, Florida Gov. Rick Scott wouldn't say if he would support legislation banning transgender men and women from using public restrooms of their choice.

[IA, USA]
Iowa Senate approves conversion therapy ban for minors; House support unlikely
The Iowa state Senate has passed a bill that would ban mental health providers from practicing therapy aimed at converting the sexual orientation of a minor.

[ID, USA]
Parents pull child from school over transgender bathroom choice
Two Boise parents said they pulled their student from school at South Junior High after another student, who is transgender, was allowed to use the girls bathroom.

[MN, USA]
MN GOPers tout anti-transgender bills in emails to constituents
In emails to constituents, Republicans are seeking to drum up support for a bill that would bar school from adopting transgender inclusive policies and would repeal a policy by the Minnesota State High School League that allows transgender students to participate in high school sports based on gender.

[MO, USA]
Missouri Lawmaker Really Doesn't Want Transgender People To Have A Safe Place To Pee
Following bills introduced in Kentucky, Florida, and Texas that would criminalize transgender people's use of restrooms, a Missouri lawmaker is attempting a different tactic to make bathrooms less safe for transgender people. A pair of new bills from State Rep. Jeff Pogue (R) would restrict any bathroom or locker room that isn't single-use-only from being made gender-neutral.
Missouri Has A New Way to Keep Trans Folks from Using the Bathroom

[PA, USA]
Transgender in Pennsylvania: How long it takes and how much it costs to transition
Despite the misconception that a transgender person is not transgender until they have taken some steps to transition -- to update their name and the way they dress to reflect their identity, to undergo hormone therapy, to get surgery -- not every transgender person has access to the bureaucratic and medical steps necessary for the state and federal government to recognize their name and gender.
Transgender in Pennsylvania: A look at the rights, laws in the state

[TN, USA]
Marisa Richmond: The Advocate
Nashville native Marisa Richmond grew up as part of a politically active family in Bordeaux. (Her mother passed out leaflets for John F. Kennedy.) In 2003, Richmond became the first president of the Tennessee Transgender Political Coalition, and today she volunteers her time lobbying for equal rights for trans people in Tennessee and beyond.

[TX, USA]
Dallas police: Two wanted for illegal butt injections
Police have issued arrest warrants for two people for practicing medicine without a license in connection to the death of a woman who police say received injections of a substance in her buttocks in a botched cosmetic procedure.

[TX, USA]
'Finally Normal': How A New Medical Landscape Is Changing Life For Trans Youth
Nell Gaither, who grew up in Fort Worth, Texas, didn't figure out that she was transgender until she was 40.

[WV, USA]
Antigay 'Religious Freedom' Bills Die in West Virginia
This year's legislative session was marked by lawmakers' attempts at discrimination, but none of these bills became law.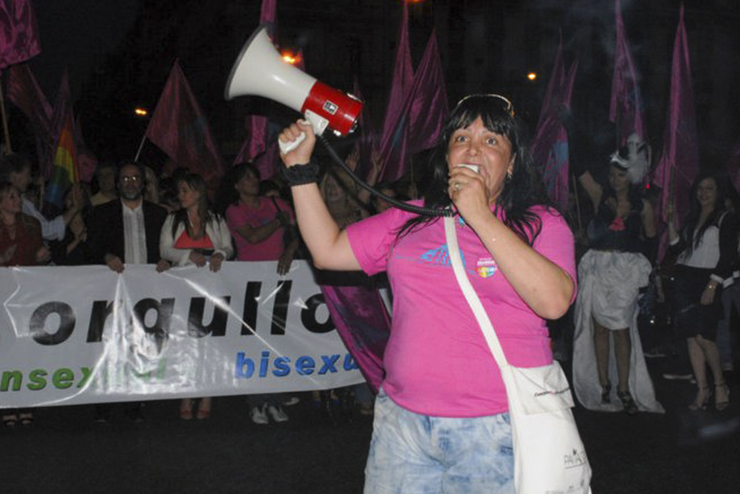 [Argentina]
Claudia Pía Baudracco, la "Leona" que peleó por los derechos trans
Fue parte de una generación de travestis, perseguida por la policía, encerrada y torturada. En 1993 fundó, con otras activistas, la Asociación de Travestis de Argentina (ATA), que años después cambió su nombre a ATTTA para sumar a transexuales y transgéneros. Murió hace tres años, el 18 de marzo de 2012, y en su honor la Legislatura porteña creó el Día de la Promoción de los Derechos Trans.