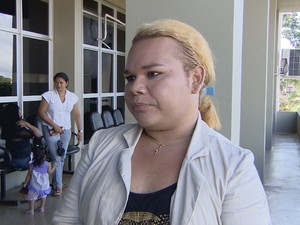 [Brasil]
Travesti ganha na Justiça o direito de mudar o primeiro nome em registro
Carlos Freire passa a se chamar Thabhatha Freire.
Decisão foi da 3ª Vara Cível da Comarca de Macapá, no Amapá.

[UK]
Football tournament axed after transgender row
A football tournament which is used to tackle homophobia has been cancelled.
Matches were due to take place at the University of Nottingham as part of the Football v Homophobia tournament on July 4.
Teams from around the UK were invited to take part in the tournament, which has been running since 2010.
But a transgender man claims he was barred from playing without providing blood tests and medical results to the Football Association – which would cost him £70.
University cancels anti-homophobia charity football tournament over 'transphobia' claim
UK university cancels Football v Homophobia event after being accused of transphobia

[Egypt]
Islamic university axes transgender lecturer
Al Azhar says move aimed at heading off possible problems with students
Egypt's leading Islamic Al Azhar University said on Thursday it would not allow an engineering lecturer to keep her post in the state-run institution after having undergone a sex change operation to become a woman.

[New Zealand]
New Zealand opposition leader apologizes for 'flippant' trans joke
Accuses finance minister of 'hiding some sort of fiscal gender reassignment'

[Canada]
Vancouver Pride Society launches Trans Equality Now campaign to advocate for the rights of transgender and gender-variant people
A new campaign organized by the Vancouver Pride Society is hoping to advocate for the interests of transgender and gender-variant people across Canada.

[Canada]
Want to march in Vancouver Pride parade? Sign trans pledge
NDP MLA calls on BC Liberals to honour trans-rights pledge if march in Pride

[USA]
An interview with Sandy Stone — Part 1
Sandy Stone is a touchstone woman in transgender history. She has a whole section dedicated to her place in transgender and feminist history in the book Transgender History and the book is worth reading if just for that segment. target="_blank"

[CA, USA]
Appeals court delays transgender inmate's surgery after panel recommends parole
A federal appeals court delayed sex reassignment surgery for a transgender prison inmate in California on Thursday, hours after a state panel recommended that she be paroled.
Transgender woman Michelle Norsworthy wins parole hearing
Court halts gender reassignment surgery for Calif. inmate
Transgender Inmate's Surgery Put on Hold


[CA, USA]
A transition within a transition: learning from San Diego transgender teen Kyler Prescott's death
On Monday, May 18, San Diego transgender teen Kyler Prescott died by suicide. He was 14-years-old.
Imagining what it feels like to live inside a body that doesn't feel genuinely yours might be hard to understand for some, but close friend of the Prescott's, and mother of a transgender teen herself, Kathie Moehlig talks about Kyler's life and the challenges transgender children face within the world and within their ever-evolving selves

[FL, USA]
Jury selection begins for man charged in transvestite's death in Riviera Beach
What started as a seemingly chance meeting between a pair of transvestite prostitutes and a motorist three years ago will culminate this week in a death penalty trial for the 25-year-old man accused of killing one transvestite and shooting at yet another minutes later.

[MI, USA]
ACLU Lawsuit: Michigan ID Policy Exposes Transgender Men and Women to Risk of Harassment, Violence
The American Civil Liberties Union and ACLU of Michigan announced on Thursday that they have filed a federal lawsuit against the Michigan Secretary of State challenging a department policy that makes it impossible for many transgender individuals to correct the gender on their driver's licenses and other forms of identification.
ACLU sues Michigan over driver's licenses for transgender individuals

[VA, USA]
New VCU course focuses on transgender healthcare
When you're transgender, finding a doctor who understands your specific needs can be a challenge, so now the VCU School of Medicine is taking a new step to help.