[Turkey]
Knife Attack on Trans Woman in Afyon
A trans woman in Afyon was attacked in her home by an assailant wielding a knife. The assailant also attempted to rob the woman. Buse Kılıçkaya from Pink Life Association commented on the attack: "Aggressors get encouraged when hate crimes go unpunished. We are treated like abandoned children."

[Turkey]
Sexual Harassment and Attack Against Trans Women at Bakırköy Women's Prison
Sexual harassment and attacks against LGBTI activists visiting Bakırköy Women's Prison continue.

[Turkey]
The sentence of serial killer upheld: Aggravated life imprisonment
The Supreme Court of Appeals upholds the life sentence of Hamdi Ayri, who killed Esra Yaşar, Ayşe Selen Ayla, and trans woman Azra Has on consecutive days five years ago in Izmir.

[Kuwait]
6 held during raids on massage facilities
Detainees admit involvement in 'immoral activities' in Kuwait City's upscale Salmiya area

[Philippines]
Church harsher vs anti-discrimination bill than RH law–solon
Passing the bill against discrimination based on sexual orientation and gender identity (Sogi) may prove to be a more daunting task than when Congress passed the controversial Reproductive Health (RH) law, one of its authors said Monday.

[Australia]
This guide for the T is O-M-G!
It's not an easy thing being transgender, especially for those still making sense of the world while entering adult responsibility.

[Australia]
Diverse Gender Issues Reveal Greater Health Risks
A new Not for Profit report shows that women with diverse gender and sexual identities are at greater risk of mental and physical health issues.

[Canada]
Bringing a bright star back to life
She was known as the life of the party and often referred to as "Beyoncé." She was kind, caring and generous. She could always be counted on to make someone laugh.
She was January Lapuz, and on Sept. 12, 2012, she was killed in her apartment in New Westminster. Her death sparked Justice for January, a community march from city hall to the court house on Carnarvon Street.

[Canada]
Trans Rights Panel Hosts Discussion in Montreal
"Tonight we talk about the forgotten of the legal system," said round table hostess Gabrielle Bouchard.

[Canada]
Transgender Employees: Best Practices
Transgender rights are a burgeoning area of law across Canada. Most recently, amendments made to the Alberta Bill of Rights on March 10, 2015, which came into force on June 1, 2015[1], recognize gender identity and gender expression as being explicitly protected.

[Canada]
Joan Crockatt's Calgary Pride parade invite irks transgender rights activist
Calgary MP voted against bill to bolster transgender rights

[USA]
Interview: Isley Reust on being trans and a musician
Isley Reust is a Los Angeles-based transgender actress and musician and the main songwriter for her band Spectacular Spectacular, an all-female dream pop/rock band. Her other work includes appearances on TV shows such as the Dr. Drew Show, Glee, Chasing Life and the GLAAD Media Award-nominated and Emmy-nominated web series True Trans with Laura Jane Grace, an AOL Originals Series. Isley Reust also stars in an upcoming 2016 film called Isley, in which she plays the role of a transgender woman who is on a journey of self-discovery. She has also reached the hearts of millions across the world as she detailed her transition on her YouTube Channel.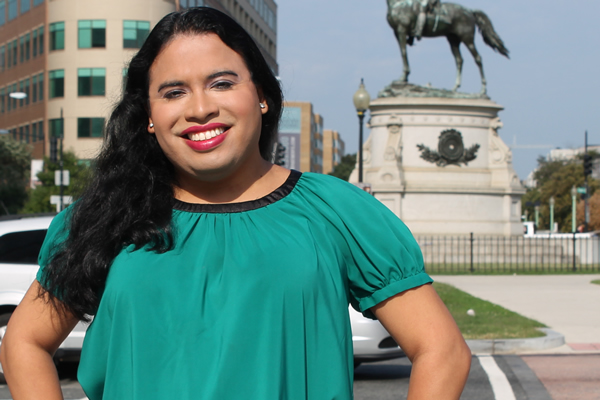 [USA]
In first, White House hires openly trans staffer
The White House for the first time has hired an openly transgender person as a member of its staff, LGBT advocates and the Obama administration announced Tuesday.
Raffi Freedman-Gurspan, who formerly served in trans advocacy as policy adviser for the National Center for Transgender Equality's Racial & Economic Justice Initiative, has been appointed to a senior position in the White House Office of Presidential Personnel. She's set to begin her new role as an outreach and recruitment director in the Presidential Personnel Office on Tuesday.
President Obama Appoints First Transgender Woman of Color to White House Post

[USA]
Why Transgender People Are Being Murdered at a Historic Rate
The number of transgender people murdered in the U.S. this year is at a historic high of 15, activists say — with over four months still to go

[USA]
Inside Vanity Fair: Trans America, Our New Special Issue on Gender Identity and Expression
The edition, on newsstands this week, profiles cultural pioneers such as Caitlyn Jenner, Chaz Bono, and Reneé Richards, among many more. Their stories point both to the massive cultural shifts underway in America's attitude towards its transgender citizens, and the life-and-death battles many of them still face.

[AZ, USA]
Investigation continues in shooting of Phoenix transgender woman
Police are continuing to investigate the shooting of a Phoenix transgender woman earlier this month.

[FL, USA]
Osceola passes protections for gay and transgender people at emotional meeting
Osceola will become the 11th county in Florida to prohibit discrimination against gay and transgender people after commissioners Monday night unanimously voted to adopt a new "Human Rights" ordinance.

[GA, USA]
Kennesaw pizzeria under fire for anti-trans joke
A Kennesaw pizzeria came under fire from an LGBT non-profit on Friday for posting a joke it called anti-trans, though the business owner who shared the graphic meme on social media says there was no malicious intent behind it.
Cobb pizza restaurant apologizes for Facebook transgender posting

[MI, USA]
Transgender Women of Color Feel Brunt of Deadly Violence
Detroiter's murder sparks conversation about violence against transgender women of color.

[MO, USA]
Trans woman killed after being repeatedly run over
A trans woman has died after being repeatedly run over in a violent attack.
Friends believe transgender KC woman's death may be a hate crime
Victim Number 17: Trans Woman of Color Murdered in Missouri
Trans woman killed in Kansas after being repeatedly run over

[NJ, USA]
TLDEF Criticizes New Jersey Governor Chris Christie for Vetoing Birth Certificate Legislation and Disrespecting Transgender People
TLDEF strongly criticizes New Jersey Governor Chris Christie for his recent veto of a bill to eliminate the requirement that transgender people undergo surgery in order to correct the gender markers on their birth certificates. The bill would have instead required a doctor to certify that a transgender person "has undergone clinically appropriate treatment for the purpose of gender transition, based on contemporary medical standards…."

[NY, USA]
Islan Nettles: In Memoriam. A Message from our Executive Director
Two years ago today, Islan Nettles was attacked and, five days later, died from her injuries. Six months ago, James Dixon was indicted for her homicide. Islan's family, friends, and community members believe that she was attacked for being a transgender woman of color. James Dixon was indicted without hate crimes charges.

[OH, USA]
Ohio State University designates rooms for transgender students
For the first time, Ohio State University made rooms for transgender students in its dorms.