[Portugal]
Inspecção audita unidade pública que faz mudanças de sexo
Doentes queixam-se à Ordem de esperar anos por cirurgia. Há quem discorde das técnicas utilizadas. Unidade de Coimbra garante que só tem seis por operar e que segue "as melhores práticas".

[Portugal]
Letícia pediu um empréstimo ao banco para mudar de sexo: "Agora sou uma mulher"
No bilhete de identidade, tornou-se mulher em 2011. No dia 22 de Janeiro de 2016, o corpo passou a bater certo com tudo o resto. Excertos de uma conversa escrita na primeira pessoa com Letícia Santos, 24 anos, quando ainda recuperava da cirurgia de mudança de sexo, de masculino para feminino.

[International]
Meet the Canadian Athlete Changing Sport's Attitudes to Gender
"This case is not about men or women or transgender athletes. It's about how we accept each other as human beings," Kristen Worley tells Newsweek.

[UK]
All rise for UK's first transgender judge: Campaigners praise High Court 'Master' who went from Jason to Victoria
Dr Victoria McCloud is the most senior public figure known to have transitioned from male to female and has been hailed as a pioneer
She is the youngest-ever Master in the High Court at the age of 46
The judge has presided over cases involving Russell Brand and Katie Price

[UK]
BBC endorses transsexualism on 6 o'clock news
The Christian Institute has criticised the BBC for using its most popular TV news programme to promote transsexualism.

[UK]
Trans people told they are 'too complicated' to treat on NHS, politicians told
Trans people living in Scotland still face long delays and discrimination on the NHS, politicians have heard.

[Ireland]
Let trans kids choose toilets, says new ROI schools advice
Secondary schools in the Republic of Ireland should let transsexual students use toilets and changing facilities that correspond with their 'gender identity', according to new Department of Education and Skills guidelines.

[France]
First French 'neutral gender' person testifies in appeal hearing
Plaintiff, 64, appears before court after state prosecutor appeals against decision to allow official use of third gender

[Denmark]
Waiting for surgery puts transgender people in Denmark under extreme pressure
A study reveals men who want to become women have to wait an average of eight years for sex reassignment surgery


[Georgia]
Transgender woman found dead in Tbilisi
A transgender woman was found dead in her apartment in Tbilisi on Thursday. She had apparently suffocated due to a gas leak.
The Ministry of Internal Affairs (MIA) confirmed the death of Bianka Shigurova and said an investigation has been launched under article 115 of the Criminal Code about bringing someone to the point of suicide.

[Russia]
Transgender from Moscow sues Russian Central Bank to have sex change surgery
Muscovite Dmitry Vorobyov, a transgender individual, wants the Central Bank of the Russian Federation to reimburse 390,000 rubles to him. According to the man, he lost the money due to the devaluation of the Russian ruble, Lifenews reports.

[Lebanon]
Transgender ruling in Lebanon an 'empowering' moment
Activists celebrate case allowing transgender man to change official papers and hope it will help ease discrimination.
Transgender and proud in Lebanon

[Pakistan]
No practical rights for the transgender in Pakistan
The state has solutions to offer but only on paper, as little has been done for the rights of people who are transgender in Pakistan.
'Once without identity, now charting history'

[India]
India to get modelling agency for transgenders
The idea, according to Delhi-based transgender activist Rudrani Chettri, evolved out of a "feeling of frustration seeing many young beautiful transgenders who are made to feel ugly" from a young age.

[Australia]
Transgender Discrimination: Know Your Rights
Transgender people experience higher levels of discrimination but there legal avenues for recourse. Ron Hughes reports.

[Australia]
ABS announce new standards for sex and gender variables
The Australian Bureau of Statistics (ABS) has released the 2016 Standard for Sex and Gender Variables.


[Australia]
Trans activist Nadine Stransen found dead
Artist and former transgender activist Nadine Stransen has been found dead in her Woolloomooloo apartment.
Stransen was a member of the Transgender Liberation Coalition and was instrumental in introducing legislation for the inclusion of transgender people and their partners, into both NSW and Commonwealth anti-discrimination law.

[New Zealand]
Cider ad "portrays trans women as liars"
New Zealand beverage company Old Mout Cider has released a promotional video which many in the LGBTI community are saying portrays trans women as liars.

[Canada]
'Love yourself': local transgender man opens up about top surgery
That's the message Dane Woodland is sharing this week, following his recent top surgery — a mastectomy and chest sculpting procedure for which he had been fundraising for the past year.

[Canada]
How the Fight Over Transgender Kids Got a Leading Sex Researcher Fired
On paper, Dr. Kenneth Zucker isn't the sort of person who gets suddenly and unceremoniously fired. For decades, the 65-year-old psychologist had led the Child Youth and Family Gender Identity Clinic (GIC), in Toronto, one of the most well-known clinics in the world for children and adolescents with gender dysphoria — that is, the feeling that the body they were born with doesn't fit their true gender identity.

[USA]
Imprisoned in Cuba 'for simply being who I am'
These days, it's a lot easier to travel between the US and Cuba, but some Cubans have no interest in going back to their homeland. That's especially true for many transgender Cubans.

[USA]
Campaign launched for teens wanting to express their chosen gender on prom night
'Be Yourself At Prom' encourages teens to be open and honest about themselves on prom night.

[AL, USA]
Alabama school officials reviewing rules for transgender students
Alabama education officials have spent the last few weeks reviewing legal issues associated with transgender students and access to locker rooms and bathrooms on school properties.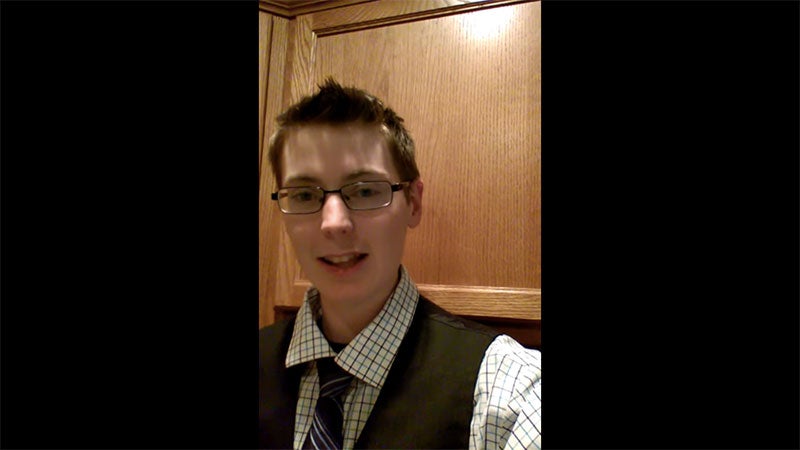 [AZ, USA]
24-Year-Old Transgender Man With Asperger's Killed By Arizona Police Weeks After Beginning Transition
In December of last year, a 24-year-old autistic man named Kayden Clark uploaded a video to his YouTube channel in which he excitedly announced that his insurance would pay for his gender reassignment surgery. "I can breathe," he said. "The anxiety's gone." Thursday afternoon, he was shot and killed by police in his Mesa, Arizona, home.
Trans Man With Asperger's Shot Dead By Police, Media Misgenders & Deadnames
Arizona Trans Man Shot and Killed By Police in His Own Home
Transgender man with Asperger's who touched millions with viral video shot dead by police in Arizona

[CA, USA]
WATCH: Calif. Principal Confiscates Teen Boy's Elsa Costume
A middle school boy was told his icy blue dress and blonde wig were 'inappropriate,' even though students were encouraged to dress up as Disney characters for school spirit day.

[CA, USA]
Dress code controversy: Is it about safety or identity?
A California school district finds itself in the middle of a dress code controversy.

[CO, USA]
CU-Boulder opens multi-stall, all-gender restroom in student center
There's a new all-gender restroom at the University of Colorado's student center.

[FL, USA]
LGBT Nondiscrimination Bill Gets First State Senate Hearing
A bill to prevent discrimination in the workplace based on sexual orientation or gender identity will have its first state Senate hearing Monday, Feb. 8. It's called "The Florida Competitive Workforce Act." Lesbian, gay, bisexual and transgender youth actually keep tabs on Florida companies that are not inclusive.

[FL, USA]
Trans Rights Opponents Countered by Students, Supporters
The haters came in big numbers and matching tops, but they couldn't silence a trans boy and a trans girl and their supporters.

[FL, USA]
Palm Bay City Council rejects human rights ordinance
The Palm Bay City Council decided not to adopt a human rights ordinance after debating the issue for six hours.
Palm Bay mayor, council reject human rights proposal
City of Palm Bay Rejects Transgender Discrimination Ordinance

[FL, USA]
Motion to kill Jacksonville Human Rights Ordinance bills fails
Jacksonville City Council debate over whether an expansion of the city's Human Rights Ordinance is necessary will continue -- at least, for now.

[GA, USA]
Georgia House Panel Backs 'Pastor Protection' Legislation
Georgia law doesn't require religious officials to perform same-sex marriages, and a bill making that clear is moving through the Georgia House.

[MA, USA]
DeLeo begins counting votes on transgender Bathroom Bill
Speaker Robert DeLeo, the Democratic leader of the Massachusetts House of Representatives, is polling lawmakers to learn how the votes might line up on the so-called Bathroom Bill, which would let transgender people use public restrooms and locker rooms that correspond to their gender identity but not their anatomical sex.

[ME, USA]
Becoming Lucy: Portland family embraces child's gender identity
When their son told them, 'I just wish I could die and God could bring me back as a girl,' the Tidds began an emotional and practical journey to help their child become her true self.

[ME, USA]
Maine governor stops rules for protecting transgender students
Gov. Paul LePage is stopping the Maine Human Rights Commission and the Department of Education from issuing rules protecting transgender students. Schools instead are being given guidelines that lack the force of law.
Maine's Governor Takes A Nasty Swipe At Transgender Kids
Maine Gov. Paul LePage Blocks Rules Protecting Trans Students
Maine governor stops bureaucrats from imposing transgender bathroom rules on schools

[ME, USA]
Education leader nominee to be vetted by Legislature on transgender rules
Gov. Paul LePage's nominee for education commissioner has received a unanimous endorsement from the State Board of Education but could face challenges when his nomination reaches the Legislature.

[MO, USA]
MSU Adds Gender Identity to Non-discrimination Policy
Gender identity and gender expression will now be included in Missouri State University's non-discrimination policy.

[NC, USA]
Franklin Graham: Charlotte 'Gender Identity' Proposal Discriminates Against Christians
Evangelical preacher Franklin Graham is blasting a proposed Charlotte, N.C., non-discrimination law that'll include "gender identity" protection, charging the statute is "dangerous" and that similar laws are being turned against Christians.
Franklin Graham Just Unleashed A Vile Attack On Every LGBT Person In America

[ND, USA]
NDSU adds more gender neutral bathrooms
A single sink and toilet, known to some as a family restroom but also a gender neutral bathroom.

[NE, USA]
Effort to replace NSAA's policy on transgender student-athletes looks bound for defeat
Groups that want to replace Nebraska's new transgender sports participation policy with a much stricter one face an uphill climb.

[NJ, USA]
Transgender Birth Certificate Bill Removed from Committee Docket
A bill to allow transgender residents to change the sex listed on their birth certificate was removed from the docket before Thursday's meeting of the Senate Health, Human Services and Senior Citizens Committee. The bill had been scheduled to hear testimony, but primary sponsor Joe Vitale (D-19) said that a new draft is underway.

[NY, USA]
Noted trans activist attacked on NYC subway; Attacker being sought
The New York City trans community is seeking the identification of the woman who attacked noted NYC trans activist Jennifer Louise Lopez on a subway in Manhattan last Saturday night January 30th.

[NY, USA]
EXCLUSIVE: Gov. Cuomo to ban use of conversion therapy on LGBT youth by public and private health insurers
Gov. Cuomo will announce regulations Saturday that will ban public and private health care insurers from covering so-called gay conversion therapy, the Daily News has learned.
Cuomo Moves Against Therapy That Claims to Make Gay Children Straight
New York moves to stop conversion therapy for gay youth
Governor Andrew M. Cuomo Announces Action to Protect LGBT Youth from Conversion Therapy

[OR, USA]
Douglas County schools take steps to better accommodate transgender students
Douglas County schools are taking steps to better accommodate transgender students.

[PA, USA]
Trans name-change project expands locally
A national program that provides free name-change services to low-income trans people is expanding its services in Philadelphia.

[PA, USA]
Hearing delayed for defendant in murder of trans woman
The preliminary hearing for a man charged with murder and related offenses in the October killing of a transgender woman in Logan was delayed until March 2.

[PA, USA]
Giant replies to antibias complaint
Giant Food Stores Co. recently replied to an antibias complaint filed by trans man Sam Melrath by denying most of the allegations in his complaint.

[PA, USA]
D.A.'s office pursues reversal of order in Morris case
The Philadelphia District Attorney's Office this week filed a legal brief urging a Philadelphia judge to reverse an order by the state Office of Open Records pertaining to the Nizah Morris case.

[SC, USA]
Transgender student suspended for using bathroom at Socastee High School
A transgender student was suspended from Socastee High School after using the boy's bathroom.
School suspends trans boy for using boys' restroom — after girls complained he was using theirs

[SD, USA]
National Conservative Groups Descend On South Dakota To Help Advance Anti-LGBT Bills
Though widely hyped bills attacking LGBT equality in states like Indiana have already floundered, South Dakota is proceeding with several problematic bills. Wednesday morning, the House State Affairs Committee advanced two anti-LGBT bills by 10-3 votes, encouraged along by several conservative groups.
SD GOP Pushing Anti-LGBT Legislation Through House
Sen. David Omdahl tells transgender people "Sorry You're So Twisted"
Daugaard puzzled by transgendered issues
Lawmaker to trans community: 'Sorry you're so twisted'
Residents react to legislators' negative comments about transgender people

[TX, USA]
Vigil planned for slain Austin trans woman Monica Loera
Transgender rights advocates in Austin are planning a rally and vigil for 7 p.m. next Friday, Feb. 12, to honor murdered trans woman Monica Loera, the first transgender person murdered since the start of 2016. The location of the rally has not yet been determined.

[TX, USA]
State now offers hormone therapy to transgender inmates
Transgender inmates in Texas' prisons now are able to begin hormone therapy while incarcerated, a shift in state policy that advocates call positive but far from ideal.

[VA, USA]
Va. House subcommittee approves two anti-LGBT bills
A Virginia House of Delegates subcommittee on Thursday approved a bill that would require people to use restrooms in schools and public buildings that correspond to their "biological gender."
Equality Virginia disappointed in House subcommittee vote
House panel endorses transgender bathroom bill
Legislation advances in Virginia House to base use of school restrooms on anatomical features, not gender identity
Virginia House subcommittee punts on LGBT bills

[WA, USA]
Washington Senate panel passes bill nixing new restroom rules
People in Washington would be required to use a restroom, locker room or other public facility based on their biology, not their sexual identity, under a bill approved by a divided Senate panel Wednesday evening.
Anti-Transgender Bills In Washington State Look Doomed — For Now

[WA, USA]
Seattle's Absurd, Discriminatory Trans Bathroom Panic
A series of bills in the Washington State legislature could make it permissible for anyone to stop transgender people using the public restroom of their choice.

[WV, USA]
Charles Town Council sends anti-discrimination ordinance back to committee
Members of the Charles Town City Council spent nearly an hour discussing a proposed adoption of an anti-discrimination ordinance that was brought to them by local attorneys Andrew and Stephen Skinner. During their workshop, which was open to the public but did not allow public input, council members debated the contents of the ordinance, its necessity and possible repercussions of adoption or non-adoption.

[WV, USA]
Putting gender-neutral over handicapped-accessible bathrooms in West Virginia
New blue signs going up on bathroom doors at West Virginia University (WVU) have traditional male and female figures but also the new transgender logo of a half male, half female character. They are state-of-the-art, gender-neutral bathrooms, but Amanda Hutchison, who gets around campus in a wheelchair, told Campus Reform that WVU's response to her needs "is very slow compared to the gender neutral bathroom advocates."

[WY, USA]
District to move 'cautiously forward' with transgender policy
Albany County School District No. 1 is trying to determine how to move forward with implementing a policy for transgender and gender non-conforming students in the district, following substantial community debate on the matter.

[Brazil]
Death Squad apprehended in hunt for São Paulo serial killer
São Paulo Police were looking for a serial killer but instead found much more. The police arrested "a group of friends" they say who are responsible for the murders of five women, one of whom was transgender, and one man in the Grajaú region, on the southern outskirts of Sao Paulo, Brazil.

[Brazil]
Video: Black Brazilian Transsexuals on life in the most deadly place on earth
São Paulo, Brazil may arguably be the most deadly known place on earth for transgender people. The key to this sentence is "Known". Many areas on earth have similar conditions, maybe even worst. But because of other factors like laws which enforce localized and nationalized criminalization of transsexuality, and religious oppression little is known about them.

[Argentina]
"La creación de una zona roja generará más trata y explotación"
Así lo sostuvo la concejal Cristina Foffani durante la reunión que realizó el cuerpo legislativo con vecinos y representantes de organizaciones de diversidad sexual para tratar la conformación de una zona de convivencia.
Referentes de la diversidad sexual de Salta pedirán se declare inconstitucional el nuevo código

[Argentina]
Murió Lohana Berkins
La activista por el derecho a la identidad e igualdad de género y columnista de Página/12 falleció luego de varias semanas internada en una clínica porteña. "Estoy convencida de que el motor de cambio es el amor. El amor que nos negaron es nuestro impulso para cambiar el mundo. Todos los golpes y el desprecio que sufrí no se comparan con el amor infinito que me rodea en estos momentos. Furia Travesti Siempre", había escrito en su última carta. Será velada en la Legislatura porteña desde las 18.
Lohana Berkins: La comandante de las mariposas
El adiós a Lohana Berkins: Fuiste reina de metáforas
We mourn the loss of Lohana Berkins