[Portugal]
Português quer ser portuguesa no BI
Um luso-canadiano que mudou de sexo exigiu esta semana ao Conservador dos Registos Centrais e ao Ministério da Justiça um bilhete de identidade (BI) português que o reconheça como mulher, disse este sábado o próprio, noticia a Lusa.
C. J., empresária com dupla nacionalidade, 47 anos, submeteu-se a uma cirurgia para mudança de sexo há 16 anos, num hospital de Montreal, no Canadá.
Na posse de um certificado da clínica que executou a operação, pôde alterar o nome e o sexo em toda a documentação emitida no Canadá - incluindo cartões bancários, de identificação fiscal e até o passaporte -, mas as autoridades portuguesas negaram-lhe por três vezes um BI de mulher.
Comentei esta notícia, mas como amiúde certos comentários não são publicados, deixo aqui o mesmo:
"É lamentável como o governo português, e apesar do recente exemplo espanhol, ainda permite e por inércia, encoraja este tipo de discriminações. Não admira que o país esteja na situação onde se encontra.
Lamentável também como, e apesar de se tratar de uma mulher transexual que já fez a cirurgia de redesignação de sexo há 16 anos, os jornalistas ainda tenham a desfaçatez de a tratar como homem."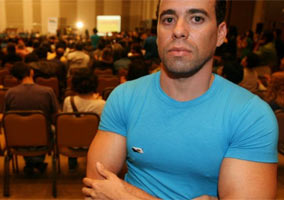 [Brasil]
Na prisão
Primeiro militar a assumir publicamente ser gay, sargento Fernando de Alcântara de Figueiredo é detido em Brasília; o companheiro dele está na cadeia desde o dia 4. (Foto)
[UK]
Wayne Clews on a month of Sparkle and skinheads
Excerpt: Over the weekend of June 27-29, people will be descending upon Manchester in preparation for the Manchester Gay Skinhead Weekend and Sparkle. One event, as you might imagine, caters for the tastes of the boots and braces baldy brigade. The other is a celebration of all that is transgender. In fact, the only similarity between the two is that they have both been running for four years.
[UK]
A British tycoon and father of two has been a man and a woman ... and a man again ... and knows which sex he'd rather be
Excerpt: The big secret stopping this from happening is a rather startling one. Charles is believed to be the only person in the UK to have undergone two sex change operations; the first to turn him into a woman and the second to turn him back into a man after he realised he'd made a horrible mistake.
[Hungria]
Polícia volta atrás e autoriza 13ª Parada do Orgulho em Budapeste
Após proibir a realização da 13ª Parada do Orgulho Gay de Budapeste, o chefe da polícia local, Gabor Toth, decidiu voltra atrás e autorizou nesta sexta-feira, 13 de julho, sua realização nas ruas do centro da capital húngara.
[Zimbabwe] [News/Commentary]
The position of lesbian and bisexual women
Since 1995, discrimination against homosexuals in Zimbabwe has received widespread coverage and attention but specific forms of exclusion experienced by lesbians and bisexual women are often obscured by talk of the general oppression facing both sexes. Although homosexual men (including transgender men) are spurned by society, they still maintain the privileges that automatically accrue to them as biological males. By contrast, lesbian and bisexual women suffer multiple forms of oppression, some of which relate to their sexuality but most of which relate to the general position of women in society.
[México]
Mujer transexual crea su Instituto para emprender negocios
Una mujer transexual creó su propio centro para emprender negocios, el Instituto de Desarrollo de Arte y Cultura del Valle (IDAC), luego de haber sido despedida de una escuela privada donde laboraba como profesora sólo por su condición de persona trans.
[EUA]
Más leyes para estadounidenses transexuales; también oposición
A medida que hay más gobiernos estatales y locales que extienden a los transexuales las leyes y otras disposiciones de protección contra los prejuicios, también está aumentando una intensa oposición a dichas medidas.
Transgender rights laws spread, not always calmly
As more state and local governments extend anti-bias protections to transgender people, fierce opposition is surfacing. In Colorado, conservatives contend a new state law will enable sexual predators to frequent women's bathrooms; in Maryland a "Not My Shower'' campaign seeks to overturn a comparable county law.
[MA, USA]
First New England trans pride march held in Northampton
A spirited and militant crowd of more than 1,000 trans and gender non-conforming people and their supporters marched and rallied in 90-degree heat here June 7, in a historic first New England Trans Pride Day. The official slogan on posters and T-shirts was "Remember Stonewall? That was US!"
[USA] [Blog/Commentary]
Gender Identity, Gender Expression, Body Presentation and Sexual Attraction
Excerpt: As time went on, I made some adjustments to the categories so they would better reflect the lives that transsexuals lead and the changes they face along the way. I changed "Physical Sex" to "Body Presentation, " to reflect how the transsexual appears without clothes on, as opposed to "Gender Expression," which reflects how a person presents themselves to the world with clothes on.
I also changed "Sexual Orientation" to "Sexual Attraction," because in the case of many transsexuals, they don't stop finding the same sex attractive, even though they have changed their body and documents to live in the gender opposite of their birth. In my case, I never stopped finding women attractive, so I went from a heterosexual man to a lesbian. Only society's labels for me changed. (...)
[NY, USA]
What a drag: 3 male Westchester lawmakers perform as women, angering transgenders
Already under siege by gadflys who would abolish their jobs and a district attorney investigating alleged misspending among their staff, Westchester County legislators found another constituency to provoke yesterday: transgenders, who rallied outside county offices today to protest a drag show starring three male legislators the day before.
Dressed in boas, skirts, lace, falsies and twinkling lights, the legislators staged "You Gotta Have a Gimmick" from the Broadway legend "Gypsy" as part of a musical review before about 400 senior citizens at the Polish Community Center in Yonkers.