[España]
Lambda organiza este fin de semana una fiesta infantil y la celebración del Orgullo Transexual
El Col·lectiu Lambda de lesbianes, gais, transsexuals i bisexuals ha organizado para el próximo sábado 12 de junio toda una serie de actividades enmarcadas en la celebración del Orgullo LGTB, este año con una programación que abarca todo este mes y que va especialmente dedicada a sensibilizar a la población respecto de la situación de las personas transexuales. No en vano, 2010 ha sido proclamado por la Federación Estatal de Lesbianas, Gays, Transexuales y Bisexuales (FELGTB) como el "Año para Trans-formar".

[France]
France tells trans woman her breasts don't measure up
If your breasts don't measure up – you just can't be a "proper" woman. If you thought such archaic attitudes had long since disappeared, think again: in a recent ruling, French authorities declared that before trans woman Delphine Ravisé-Giard could be classed as a woman, she needed to provide written evidence that she had undergone breast enhancement.
This appears to fly in the face of recent progressive moves in France to acknowledge that gender is a matter of personal identification rather than surgical procedure and organisations such as Trans Aide are now taking up the cudgels on behalf of Delphine.
[Blog/Commentary] Transgender With Small Tits? Then You're Not a Woman to France

[Turkey]
Istanbul Trans Pride 2010
Trans-pride week will be held in Turkey for the first time this weekend from June 11-13. Organized by the Trans-rights groups Istanbul LGBTT, Women's Door, EHP's LGBTT the event is drawing attention to discrimination and human rights violations against the Turkish Trans community. In the past year, violence towards transvestites and transgenders has been escalating considerably. As there is no anti-discrimination legislation that allows these actions to be classified as hate crimes, we are pressuring the government to alter the law and see these actions as hate crimes based on gender identity.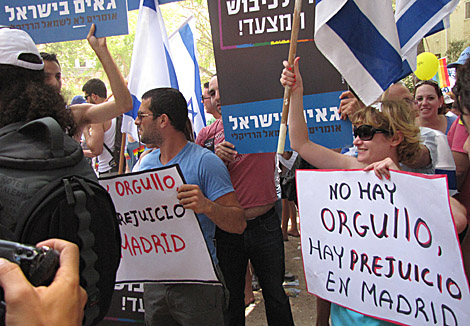 [Israel]
El desfile del Orgullo Gay en Tel Aviv denuncia los 'prejuicios' y la 'hipocresía' de Madrid
El joven israelí Adam Russo fue apuñalado en 2005 en un tenso desfile del Orgullo Gay en Jerusalén. Se debatió entre la vida y la muerte. Cinco años después, está aquí en Gan Meir, centro comunitario homosexual de Tel Aviv y punto de partida del espectacular desfile de la ciudad mediterránea.
Tel Aviv cree que la negativa a su carroza en el Orgullo Gay se debe a la presión musulmana
Gallardón pide a la organización que reconsidere la exclusión de los gays israelíes del día del Orgullo
Victims Remembered at Tel Aviv Gay Pride
"Los mariquitas y lesbis de aquel país democrático, compuestos y sin desfile"
Los gays conservadores y evangélicos critican el veto a la carroza israelí
[Opinion] La Rainbow Flag pierde color
Asociaciones gays exigen que se readmita a Israel en el Desfile del Orgullo
Madrid gay pride march bans Israelis over Gaza flotilla raids

[Malawi]
Did Malawi Man Hire His New Girlfriend?
Steven Monjeza announced last week that he and Tiwonge Chimbalanga had split because he, Monjeza, is now with another woman. But a report from Malawi's Nyasa Times that Monjeza's new girlfriend is a prostitute might help bolster some gay activists' claims that Monjeza and Chimbalanga have been forced apart by political pressure and threats in the antigay country.

[South Africa]
Caster Semenya in limbo after press conference is cancelled
Caster Semenya remains in no man's land after the press conference called to declare victory in what the South Africa Sports Minister fatuously proclaimed was a "war" was cancelled. Nobody should be too surprised — it was only the latest act of political expediency that has formed the backdrop to a private matter made public by leaks, greed and posturing.
Semenya cleared to compete as woman: media


[Pakistan]
Pakistan Embraces the Sexual Fringe
For a state created by the marginalized to protect their rights and freedoms, Pakistan's treatment of its own minorities has often been dismal. Its scant, outlier population of eunuchs and transgendered (defined as those with gender-identity disorder) and eunuchs is routinely attacked, maimed, and brutalized with impunity. To make ends meet, they resort to dancing outside weddings for charity, begging at traffic lights for alms, or prostitution. Local laws reflect the social bias. Voluntary "carnal intercourse against the order of nature" is punishable with imprisonment of anywhere between two years to life. But the sexually marginalized of Pakistan appear now to have found some unlikely allies.
(Photo: Muhammed Muheisen / AP - Pakistani eunuch Zafar Iqbal, 21, was attacked with acid by a man he refused to have a relationship with.)

[Pakistan]
Police made up story to defame us: Malik Iqbal
Malik Iqbal, a trader arrested on charges of "marrying a transvestite", has rejected charges against him, saying that he will move the court against police.
"I wasn't marrying transvestite Kashif, also known as Rani. He is my tenant. He lives in my apartment building," Iqbal told journalists at the Peshawar Press Club on Friday, where Rani was also present.
Raani and Iqbal seek asylum abroad

[Pakistan]
Dragging the line
Straddling the roles of mainstream spokesperson and esoteric community leader, Bindiya Rana is both pragmatic and schmaltzy, aiming to persuade you with a mixture of ingratiating patriotism and vague humanism. It's not hard to understand her draw as a spokesperson for the rights of the Khwaja Siras — transgender people — of Pakistan. Whether at an event organised by the Karachi government or on a television talk show, the President of the Gender Interactive Alliance (GIA) has a confident presence in the media that makes the aspirations of her community seem tantalisingly attainable, if only by glossing over the dividing factors that have kept it at the margins for so long.

[India]
Eunuch commits self immolation
A eunuch allegedly committed self immolation after her marriage proposal was turned down by her live-in partner.
Eunuch Laxmina, 23, allegedly set herself afire in Mardah Bazar village yesterday and was rushed to a hospital where she succumbed to injuries, police said today.
Laxmina was living with a 24-year-old youth Santosh Rajbhar for the last two years. Recently Santosh's marriage was fixed by his family, police said.
When Laxmina came to know about this, she asked Santosh to marry him but he refused. Following this, the eunuch committed suicide, they said.

[Canada]
Transexual Protection Bill Passes Second Reading in Canadian Parliament
Pro-family leader says, "It shouldn't have got passed. Obviously people are asleep at the switch."


[Canada]
Sexy transsexual Nina Arsenault on life, art and her penis
This won't be a narrative about a girl trapped inside the body of an awkward boy from Beamsville, who went through 60 plastic surgeries and cosmetic procedures to transform her body into Jessica Rabbit with a penis she remains rather attached to. (Photo)

[Canada]
Pride Toronto promises consultation with trans community... in August
"There seems to be a lot of confusion about what's going on with the trans-related events at Pride, and with the Trans March. And no one in the trans community seems to know anything about it." So says Savannah Garmon, a volunteer with the Trans Inclusion group, a subgroup of the Women and Trans Centre at the University of Toronto.

[USA]
Pasaportes con la identidad correcta
El anuncio de que los ciudadanos norteamericanos podrán cambiar su sexo en los pasaportes sin que necesariamente hayan terminado un proceso quirúrgico de reasignación de género fue recibido como un avance en la lucha por los derechos de la comunidad lésbica, gay, bisexual, transgénero y transexual.
Change in passport gender policy
Activists applaud new policy on passports, gender
State Department Announces New Standards for Passport Gender Changes
Task Force Commends State Department for New Passport Standards for Gender Transition
State Department Issues New Policy Guidelines on Passport Sex Marker Changes
[Blog/Commentary] The Significance of the New State Department "Gender Change" Policy
New Passport Rules Ease Switch for Transgenders

[USA]
Unemployment Sets More Traps for Transgender People
The recession is causing the paperwork to pile up. For transgender people this is particularly tough. Every application for work or government assistance contains the possibility of probing and intrusive questions of sexual identity.

[USA]
Pelosi: DADT First, Then ENDA
U.S. House speaker Nancy Pelosi said that the House will not vote on the Employment Nondiscrimination Act before Congress passes legislative repeal of "don't ask, don't tell."

[USA]
Transgender journalist Eden Lane competes to appear on Oprah's new network
Former Broadway performer, popular on-air television journalist and stay-at-home mom Eden Lane - who also happens to be transgender - is in competition to host a talk show on Oprah Winfrey's new network.
Oprah has launched a contest called "Your OWN Show" to search for programs to showcase on her network. Lane's submission tothe contest
Eden Lane (Photo: Cause + Effect PR)is called "Creative Focus" and explores her love of the arts, and serves as proof that each of us can pursue our passions, while living our lives authentically and without apology.

[USA] [Blog/Commentary]
My Righteous Indignation Over 'Tranvestite Prostitute'
I try to remain unoffended as much as possible — it just makes for a happier life all the way around.
But there's something about this story — "Conversation with transvestite prostitute gives insight" — in the Independent Florida Alligator, a student publication of the University of Florida, that, well, offends me

[CA, USA]
Bay Area's First Transgender Rabbi
The Bay Area has its first transgender rabbi. J., Northern California's Jewish weekly, reports that Congregation Beth El in Berkeley has hired Reuben Zellman to be its new assistant rabbi and music director.

[CA, USA]
California: Newsom Budget Cuts Trans, AIDS Services
San Francisco officials plugged a $428.7 million deficit in the budget unveiled June 1, in small part by reducing HIV-related housing subsidies and eliminating employment assistance for transgendered residents.
"This came down to a lot of difficult choices in the last few days for closing the deficit," said Human Services Agency Executive Director Trent Rhorer.


[CO, USA]
Transgendered CU-Boulder student wins prestigious scholarship
When Kyle Inselman came out as transgender, he wasn't met with acceptance.
Inselman, who grew up in Eugene, Ore., was not allowed to express his gender identity at home. And his Catholic high school didn't allow any gay, lesbian, bisexual or transgender student support groups.
Inselman -- now attending the University of Colorado -- is one of 25 students across the country to receive a competitive scholarship from an organization that supports GLBT students. More than 1,600 students applied for the scholarships from the Point Foundation. (Photo)

[MA, USA]
Transgender activists threaten restaurant with legal sanctions, loss of license
Transgender activists target popular Peabody restaurant -- now threatened with loss of license, legal sanctions, for turning away men in dresses. (One man used official Mass. driver's license identifying him as female!) TAKE ACTION!
It's the latest in the homosexual movement's campaign to force their radical agenda on all of society through legal intimidation - with the help of our state government working against us.


[MA, USA]
Boston's gay pride parade goes marching through the rain
There were beads, batons, and body paint, but this year's gay pride parade in Boston was also a political battlefield in the campaign for governor.
Boston Pride Parade 2010Incumbent Governor Deval Patrick marched with his daughter, Katherine, who is openly gay, and a contingent of sign-wielding supporters.
Later came Republican candidate Charles D. Baker, who worked the crowd with his openly gay brother Alexander (who goes by the name Sandy) and his openly gay running mate, Senate minority leader Richard Tisei.
(Globe Staff Photos - Hundreds of thousands of people turned out to watch the parade yesterday and few people seemed deterred by the downpour. Among those who braved the elements was the Rev. Stephanie Spellers (top, right) of The Cathedral Church of St. Paul and an enthusiastic Lisette Murphy (bottom, right) of Jamaica Plain.)

[MN, USA]
4th Annual Trans March
Saturday June 26th 2010
3pm Stevens Square Park
1801 Stevens Ave. S. Mpls
The trans march is a space for anyone who doesn't fit the gender binary and our cisgendered allies to come together to build solidarity and community in the streets while creating non-normative public space.
The theme this year is the many aspects of trans health care, such as safe and free access to hormones and surgery, transgender safer sex education, and general health care that allows us to define our own genders and bodies.

[NY, USA]
6th Annual Trans Day Of Action
When: Friday, June 25, 2010 - 4:00pm - 7:00pm
Where: City Hall Park (Broadway, Park Row, & Chambers Street), New York City, NY
On June 25, 2010, Trans and Gender Non Conforming People of Color and allies will take to the streets of NYC once again and demand justice to let the world know, that the rebellion is not over and we will continue fighting for justice, raising our voices until we are heard. We call on all activist and organizers for justice, both local and organizations around the country and world to endorse this call to action and to build contingents to march in solidarity together. Below are the points of unity which hold together the purpose of this march.
The 6th Annual NYC Trans Day of Action for Social and Economic Justice
Points of Unity
Initiated by TransJustice of the Audre Lorde Project, a Lesbian, Gay, Bisexual, Two-Spirit, Trans and Gender Non-Conforming People of Color Center for Community Organizing.

[NY, USA]
New York Gender Expression Non-Discrimination Bill Killed in Committee
The Gender Expression Non-Discrimination Act (GENDA) bill died in the New York state Senate Judiciary committee Wednesday. GENDA would have prohibited discrimination in New York based on gender identification or expression. The legislation failed to pass to a floor vote on a 12 to 11 vote where all Republicans and one Democrat on the committee voted against the bill.
In Harsh Setback, Senate Committee Tables GENDA
N.Y. Senate Committee Rejects Gender Bill
[Blog/Commentary] Did Your Gym Membership Help Squash Trans Rights In New York? Is Your State Next?


[OK, USA]
Trans candidate officially files against Kern
Novotny said constituents focused on jobs and education, not her gender identity; 2 gay candidates also running for Legislature
Novotny is an attorney with her own law practice and is transgender. Her opponent is three-term incumbent Sally Kern.
Kern made headlines in 2008 when she called homosexuality more dangerous than terrorism. And for the Fourth of July last year, Kern issued her "Oklahoma Citizen's Proclamation for Morality" blaming the country's financial problems on same-sex marriage, divorce, pornography, sex trafficking, child abuse and "many other forms of debauchery."
Sally Kern's transgender challenger, Brittney Novotny, sets one-day fundraising record
(Photo: Brittant Novotny, 30, filed to run for Oklahoma State Representative in House District 84 on Tuesday, June 8.)


[OR, USA]
Becoming Nicole
After more than 30 years of teaching high school math, Nick Kintz turned his unrealized life as a woman into his most important lesson.

[TX, USA]
Gilead Sciences presents program for transgender people who are HIV-positive
Gilead Sciences Inc. is sponsoring a program specifically for people who are HIV-positive and transgender.
Valerie Spencer will speak on "HIV Treatment: Moving Forward" on Thursday, June 17 at 6:30 p.m. at Pappadeaux Seafood Kitchen at 3520 Oak Lawn Ave. Spencer is the executive director of Transcend Empowerment Institute.

[UT, USA]
Memories of Transgendered Prostitutes
Excerpt: While researching a story on Salt Lake City's gay latino population and the issues they face, I encountered a common thread of prostitution among some of the Latino transgendered population in order to pay for gender-reassignment operations.

[Puerto Rico]
Puerto Rico panel to investigate hate crimes
A special committee to investigate hate crimes has been created in Puerto Rico, where advocates say gay and transgender people are the victims of an "epidemic" of violence.
Puerto Rico Creates Special Committee For Hate Crimes