[International]
How America and Britain are Helping Iraq Kill Its Queers
We already mentioned the 12 Iraqi police officers who beat up, blindfolded, and carried off six occupants of an "emergency shelter" run by the UK-based Iraqi LGBT. The group says the two gay men, one lesbian, and one transgender person arrested have been transported to Baghdad to be interrogated (i.e. tortured) for information about the group.

[España]
Juzgado Mujer de Málaga tramitara denuncia violencia genero de una transexual no reconocida de forma legal
La Audiencia Provincial de Málaga ve competente a un juzgado de Violencia sobre la Mujer para tramitar e investigar la denuncia que una mujer transexual, que aún no tiene reconocido legalmente el cambio de sexo, pero que tiene apariencia femenina, interpuso contra el hombre con el que mantenía una relación afectiva por presunta agresión en febrero de este año.

[España]
Manifiesto de Transexualidad Euskadi para el Día del Orgullo LGTB
Las transexuales, travestis y transgénero somos y fuimos sistemáticamente marginadas desde el espacio social, laboral, sanitario y desde el sistema educativo.

[Spain]
Health experts In Spain convene for a protocol of care for transsexuals
In addition, Poveda also noted that the Ministry of Health will have a float in the parade on July 3 and, along with the FELGTB there will be a "major campaign to combat the HIV pandemic, which particularly affects this group.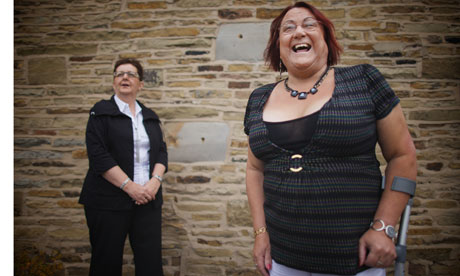 [UK]
How I came out as a transsexual
Carol Robson was married for 12 years, a father of two, before she could admit she was transsexual.
(Photo: Christopher Thomond for the Guardian - Carol Robson (right) and her former wife, Gillian, who have remained friends since she came out as a transsexual.)


[UK]
Corrie's Roy and Hayley tie the knot at Tatton Park
Love is in the air as Corrie couple Roy and Hayley Cropper tie the knot at Tatton Park.
The big wedding, due to be broadcast as part of the show's 50th anniversary celebrations, is currently being filmed at the Cheshire park's Old Hall.
Cafe owner Roy (David Neilson) popped the question to transsexual Hayley (Julie Hesmondhalgh) after her ordeal in 'Siege Week', during which she was held hostage by escaped prisoner Tony Gordon.
(Photo: Roy and Hayley Cropper emerge from the Old Hall at Tatton Park after tying the knot.)
Royal Wedding
Coronation Street's Hayley finally marries her Roy - with oil-splattered bridesmaid Becky by her side

[UK]
Transsexual wins right to female pension in employment law case
A transsexual who was refused the right to claim her pension from the age of 60 has won her legal battle against the Department for Work and Pensions (DWP).
Christine Timbrell, 68, who was born Christopher but underwent a sex change in 2000, was told she was still seen as a woman under the Gender Recognition Act 2004 because she refused to divorce her wife.
Transsexual wins landmark court case for pension payout

[India]
Transgenders in TN break glass ceiling
I am an achiever and also a transwoman, says Selvi (26), a successful sports doctor.
She is the new symbol of empowerment, breaking the old myths of 'sex trade' that had long dogged the transgender community, as the 'Rainbow Parade', a rally for the transgender community, comes to the city for the second time.
Selvi had completed her BPT (Bachelor of Physiotherapy) and is working at the Madras Cricket Club as a sports doctor. Born at Kalakurichi village near Tirunelveli, she said, "It wasn't easy to stay in school and continue the education in college, with everybody mocking and calling you by names.

[NY, USA]
Gay Pride Week: Queens Advocates Take On Job Discrimination Against Transgender People
Looking at Joi-Elle White, it is hard to tell she was born a man, but the transgender New Yorker says once people find out, it often leads to discrimination. She says it especially happens in the workplace.
"It's a shame to be on a job walking on eggshells, to know I could get fired not for my performance at work, because I was always early and willing to stay late and was a hard worker, but just for who I am," says White.
She says she changed career four times in the last 20 years, because many employers would not hire her. Working in retail, health care and other fields, White says if she was discovered during the interview she would not get a call back, even though that is against the law.

[NY,USA]
New York State Senate Passes the Dignity for All Students Act
The New York State Senate passed the Dignity for All Students Act (DASA) on Tuesday night, a measure which would protect New York state public school students from harassment based on their sexual orientation, race, ethnicity, gender, religion, disability, or sex. Governor David Patterson has already pledged to sign the bill into law, making it the first New York State law to contain language specifically addressing sexual orientation or gender expression, according to the Advocate.

[TX, USA]
Transgender activist calls attack hate-based
HCC student says he was robbed and beaten.
Transgender Student Beaten in Alleged Hate Crime
Student Attacked In College Restroom

[TX, USA]
DART board approves trans protections
Advocates pledge to keep working with board to improve wording in non-discrimination policy


[Jamaica]
Jamaican In Gay Contest
For the second consecutive year, a Jamaican man is down to compete for the title of the 2010 Gay Caribbean/USA Pageant.
Last year's representative from the island, Mimi Mancini, a Jamaican originally from the parish of St Ann, walked away with the coveted title. So this year, Jamaica's entrant, Liyana Grey, who was born in the United States, but has Jamaican parentage has entered the competition. (Photo)