[Brasil]
Travesti processa Forlán por discriminação e pede indenização milionária
O atacante Diego Forlán, recém-contratado pelo Internacional, foi acusado de discriminação por um travesti uruguaio, que entrou na Justiça para pedir uma indenização de US$ 700 mil, o equivalente a R$ 1,4 milhão.

[Spain] [Commentary]
Spanish court bars transgender asylum seeker
Spain's National Court (Audencia Nacional) has denied the asylum claim of a transgender Colombian national.

[UK]
Head bans transgender pupil from exam... so she shows him Equality Act
A transgender pupil had to show her headmaster a copy of the Equality Act before he allowed her to sit a GCSE exam while wearing girls' clothes.
Transsexual, 16, forces school to let him sit exam dressed as a girl: Head threatened with Equality Act

[Thailand]
Sex, drugs, stigma put Thai transsexuals at HIV risk
From a cafe near the go-go bars of a Bangkok red light district where she campaigns for safe sex, Gigi gives an unvarnished view of how she joined Thailand's growing ranks of transgender people with HIV.

[New Zealand]
Prostitutes dubbed 'transvestites' in Council report
The use of "transvestite" and male pronouns to describe transgender sex workers in an Auckland Council report into street prostitution in South Auckland is being described as inappropriate.

[Canada]
Wildrose MLA expects 'robust' debate over sex-change policy reversal
Policy debate at the next Wildrose AGM will likely be "robust" after an apparent about-face by leader Danielle Smith on some key party positions, says one MLA.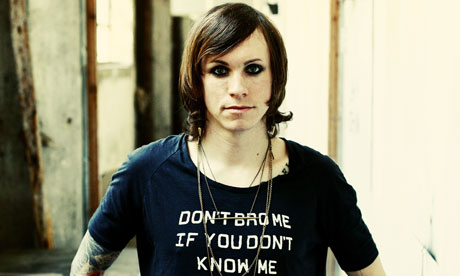 [USA]
Laura Jane Grace: 'So I'm a transsexual and this is what's happening'
The lead singer of Against Me! talks frankly about her gender dysphoria, and what it was like to tell her bandmates, her family and her wife that she wanted to become a woman

[USA]
Human Rights Watch Decries Condom Confiscation
New report charges police in four cities with using condoms as evidence of prostitution, countering anti-HIV efforts

[DC, USA]
Hundreds of Advocates, Service Providers, Policy Makers Attend AIDS 2012 Pre-Conference on Gay Men and Transgender People
Earlier today the Global Forum on MSM & HIV (MSMGF) held the fifth biennial pre-conference to the International AIDS Conference to assess the current state of the global HIV epidemic and response among gay men, other men who have sex with men (MSM), and transgender people. With over 800 delegates from more than 100 countries in attendance, the pre-conference has become the world's largest event focused on the health and human rights of MSM and transgender people.
Stigma Takes Center Stage at HRC Panel


[OH, USA]
Boy obsessed with Britney Spears spends £60,000 to get sex change to look like his idol
Kara Hays, 26, from Ohio, has spent a fortune attempting to emulate the 90s pop singer
As well as undergoing a sex change, she says that she also takes after her idol in other ways and shaved her hair to look more like Britney Spears after having a breakdown
She says that prior to the surgery she never felt happy but now feels 'liberated'
Lad Has Sex Swap To Be Like Britney Spears


[OR, USA]
Pastor: 'I was created transgender'
The Rev. David Weekley has wispy gray-brown hair, beard and mustache and wears glasses. He has a gentle smile and sincere eyes.
But on Sunday, he shared with Salem's Morningside United Methodist Church this fact: He was born a girl.