[Brasil]
Transsexuais se dizem excluídos da Parada Gay
Aos poucos, elas ganham destaque. Na última semana, Caitlyn Jenner foi o centro das atenções ao aparecer publicamente pela primeira vez na capa de uma revista, a "Vanity Fair". Jenner é mais conhecida por ser medalhista olímpica e ex-padrastro da midiática Kim Kardashian.
Ativistas fazem cobranças a Alckmin e Haddad durante a Parada Gay de SP

[Brasil]
Mudar nome de transexual é 2 vezes mais difícil
A estatística sobre os obstáculos para transexuais está em levantamento feito pelo Grupo de Estudos em Direito e Sexualidade da Faculdade de Direito da Universidade de São Paulo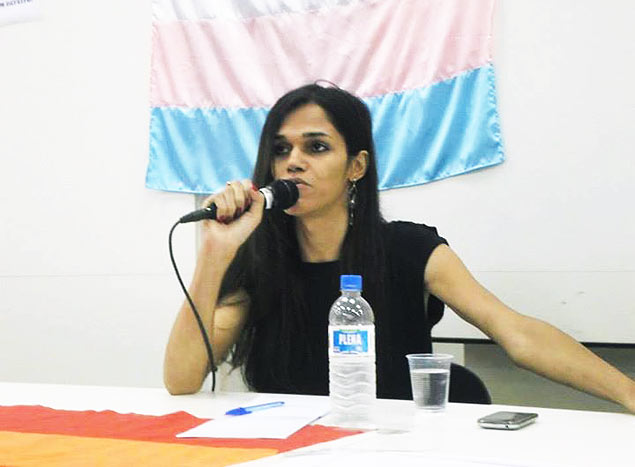 [Brasil]
'Nossa existência já é uma militância', afirma ativista transexual
Daniela Andrade tem um currículo de dar inveja. Aos 35 anos, além de trabalhar como analista de sistemas, é professora de francês, literatura e redação.
Mas mesmo com toda essa bagagem Daniela diz que precisa lutar muito para conseguir seu espaço. Isso porque ela é uma mulher transexual.
O ativismo faz parte da vida de travestis e transexuais desde o nascimento, afirma. "Ainda que estejamos em silêncio, nossa existência já é por si só uma militância."

[Israel]
Meet Israel's transgender youth: A generation that refuses to apologize
Three young Israelis talk about coming out and the support they received (or didn't receive) from their families.

[India]
Transgender development board set up with Manabi as vice-chief
Post the appointment of Manabi Bandopadhyay as the first transgender principal of a college in India comes the news of her selection as the vice chairman of the state's Transgender Development Board.

[Thailand]
Transgender lecturer vows to take on Thammasat
Transgender lecturer Kath Khangpiboon has vowed to take her case to court if a Thammasat University screening committee tomorrow upholds its decision to bar her from working at the institution.

[Philippines]
I'm dating a transgender
Guy meets girl, and a story of love that transcends gender

[Australia]
SBS documentary Brotherboys to shine a light on indigenous transmen
A new documentary from SBS/NITV is set to explore the lives of indigenous transmen: Brotherboys.

[Australia]
Eight-year-old in transgender row after cross country run as girl
An eight-year-old transgender child who was born a boy, but now wants to be recognised as female, competed in a Year 3 school cross country race as a girl this week.


[Australia]
Transgender woman allegedly bashed at Newtown's Town Hall Hotel
A transgender woman, left bloodied and bruised after an alleged bashing in an inner-west pub, has accused the venue of failing to do enough to stop the attack happening.
Stephanie McCarthy said she was waiting to perform with her band at the Town Hall Hotel in Newtown on Friday night when she was set upon by up to five men and brutally bashed in what she says was an unprovoked attack.
The bass player, who was left with a black eye, bloodied lip and bump to the back of the head, also said the venue allowed the alleged offenders to get away.
'They were yelling out f****t... and then I got king hit: Horrific injuries suffered by a transgender musician who was attacked by homophobic men in a pub

[New Zealand]
Station urged to can 'trans for a day' stunt
Agender is urging radio station The Edge not to go ahead with a "tacky" plan to make host Dom Harvey a "woman for a day
Harvey is the same host who walked in the Auckland Pride Parade in underwear as a "Queen for a Day" when he lost a bet.

[USA]
Before Caitlyn Jenner, there was Erika
I took my place among the gawkers last Monday after "Vanity Fair" magazine unveiled provocative teaser photos and excerpts of its upcoming piece on Caitlyn Jenner, formerly known as Bruce Jenner.
Jenner transition highlights transgender health, social issues
The Jenner effect: Pittsburgh transgender community hopes Caitlyn's story creates fuller portrait of transgender lives
Trans-identifying Oregonians: changing sexes wasn't feasible until this year
Transgender teens find peace amid focus on Jenner's journey
Time is now
Normal? No, Caitlyn is the new 'great'
Noted Psychiatrist Says Bruce Jenner Becoming Caitlyn is a Mental Disorder

[USA]
What Makes a Woman?
Do women and men have different brains?
Back when Lawrence H. Summers was president of Harvard and suggested that they did, the reaction was swift and merciless. Pundits branded him sexist. Faculty members deemed him a troglodyte. Alumni withheld donations.
But when Bruce Jenner said much the same thing in an April interview with Diane Sawyer, he was lionized for his bravery, even for his progressivism.

[USA]
Laverne Cox: on growing up trans, Orange is the New Black and Caitlyn Jenner
Since her debut on the Netflix series Orange Is the New Black, Laverne Cox's groundbreaking success has proved a turning point for transgender people everywhere

[USA]
Transgender Children's Books Fill a Void and Break a Taboo
Sam Martin was browsing in a Boston record store 23 years ago when an unusual photography book caught his eye. Mr. Martin flipped through its pages, which featured portraits and interviews with women who had become men, and started to cry.

[USA]
Rand Paul on Transgender Rights: 'Government Shouldn't Ask About Your Personal Life'
The Kentucky senator's libertarian streak makes him reluctant to condemn Obama policies.

[CA, USA]
Transgender kids: 'Exploding' number of children, parents seek clinical help
Two years before Caitlyn Jenner showed up on this week's cover of Vanity Fair, Oliver Bishop was in crisis.

[CO, USA]
Father sticks up for gender-fluid daughter in the most perfect way
Don't de-friend me if you disagree, look at how perfect my daughter is, urges father of five-year-old

[CT, USA]
Gender reassignment surgery still rare in CT
Fast facts on gender transformation
According to the National Center for Transgender Equality, there are about 700,000 transgender adults living in the United States.
Gender reassignment surgeries range in price from $15,000 to $50,000 for male to female surgeries and $50,000 to $100,000 for female to male surgeries.
The global consulting firm Mercer found that in 2014, 8 percent of all large employers provided coverage for gender reassignment surgery, up from 5 percent in 2013. However, only another 3 percent say they are considering covering the procedures.

[FL, USA]
Miami's first Transart festival celebrates transgender talents
In its continuing mission to operate as a PACE (philanthropy, arts, culture and education) hotel and support marginalized and underserved communities, The Betsy-South Beach presents Miami's first Transart festival (June 11-30) in partnership with Unity Coalition/Coalción Unida, TransMiami and the LGBT Center, Miami Beach.

[MN, USA]
EEOC accuses Minnesota company of subjecting transgender employee to sex discrimination
A federal lawsuit alleges a Minnesota company subjected a transgender employee to sex discrimination.

[PA, USA]
Gathering to share stories of transition
"Susan," as the 66-year-old engineer likes to be called when he's in women's attire, said there's a "don't ask, don't tell" policy in his South Jersey home.

[PA, USA]
Pennsylvania Senate panel endorses transgender woman as Physician General
A transgender woman named by the governor to serve as Pennsylvania's physician general has been endorsed by a state legislative committee, clearing the way for the full Senate to vote on her nomination next week.

[NY, USA]
Matthew became Matti, and now she has a smile on her face
With doctors' help, She will be 'all girl'

[WA, USA]
Washington moves toward covering surgery for transgender patients
When Kelly Hanning asked state government five years ago to pay for a medical procedure she said could save her life, the answer came back: Denied.

[Colombia]
"Cambio de género en la cédula será ágil y simple": Minjusticia
El ministro de Justicia, Yesid Reyes, explica la incidencia que tendrá un decreto firmado hace dos días que exige a los notarios y la Registraduría darles trámite inmediato a las peticiones de las personas transgénero que desean cambiar el sexo consignado en sus documentos de identidad, por el que adquirieron o desean tener.