[Brasil]
Travesti usava cocaína para pagar por programas sexuais
A polícia prendeu em flagrante o travesti Antônio Marcos Almeida, 24 anos, conhecido como Taís, em Dourados, no Mato Grosso do Sul.
O homossexual é acusado usar papelotes de cocaína para pagar por programas sexuais. O travesti foi preso quando passava a droga para um rapaz de 22 anos com quem tinha acabado de fazer sexo oral.

[Europe]
(Trans)Gender Equality?: A public conference on transgender rights hosted by the Greens/EFA, Brussels, 1 September 2010
The European Parliament has announced the details of (Trans)Gender Equality? a joint public conference on transgender rights, hosted jointly by the Greens and the European Free Alliance, to be held in Brussels on 1 September 2010.

[UK]
Judge spares child porn transsexual from 'unsafe' men's prison
A pervert who downloaded child porn has escaped jail because she is transsexual.
Laura Voyce, 20, who used to be called Luke, could have been locked up for nine months after being found guilty of downloading the sickening images.
Transsexual 'Pervert' Spared Jail Because It Would Be Too 'Appalling'
Transsexual spared jail over safety fears
[Commentary] Justice Was Not Done
Pedophile Transwoman Will Not Go To Jail For Fears Of Her Safety

[Germany]
Cop job snub below belt
A man who underwent a sex change has been barred from joining the police because rules say male cops must have "at least one functioning testicle".

[South Africa]
Fired for sex change
Employed as a man, now a woman and out of a job
Chris Ehlers, a 43-year-old part way through a sex change, has taken her employer to court for discriminating against her since she became "Christine".

[India]
Eunuchs a 'derided community', High Court raps Centre for sleeping over issue
Commending Punjab and Haryana for showing "progressive values" in considering eunuchs for government jobs the Punjab and Haryana High Court today condemned the Central government for "sleeping over the issue". Despite several opportunities, the Central government has failed to clarify its stand as to whether it would like to consider eunuchs for government jobs or not.


[Canadá]
From Dennis to Denise: Changing gender in small town Nova Scotia, and how it all fits into human rights thinking
Denise Holliday walks through the doors of her small community garage to get her car looked at. A woman of tall stature, large hands and feet, but otherwise feminine features, she speaks to the mechanics that have known her from living in the community for years. They speak respectfully to her. She pays for services, and then leaves. Then the whispering begins.
(Photo: Denise Holiday received gender assignment surgery more than 10 years ago.)

[USA][Commentary]
When it comes to transphobia, gays and lesbians still have a lot to learn
I am terrified to write about transgender issues.
That's not an easy thing for me to admit, given my own self-image as a writer who's happy to share his opinions. But, to be honest, it's not really that much of a stretch for a gay white male editorialist to wax indignant over ''Don't Ask, Don't Tell,'' or congressional malfeasance on gay and lesbian issues, or the accomplishments/failures of the White House on marriage and partner recognition. These are things I know and live and experience, and it's hardly a risk for me to write about them.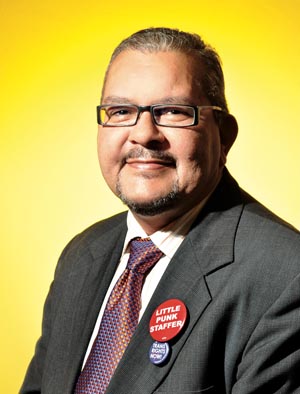 [USA]
As the first out transgender Capitol Hill staffer, Diego Sanchez has complicated – and sometimes competing – objectives
''Being sometimes the first transgender person in their workspace – openly disclosed as trans – is an important part of what it is that we need to achieve, member by member, staffer by staffer,'' Diego Sanchez says.
Sanchez was born into a military family where the values of respect and standing up for yourself – and the importance of hierarchy – were key. After moving from Panama to Georgia at the age of 7, Sanchez continued on that path, through the University of Georgia and into the upper reaches of corporate America. Starting at public-relations giant Burson-Marsteller in New York City, Sanchez eventually worked for the Coca Cola Company, ITT Sheraton and Starwood Hotels & Resorts Worldwide, where he rose to be the global vice president of communications and diversity. (Photo)

[USA]
Va. Gov.'s Trans Relative Speaks Out
Friday's Washington Post includes a profile of Robyn Deane, the transgender former brother-in-law of Virginia governor Bob McConnell.
Deane says she decided to discuss her relationship with McDonnell because she feels that his reaction to her may be responsible for his antigay positions—including opposition to marriage equality and workplace protections based on sexual orientation and gender identity.

[KS, USA]
Family: Transsexual Son Beaten By Partner
A man accused of kidnapping, choking and severely beating an Anderson woman appeared before a magistrate early Thursday.
Demetrius Hawkins, 21, of Anderson County, appeared on video in a bond hearing from the Anderson County Detention Center at 7:30 a.m.

[MA, USA]
Advocates push transgender bill
Transgender advocates gathered at the State House Wednesday to push a bill that would provide more legal protection for transgender people.
It's been dubbed the bathroom bill by critics because they are worried this will force companies to provide an additional bathroom for transgender people. But, this bill is about a lot more than just bathrooms.
Backers push for passage of transgender bill
Transgender bill held up as supporters press lawmakers

[NC, USA]
Trans Woman Booted From Country Club
Rachael Gieschen's membership to a Wrightsville Beach, N.C., club has been canceled by the board of directors, even though her family founded the organization in 1898.
Gieschen, now 69, began her transition from male to female in 2007. Despite notifying the board of directors of her decision in 2008 (to which she received no response), Star Newsreports that "no one at the club spoke to her, and she was snubbed by people she considered family and friends most of her life."
Transgender issue leads club to cancel membership

[NY, USA]
Local Hate Crime Complaints Go Up
Excerpt: 79 percent of those victims were people of color. Nearly half of them were Transgender women.

[OR, USA]
Transgender Female Accuses Workplace of Discriminatory Firing
A former Golden Temple employee says the Midwest-based company that bought out the Eugene-based cereal company has let go of at least 30 employees in the past three months since taking the reins.
Hearthside Food Solutions bought Golden Temple's cereal division in May, and she says ever since has fired dozens others.
Wyona Wolf worked at Golden Temple Cereal for nine years. She experienced some big personal changes during her tenure.

[Jamaica]
'Browning' drag queen tricks man
A man has found himself in trouble with the law after he was allegedly tricked into receiving oral sex from a cross-dressing man pretending to be a sexy 'browning' driving an expensive car.
The man is now behind bars after he was accused of destroying the cross-dresser's Lexus motor car when he made the huge discovery midway the sexual act. He has been charged with malicious destruction of property.

[Colombia]
Policía reafirmó su compromiso de no vulnerar los derechos de la población LGBT
La Policía Metropolitana de Cartagena comandada por su general Ricardo Restrepo firmó un acuerdo de respeto con la comunidad LGBT (Lesbianas, gay, bisexuales, transexuales), para que no se vulneren sus derechos por parte de las autoridades, luego que estos denunciaran el mal trato que recibían de parte de los integrantes de la Policía en Cartagena.