Evento "Tertúlia Políticas Trans: Qual o Futuro?" Cancelado
GATE report:
It's Time for Reform. Trans* Health Issues in the International Classification of Diseases.
Yesterday, May 17, International Day Against Homophobia and Transphobia gave visibility all over the world to the struggle against all forms of violence based on sexual orientation, and gender identity and expression. To the indispensable recognition of that violence, that strikes with sustained force against trans* individuals and communities in different countries, there is another recognition that GATE considers necessary to be added: that of
the strength of trans social and political movements, of their capacity to determine their rights and priorities, create their own languages and identify their goals, to build their alliances and the opportunities to create social, legal and political changes
, even where transphobia strikes more fiercely.
This is why today we want to share with you all our report called
It's Time for Reform. Trans* Health Issues in the International Classification of Diseases
. This report summarizes the discussions held in The Hague in November 2011, during the experts meeting organized by GATE to collectively address the review of the International Classification of Diseases (ICD-10) produced by the World Health Organization.
The review of ICD-10 and the production of ICD-11 constitute a historical opportunity for trans* movements: the opportunity to fight simultaneously for depathologizing gender identity and for full access to healthcare – a combination that we are convinced to be
not only necessary, but also possible
.
The review process for the International Classification of Diseases is under way and now the international efforts of trans* activists, organizations and movements are key. Throughout the year, GATE will contribute to th e s e efforts through different actions – like translating the report into different languages, organizing trainings on ICD and mu l tiplying the spaces for meeting, exchanges and strategy building around the review and reform.
If you are interested in getting more information and/or in joining this initiative, please get in touch with us by sending an email to icd@transactivists.org
Mauro Cabral & Justus Eisfeld
Co-Directors
GATE - Global Action for Trans* Equality
www.transactivist.org
GATE is an international trans* organization. We defend and promote trans* people's human rights, produce and make available critical knowledge on trans* issues and support trans* movements worldwide.
[International]
International Day against Homophobia and Transphobia observed around the globe
LGBT rights advocates observed the International Day Against Homophobia and Transphobia (or IDAHO) in more than 95 countries around the world Thursday, commemorating the 1990 decision by the World Health Organization that decategorized homosexuality as a mental disorder.
World marks IDAHO with courage and pride
Protestors march on Turkish embassy for IDAHO

[International]
"Making Rights a Reality": The experiences of organizations of transgender people in the AIDS response
In Latin America, transgender people face stigma and discrimination based on their gender identity every day. Such situations limit their access to the education system, job opportunities and health services which, in turn, increase their vulnerability to HIV.

[Iran]
Iran's persecution of gay community revealed
The lifestyles of gay, lesbian, bisexual and transgender people in Iran are comprehensively and systematically denied by the Islamic regime, which exposes them to horrific punishment, bullying and risk of suicide, a study has found.
The first detailed report on Iran's LGBT community has found that its members live under social and state repression, with some being persecuted, forced into exile or even sentenced to death.

[Tunisia]
Editor-In-Chief of Gayday Magazine Fadi Krouj Comments on International Day Against Homophobia
On May 17, 1990 the World Health Organization (WHO) removed homosexuality from its list of mental disorders, putting an end to medical homophobia. Since then, this day has become an opportunity for the gay, lesbian, bisexual, and transgender community and their supporters to remind decision-makers and the general public that their rights are not "special rights" but simply human rights, as Navi Pillay, UN High Commissioner for Human Rights, put it in a video message.

[Malawi]
Malawi to overturn homosexual ban, Joyce Banda says
President Joyce Banda has said she wants Malawi to overturn its ban on homosexual acts - the first African country to do so since 1994.

[Uganda]
Ugandan gay activists seek repeal of anti-homosexual penal code
Ugandan gay activists have urged President Yoweri Museveni's government to repeal the penal code that outlaws homosexuality in the East African country.

[Armenia]
Hate crime bombing against gay bar was "right and justified" says deputy speaker of National Assembly
The recent home-made bomb attack on the DIY Rock Pub in downtown Yerevan remains in the center of public attention and is being politicized, as different political figures are commenting on the apparent "hate crime".
Two young adult men were charged with the May 8 attempted arson on Parpetsi Street club, which is known to attract members of Armenia's gay and lesbian community.

[Asia/Pacific]
In some areas 49% of Asian trans women are HIV positive
A new report into the rights and HIV vulnerability of transgender people has found that in some areas of Asia 49% of trans women are HIV positive. The report blames the alarmingly high prevalence rates on 'stigma and prejudice'.

[Pakistan]
Protesting transvestites baton-charged
Thursday turned out to be a bad day for transvestites of Rawalpindi and Islamabad because the dozens of them who gathered at Chaklala Cantonment Board (CCB) offices to stage a "peaceful" protest were baton-charged.


[India]
Getting Aadhaar card big challenge for transgenders
Getting an Aadhaar card, the first government-issued document that recognised transgender people as a third sex, is still a distant dream for many, say members of that community in Delhi.

[Indonesia]
Recent events show extent of Indonesian homophobia
As the world marked the International Day against Homophobia and Transphobia on Thursday, recent events have revealed the "many homophobic Indonesians" among the world's most populous Muslim nation, a sociologist has said.

[Burma]
106-year-old transgender woman speaks at Burma's first IDAHO
Burma publicly celebrates gay rights for the first time for yesterday's International Day Against Homophobia and Transphobia
The 106-year-old transgender woman who addressed the first ever public gay rights rally in Burma must have seen incredible changes in her lifetime, from living under British colonialism to Burmese independence to military rule to the recent opening up.

[Fiji]
Church stands firm against homosexuality
We love the person but we hate the sin.
The comment was made yesterday by the Methodist Church as it maintained its stand against the promotion of the activities of sexual minority groups.

[Fiji]
Fiji police cancel gay pride march
GAY rights activists in Fiji are accusing police of homophobia after the first planned pride march through the Pacific nation's capital was cancelled at the last minute.
Police stop march

[Canada]
Transgender community faces unique set of barriers
For most people, choosing which bathroom to use while out in public is a no-brainer.
But for people who identify as transgender, the decision is far from simple.

[Canada]
CCLA calls for transgendered option on passports
Transport Canada is reviewing its passport rules and the issue of gender description has come up.

[Canada]
Nunavut won't budge on sex reassignment surgery funding: Ma
The Government of Nunavut said it's standing firm on its stance not to pay for sex reassignment surgery.
During a May 16 briefing with reporters in Iqaluit, Peter Ma, Nunavut's deputy minister of health and social services, said that particular surgery is something the territorial government doesn't pay for.

[Canada]
Toronto Catholic school hosts 'transgendered' Miss Universe contestant
A Toronto Catholic elementary school is under fire after hosting a "transgendered" Miss Universe Canada contestant on Tuesday in the run-up to the annual spectacle this weekend.
Some Miss Universe Canada supporters complain of transgender spotlight
[Commentary] Jenna Talackova: Too Much Spotlight on Her in Miss Universe Canada Pageant?

[Canada]
New teacher resource aims to support transgender and transsexual students
On the eve of the International Day Against Homophobia, the Canadian Teachers' Federation (CTF) is proud to release its latest educational resource, Supporting Transgender and Transsexual students in K-12 Schools, the fifth publication in an educational series designed to assist teachers, administrators and counselors in understanding sexual and gender minority issues. Authored by Dr. Kristopher Wells, Gayle Roberts and Carol Allan, the 57-page guidebook aims to demystify gender variance and provide evidence-based information for educators wishing to create caring, respectful and safe learning environments for all students.

[USA]
Advocacy Groups Send Letter to Social Security Administration on Policies Regarding Transgender People
Today, Lambda Legal joined eight additional LGBT and civil rights advocacy organizations in signing a letter to Social Security Administration (SSA) Commissioner Michael Astrue regarding policies concerning transgender people.

[USA]
New Rules Target Sexual Assault Epidemic Facing LGBT Inmates
Advocates praise the new Justice Department standards, though questions remain about separate rules for immigration detention, to be finalized by the Department of Homeland Security.
VICTORY: Department of Justice Releases National Standards to End Prison Rape and Abuse
DOJ finalizes rule to protect LGBT inmates against prison rape

[CA, USA]
Transgender Teen's Journey From From Meghan to Mason "Really, Really Good"
Doctors say the teen years may actually be the best time, both medically and emotionally, for this type of surgery


[DC, USA]
Sarah McBride: The Autostraddle Interview
If you've been reading about Sarah McBride elsewhere on the Internet, you may already have realized that when she came out, the world cracked open. Or at least it shook. After she wrote about being transgender in American University's campus newspaper the day after her term as student body president ended and Jezebel covered her coming out, millions of people came to know and be inspired by McBride's bravery.


[DC, USA]
Strong's concordance
Eli Strong is a Washington-based trans-masculine University of Alabama fanatic and family man who became a television star and local hero last week thanks to a groundbreaking National Geographic documentary, "American Transgender."
"I really appreciate all of the attention its been getting." Strong told the Blade this week via phone when we called to chat about the reaction to the documentary, which took audiences into the lives of three transgender people living in different places around the country.

[GA, USA]
Police: Despite TV reports, no increased violence among Midtown crossdressing prostitutes
11Alive and WSB-TV went on air Wednesday night with sensational segments that stated cross-dressing and "transvestite" prostitutes were terrorizing residents living in Midtown. The commander of the Atlanta Police Department's vice unit said Thursday the stories are not true.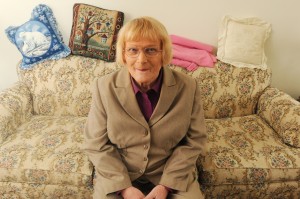 [ID, USA]
Melissa Sue Robinson won't focus on LGBT issues
Melissa Sue Robinson expected to lose Tuesday's Democratic primary for District 12 Senate to veteran Nampa campaigner Maria Mabbutt.
Instead she became what she says is the first transgendered person to win an election in Idaho. And she wants voters to know that she will take her general election run against Nampa attorney Todd Lakey seriously and she will not run on LGBT (lesbian, gay, bisexual, transgendered) issues.

[NY, USA]
International Center of Photography opens exhibition of the work by Christer Strömholm
Raising profound issues about identity, sexuality, and gender, Christer Strömholm: Les Amies de Place Blanche, on view at the International Center of Photography May 18—September 2, 2012, presents 40 photographs, historical publications, and ephemera documenting young transgender males in the heart of Paris' red-light district in the 1960s.

[OH, USA]
Woman: Attack was a hate crime
A Paige Avenue man is facing eight years in prison after being accused of brutally beating a transsexual woman with two other men more than a week ago.