A todos os amigos e conhecidos que me ajudaram nesta fase o meu muito obrigado, finalmente posso andar para a frente. Bem hajam!
[International]
The Year a Transsexual Transformed the Eurovision Song Contest
A glamorous Jewish man-turned-woman made Eurovision history in 1998 when she won the competition for Israel, attired in a sparkling dress approaching a mermaid crossed with a cockatoo.
Dana International clinched the No. 1 spot for her classic techno-pop anthem "Diva," despite triggering orthodox Jewish outrage back in Jerusalem, where many objected to having a transsexual represent their nation.

[Europe]
MEPs support 'free speech' after Kiev pride violence
Members of the European Parliament are concerned about the number of gay pride marches being cancelled or banned across Europe due to homophobic violence or laws criminalising public support for LGBT rights.
MEPs worried by serious threats to freedom of expression


[Brasil]
Carol Marra, transexual participa de edição do Fashion Business na Rocinha
O desfile do estilista Victor Dzenk na 20ª edição do Fashion Business foi marcado pela quebra de preconceitos. Realizado na manhã desta quarta-feira (23), no complexo esportivo da favela da Rocinha, na Zona Sul do Rio, o evento contou com a presença de uma modelo transexual e moradores da própria comunidade.
'Ser mulher transcende uma vagina', diz a transexual Carol Marra

[Brasil]
Livro com fotos de Madalena Schwarz sobre transformistas é lançado em SP
A fotógrafa Madalena Schwarz começou a fazer imagens de travestis, transexuais e transformistas desde a década de 1960. O resultado pode ser visto no livro 'Crisálidas', que reúne 100 dos 16 mil retratos feitos por ela, com registros de famosos e anônimos.

[UK]
Doctors could be banned from practising for refusing to give unmarried women contraceptives
Doctors who refuse to give contraceptives to unmarried women or carry out sex change operations face being banned from practicing under new guidelines.

[UK]
Chloë Sevigny interview for Hit & Miss on Sky Atlantic
Chloë Sevigny has always been drawn to edgy roles, but her latest – as a transsexual assassin in Sky Atlantic's new mini-series, Hit & Miss – is her biggest and strangest yet.
Hit & Miss was a trigger unhappy tale of a transgender hitwoman
Hit & Miss, Sky Atlantic, review

[Kuwait]
Mass arrests in Kuwait of party-goers for 'vice' and 'immorality'
Police round up 149 people, including at least four gay men and two transgender women. Checkpoints targeting 'immorality', particularly LGBT people

[Ukraine]
Kiev pride cancelled after far-right attack threat
Gay activists beaten and tear-gassed by youths in Ukrainian capital after pride march abandoned

[Pakistan]
Pak court acquits man, transgender of allegations of marrying
A court in northwest Pakistan has acquitted a man and a trans-gender person who were accused of getting married nearly two years ago, saying the prosecution had failed to prove the charges against them.

[India]
Barua's sex change operation to be conducted at JJ Hospital
Bidhan Barua, the 21-year-old from Guwahati awaiting a sex change operation, on Monday said he will now have to undergo the surgery at the state-run JJ Hospital instead of Saifee Hospital. He claimed authorities at Saifee Hospital were apparently reluctant to allow the operation to be conducted there.
Bidhan Baruah's sex change operation faces more hurdles

[Myanmar]
Centenarian Transgender Woman is Star of Burmese LGBT Rally
The nation's capital hosts its first ever event for the International Day Against Homophobia and Transphobia.

[Japan]
Transsexual Illustrator Mao Sugiyama Serves His Own Genitals as Appetizers
Last month, an illustrator from Tokyo, Japan, known by the nickname "HC", held a special dinner during which he seasoned and braised his own amputated genitalia and served the dish to six handpicked diners. The lucky patrons who got a taste of Sugiyama's junk paid about $250 for the meal.

[Australia]
Government Urged To Subsidise Trans Surgery
Trans Activists have called upon the Federal Government to subsidise gender reassignment surgeries for transgendered people as Australia falls behind other countries on trans health.

[Australia]
Teenage gender identity clinic treating more patients
A Melbourne clinic which treats teenagers with gender identity disorder has seen a big increase in demand since it started nine years ago.
Cross-sex treatment on the rise
Kids with gender issues suffer depression

[New Zealand]
The Queer Avengers - more than just one night
Anna Caro from Wellington's Queer Avengers explains that while Queer the Night is over for another year, the group has plenty more up its sleeve.

[Canada] [Commentary]
Barbara Kay: Jenna Talackova goes double dipping in the theatre of gender politics
If you are interested in the results of beauty pageants – and in this day and age, who is left that is? – you will be interested to know that Jenna Talackova failed in her bid to win the title of Miss Universe Canada. Whether you are glad or not of that outcome will depend on the station you occupy along the spectrum of gender politics.

[Canada]
Transgender Canadians winning a few battles in the war for acceptance
Canada's transgender community, long plagued by discrimination and bureaucratic obstacles, is now celebrating a series of small but significant victories.
In an announcement made April 20, Montreal's Concordia University became only the second university in the country to allow transgender students to use their chosen name in class and on their ID.

[Canada]
TD first Canadian bank to join 'It Gets Better' project
In the 20 months since it launched, a panoply of individuals and public figures – from President Obama to Star Trek's Mr. Sulu – have posted videos online as part of the It Gets Better project, to encourage young gay, lesbian, bisexual and transgender people who may be struggling with their identity. Now the first of Canada's big five financial institutions has pitched in with its own video.

[Canada]
Expert backs Plamondon in Nunavut trans debate
"It's not a moral or religious issue, it's strictly a medical condition that needs treatment"

[Canada]
Ontario transgender bill passes 2nd reading
A bill to amend the Ontario Human Rights Code to include "gender identity" and "gender expression" in the list of prohibited grounds of discrimination passed its second reading on May 10 in the provincial legislature. Bill 33 is sponsored by NDP Cheri DiNovo, MPP (Parkdale-High Park). It is the fourth time the bill has been introduced, but the first time it has reached its second reading.

[USA]
New Federal Standards Offer Unprecedented Protections to LGBTI Prisoners
Last week, the Department of Justice released the long-awaited Prison Rape Elimination Act (PREA) regulations, representing the first time that the federal government has issued national standards to help end sexual abuse in correctional facilities. The regulations are two years late and a lot of harm has been done in their absence, but now they will help protect important constitutional and human rights and ensure safe and fair correctional facilities that assist prisoners in rehabilitation rather than needlessly brutalizing them. This is the final of three blogs marking the occasion.

[USA]
DOJ Accepts EEOC Ruling That Trans Bias Is Covered By Title VII, ATF Begins Investigation
The Department of Justice has accepted the Equal Employment Opportunity Commission's April 20 ruling that claims of gender identity discrimination are a type of sex discrimination that is illegal under Title VII of the Civil Rights Act of 1964 -- a ruling that could set in motion a series of changes in the way transgender people are treated by the federal government.

[USA]
Today: Ruling Protecting Transgender Workers Goes Into Effect
Today the landmark ruling by the Equal Employment Opportunity Commission (EEOC) that Title VII, the federal sex discrimination law, protects employees who are discriminated against because they are transgender goes into effect.

[AK, USA] [Commentary]
Transgender Alaskans' privacy imperiled
A recent court order may not have attracted much media attention, but it is tremendously important to a few of us Alaskans. The order deals with the Department of Motor Vehicles' restrictions on changing the gender markers on driver's licenses for transgender Alaskans.

[CA, USA]
Mariela Castro tops US visit with transgender talk
The daughter of Cuban President Raul Castro is in San Francisco to meet with gay rights activists and to chair a panel at a prestigious academic conference.

[DC, USA]
Capital TransPride draws nearly 150 to Southwest
Nearly 150 people gathered at the Westminster Presbyterian Church in Southwest on Saturday for the sixth annual Capital TransPride.

[FL, USA]
Local Group Opposes LGBT Anti-Discrimination Bill
A group called Biblical Concepts Ministries says it will fight the anti-discrimination bill that was discussed Tuesday night.
The bill, brought up at a city council meeting, would ban discrimination against gay, lesbian, bisexual and the transgender community.
Controversial ordinance draws giant crowd to city council

[IL, USA]
Bullying legislation prompts opposition from conservative groups
A new bill in Illinois would require schools to adopt anti-bullying policies, but the Illinois Family Institute and Concerned Christians of America say that the law would challenge certain students' religious and moral beliefs.
Anti-bullying bill fails to pass state Senate

[KS, USA]
Salina's Amended Discrimination Ordinance To Be Implemented June 4th
Salina's amended anti-discrimination ordinance will go into effect later this week, and be implemented on June 4th.
City Commissioners last week on first reading elected to change the anti-discrimination ordinance to include sexual orientation and gender identity. The ordinance will prohibit discrimination of gay, lesbian, or transgender residents in the areas of employment, housing and public accommodations.

[ME, USA]
New Anti-Bullying Law in Maine
The Maine Legislature voted last week to pass a revised version of the anti-bullying bill, LD 1237, by a vote of 32 to 2 in the Senate, and 128 to 4 in the House.

[MI, USA]
Gay rights supporters outnumber opponents in comments at hearing in Jackson
Shelly Milligan of Rives Township cried as she spoke about the suggestion that she chose to be a lesbian.
Mark Foeller of Grass Lake worried about the moral consequences of protecting people from discrimination based on sexual orientation.

[MN, USA]
The Case of CeCe McDonald: Murder—or Self-Defense Against a Hate Crime?
Around midnight on June 5, 2011, a 23-year-old African American transgender woman named Crishaun "CeCe" McDonald was walking with four friends past Schooner Tavern in Minneapolis. A group of at least four white people outside the bar began harassing McDonald and her friends, calling the group, all of whom were African American, "niggers" and "faggots." One of the men in the group, who would later be identified as Dean Schmitz, said "look at that boy dressed like a girl tucking her dick in." As McDonald and her friends tried to walk away, Schmitz's ex-girlfriend Molly Flaherty hit McDonald in the face with a glass of alcohol and sliced open her cheek, causing an injury that would later require stitches. The groups began fighting, and when McDonald attempted to leave the scene, Schmitz followed. McDonald took a pair of scissors out of her purse and turned around to face Schmitz; he was stabbed in the chest and died from the wound. Though she was injured in the scuffle with Flaherty and claimed the wound inflicted on Schmitz was in self-defense, McDonald was arrested that night and then charged with second-degree intentional murder.

[NE, USA]
Governor pushes for vote on gay rights
It's been a hot topic the last few weeks in Nebraska: city ordinances barring discrimination against gay and transgendered people.
Governor Dave Heineman wants to put the decision to a public vote.
Gov. calls for vote on 'fairness' measures
Heineman: Gay ordinances should go to a vote

[TX, USA]
Texas Transgender Health Summit
Transgender Education Network of Texas in collaboration with University of Houston Clear Lake, LHI Houston, the Texas Transgender NonDiscrimination Summit, Transgender Foundation of America and experts in the health and advocacy fields invites you to a summit on July 19th, 2012 from 8:30 AM till 5PM to address the intersection of health needs and the gender diverse community.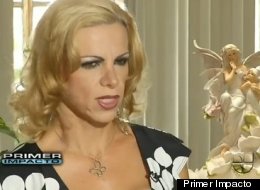 [Mexico]
Miranda Salman: Transgender Soccer Player Defies Prejudice Against LGBT Community (VIDEO)
Miranda Salman was born a man. Today she is one of the stars of an all women soccer team.
As a young boy it was obvious Salman had a talent for soccer. But in sport known for its masculine ethos, Salman was was a victim of prejudice.


[Mexico]
Restituyen candidatura Diana Marroquín Bayardo
La sala regional Toluca del Tribunal Electoral del Poder Judicial de la Federación, determinó restituirle la candidatura a diputada federal por el distrito de Tulancingo a Diana Marroquín Bayardo.
Diana Marroquín no saldrá en boletas electorales

[Guyana]
Guyana activists call for repeal of sodomy law
Gay rights activists in Guyana are calling for the South American nation to repeal cross-dressing and sodomy laws.

[Argentina]
Argentina a la vanguardia de los derechos por la diversidad sexual
Así lo definen activistas de los derechos transgenéricos. A través de la aprobación de la Ley de Identidad de Género, nuestro país pone de manifiesto y defiende las infinitas formas de pensar, sentir y desear de las personas, rompe los tabúes y subvierte los esquemas culturalmente establecidos e impuestos históricamente.

[Argentina]
Se esperan 18 cambios de identidad de género en los registros civiles de la capital
En los próximos días se pedirán modificaciones de DNI que habilitó una ley nacional aprobada el 9 de mayo. En enero reconocieron el nombre femenino a una transexual tras una orden de la Justicia, y por primera vez.

[Argentina]
Rosario suma herramientas para asistir a comunidad trans
En el marco del mes de la Diversidad Sexual, el municipio presentó una publicación dirigida a efectores públicos que plantea algunos problemas de salud de la población trans. "Se trata de una población que ha sido estigmatizada y excluida por muchos años y que en este momento tiene la oportunidad de tener un contacto con los efectores de salud", sostuvo la secretaria de Salud, Adela Armando, en diálogo con El Ciudadano.