[Europe]
EU Parliament demands trans-inclusive EU gender equality strategy
The European Parliament adopted a trans-inclusive gender equality report this Monday, despite substantial protest from conservatives and right-wing forces.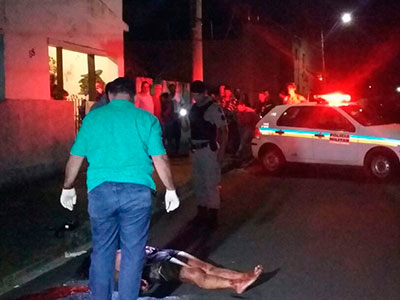 [Brasil]
Travesti esfaqueada na noite de terça-feira
Uma travesti foi assassinada na noite desta terça-feira (10). Por volta das 21h, o corpo foi encontrado na Rua Geraldo Pagliaro, bairro São Geraldo, próximo à avenida Deputado Marcus Cherem. A vítima tinha 31 anos. Foram constatadas algumas perfurações no tórax, provavelmente de facadas.


[Brasil]
Homossexual morto em Marituba


[Brasil]
KELLY SILVA / FACADAS / MG, UBERABA

[UK]
Primark now lets trans customers use fitting rooms they feel most comfortable with
Primark has given some useful advice to staff who might be unsure of what to do if faced with a transgender customer.

[Israel]
Economics Ministry Hails Transgender Discrimination Victory
Economy Ministry announces ruling in sex-change discrimination case, notes 'Tel Aviv Loves All Genders.'

[Thailand]
Top Thai university changes uniform guidelines to accommodate trans students
One of the leading universities in Thailand has issued new uniform guidelines which are more inclusive of transgender students.
Bangkok University issues new uniform rules for trans students

[Australia]
Police and protesters face off at site of Sydney transphobic attack
Hundreds attend demonstration outside Newtown hotel after trans* woman was beaten amidst claims venue could have done more to assist victim
Man charged over bashing of transgender musician at Town Hall Hotel in Newtown
Trans musician brutally beaten at own gig, locals protest pub for letting attackers go

[Australia]
Transgender children: Human Rights Commission recommends removing court order
The Human Rights Commission says transgendered children should not have to obtain a court order to go on hormone therapy.

[Australia]
Perth MP claims transgender children 'will grow out of it'
WA gender diversity advocates say a politician's comments about a transgender eight-year-old with special needs prove that better public education on the topic is vital.

[New Zealand]
DHBs looking to improve trans services
A group of District Health Boards in northern New Zealand are welcoming feedback and involvement as they work on a proposal to develop a better health service for people in the region's transgender communities.

[USA]
Basic Needs Unmet for Transgender HIV-Positive Women
A new CDC study that combines three years of data to produce nationally representative estimates characterizing HIV-infected adults receiving care in the U.S. shows that those who identify as transgender women are significantly less likely to adhere to anti-HIV medication regimens and to achieve viral suppression.

[USA]
Meet The Doctor Social Conservatives Depend On To Justify Anti-Transgender Hate
"Dr. McHugh is an accomplished medical professional completely devoted to the health of his patients. Liberal attacks on him are disgusting." That's how Ryan T. Anderson, Heritage Foundation Senior Fellow and Public Discourse Editor, defended Paul McHugh on Wednesday morning, after publishing another of the doctor's scathing rejections of transgender identities.

[USA]
Pentagon celebrates Pride, but trans exclusion persists
The mood at the annual Pride celebration at the Pentagon was celebratory, but the split was palpable between advances for gay, lesbian and bisexual troops compared to where their transgender comrades stand.

[USA]
What hormone therapy means for transgender people
How do hormones affect the appearance of gender?

[USA]
Franklin Graham: 'Caitlyn' still Bruce on inside
Evangelist Franklin Graham has a brief message for Bruce Jenner on his "conversion" to a woman: "Changing the outside doesn't change the inside."
Transgender writer reflects on Caitlyn Jenner's story
Florida Politico's Caitlyn Jenner Spoof Causes Controversy

[DC, USA]
Georgetown Hospital accused of anti-trans discrimination
A transgender woman has filed a discrimination complaint with the D.C. Office of Human Rights against MedStar Georgetown University Hospital on grounds that the hospital allegedly refused her request for breast implant surgery because of her gender identity.

[IL, USA]
Trans woman petitions for early release from Elgin facility
The Elgin Mental Health Center is a sprawling complex of buildings set in the midst of farmland, forest preserves and the gently winding Fox River. Tucked away in a corner of the campus, the entrance to the William White Forensic Unit would be entirely inconspicuous were it not for the high, arching security fence surrounding the buildings.

[MN, USA]
U Cards to allow preferred names
Advocates hope this will bring students and staff more clarity and safety.

[OK, USA]
High schools: OSSAA adopts policy regarding transgender athletes
The policy comes eight days after a Vanity Fair article spotlighted the recent transition of former Olympic gold medal decathlete Bruce Jenner to the transgender woman Caitlyn Jenner.

[OR, USA]
Federal lawsuit accuses SolarWorld of discrimination against transgender male and female co-worker
A transgender male and a female co-worker have gone to federal court against a major Oregon employer, alleging they experienced discrimination and retaliation on account of their sex, sexual orientation and gender identity.

[PA, USA]
Trans Woman Confirmed As Pennsylvania Physician General
The confirmation of Dr. Rachel Levine makes her the first transgender person appointed to a Governor's cabinet in Pennsylvania.

[SD, USA]
South Dakota policy on transgender high school athletes revised after criticism from some GOP
Proposed changes to an association policy for transgender high school athletes would not limit them to the same team as the sex identified on their birth certificates, raising the possibility of a second legislative session of conflict over a rule that many Republicans lawmakers want to jettison.

[Colombia]
Colombia to Issue Decree on Sex Change
The Colombian Government will legalize today the decree that will regulate the standard proceedings to perform a change of sex on the country''s register of births.